'Love Is Blind' Season 3: Are Nancy Rodriguez and Bartise Bowden still together? Bartise finds other women 'hot' Contains spoilers for 'Love Is Blind' Season 3
DALLAS, TEXAS: Do you believe in the saying "love is blind"? If so, then Netflix has just the show for you! The streaming platform boasts that it can find you the perfect partner with its 'Love Is Blind' experiment. It's love at first voice as contestants fall in love based solely on the other person's voice. And while the experiment may or may not work for everyone, it surely proves to be one entertaining show. So entertaining that Netflix has recently released a third season of the show!
Season 3 of 'Love Is Blind' premiered on October 19, 2022, and Netflix dropped four episodes of the show. The series has progressed at quite a fast pace, as it already boasts five couples that have gotten engaged. Out of the five, a couple that catches attention is the pair Bartise Bowden and Nancy Rodriguez as the duo engages in a "will-they-won't-they" romance that keeps the audience on its toes. From the start, Nancy and Bartise seemed to be fanning the flames of attraction for each other, but when Nancy, 31, discovered that Bartise was the youngest contestant at only 25, she was hesitant to trust him. But soon, the duo realized their true attraction to one another and decided to give romance a chance as they got engaged. So are these two lovebirds still together? Or have the flames of romance burnt out? Well, here are the saucy details.
RELATED ARTICLES
When will all episodes of 'Love Is Blind' Season 3 be out? Full release schedule of Netflix dating show
'Love is Blind' Season 3: Is Nancy Rodriguez's fiance Bartise Bowden still attracted to Raven Ross?
Nancy and Bartise on 'Love Is Blind' and is the couple still together?
Bartise, a senior analyst and Nancy, a speech pathologist, are drawn to each other after the duo connects over their vibrant energy and Spanish roots. While the connection is magnetic, Bartise also seeks out Raven Ross while Nancy considers Andrew Liu as a potential partner. But after Bartise's connection to Raven fizzles out, he goes all in for Nancy, competing with Andrew for her attention. On the other hand, Nancy is confused between the two as she feels more connected to Bartise, but their age gap concerns her. But after much deliberation (and brutally rejecting Andrew), Nancy decides to give Bartise a chance, and the two get engaged. When the two meet each other face to face, the moment is cute, giggly and full of giddy romance.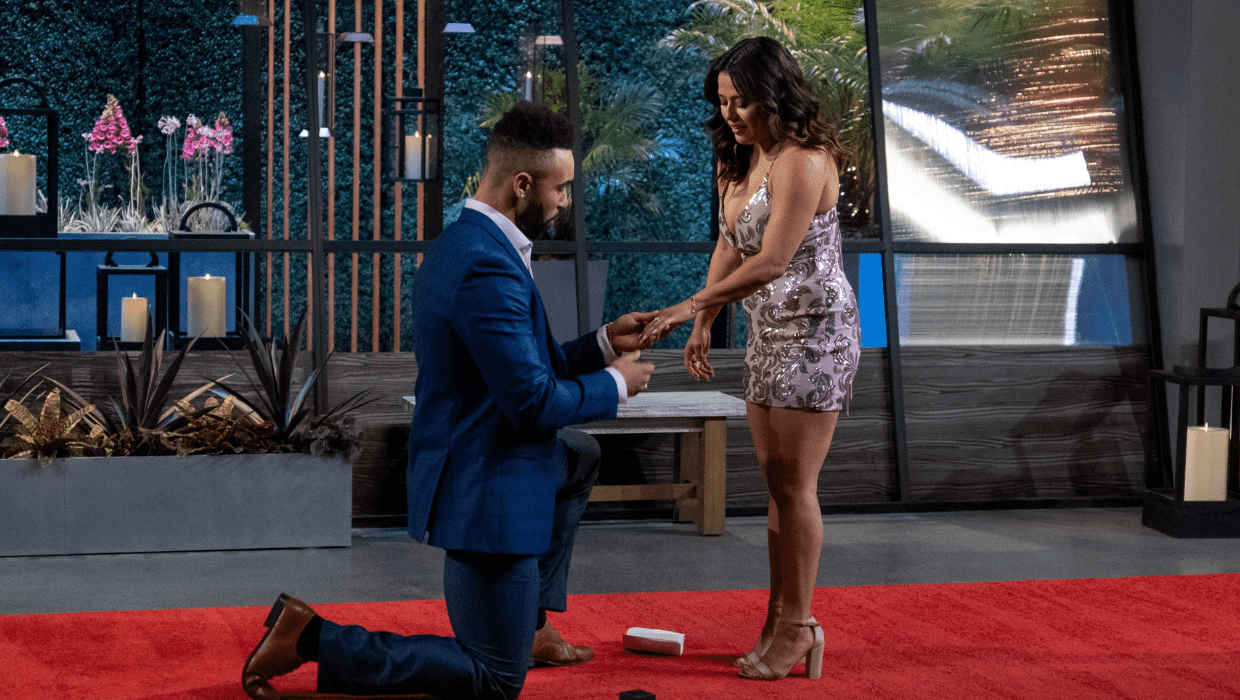 But things soon head south for the couple as Bartise starts showing an interest in Raven again after he sees what the pilates instructor looks like. He even looks at other female contestants and finds himself attracted to them. In Episode 4, Bartise openly confessed his attraction to several other female contestants. He tells his fiance, "I am having feelings for multiple women right now," followed by a tearful Nancy saying, "The person that I love doesn't love me." In the next episode's preview, we see the couple walking down the aisle together, so it seems they might have worked it out after all.
As of now, Nancy follows Bartise on Instagram, but he doesn't follow her back. According to Distractify, Bartise is spotted with a wedding band on his left-hand ring finger, so perhaps there is a special someone in his life. But it is too soon to tell if that "someone" Nancy or someone else.
'Love is Blind' Season 3 is available on Netflix to watch. The next three episodes will release on Wednesday, October 26, 2022, at 12.30 am PT.
Share this article:
'Love Is Blind' Season 3: Are Nancy Rodriguez and Bartise Bowden still together? Bartise finds other women 'hot'