Five LGBTQ superheroes we would love to see in Marvel Cinematic Universe's Phase 4 Marvel Cinematic Universe's Phase 4 promises new beginnings. For starters, it's almost time that an LGBTQ hero is announced. In their previous interviews, Marvel Studios president, Kevin Feige and the Russo Brothers have gone on to state that a queer hero will make an appearance in the upcoming movies. But Marvel's superhero list is myriad, but we picked out a few who could be the first LGBTQ heroes to be part of phase 4.
Angela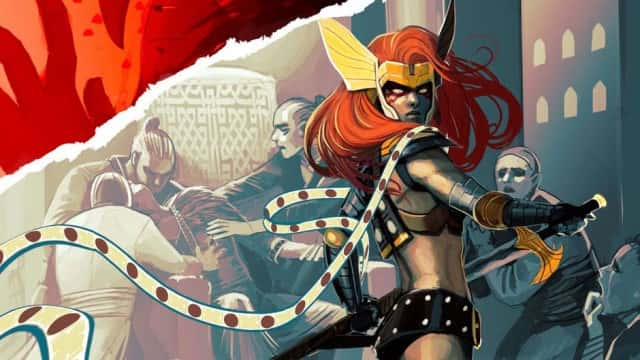 Introduced as one of the newer characters in the Marvel Universe, Angela was shown to have spent a lot of time with the Guardians of the Galaxy, and Gamora in particular. Going by comic history, she was revealed to be Thor's sister and one of the most powerful Asgardians. With 'Avengers: Endgame' hinting that Thor would accompany the Guardians in their adventures, Angela could get an introduction in Vol. 3 maybe? After all, we did know that Thor faced-off against his sister, Hela in 'Thor: Ragnarok.' Definitely, an option that we could look at.
Mystique
At some point, the X-Men will cross paths with the Avengers. And unlike some characters who were eventually revealed to be LGBTQ, it seemed that Mystique was gay right from the start. While this is yet to appear officially, it might not be a bad call to make. After all, the comics did originally intend to keep her gender and sexuality as fluid as her shapeshifting abilities before the idea was shot down by the Comics Code Authority.
Miss America
A member of the Young Avengers. There has been no idea about Young Avengers and how they can come into phase 4 yet but according to the comics, she was a queer Latina raised by two mothers and comes from a future alternate reality. Known as America Chavez, she has superhuman abilities along with the power of seamlessly traveling across the multiverse. With 'Spider-Man: Far from Home' opening up about the concept of the multiverse, Miss America coming in would serve as a great entry point in phase 4.
Northstar
A mutant. Northstar was introduced as the first gay character to comics in 1979 until it was official that he would be truly gay only in 1992. His powers include superhuman strength, light manipulation, and flight. According to Nerdist, he came out rather famously in Alpha Flight #106 in 1992, making him one of the publisher's most iconic LGBTQ heroes.
Moondragon
In the comics, Moondragon is the daughter of Drax and from 'Guardians of the Galaxy,' it was revealed that Drax had a daughter who was killed. The third volume can most probably introduce her as one of the new characters. If the writers would stick to the comic route, then Moondragon's bisexuality is a must for representation as she was shown to be romantically attracted to Thor, Marlo Chandler, and Phyla-Vell.
If you have an entertainment scoop or a story for us, please reach out to us on (323) 421-7515