'Legacies': Everything you need to know as the show returns after fall break
We're halfway through the debut season of 'The Vampire Diaries/The Originals' spin-off and things just started getting super interesting and complex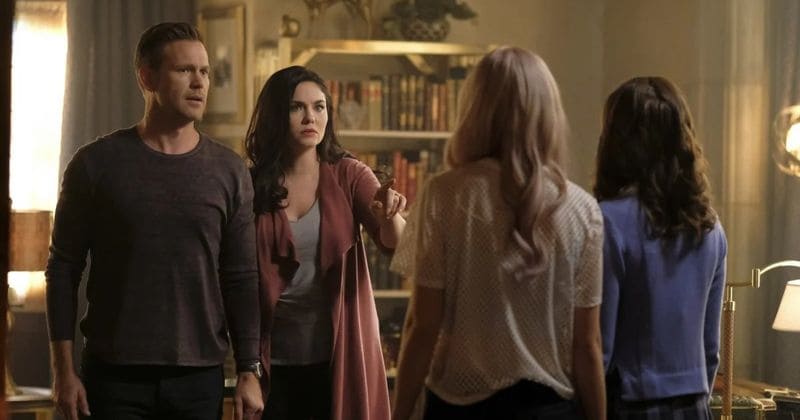 'Legacies' is coming back on television in a couple of weeks after their long fall break and there's not a speck of doubt that it will be nothing short of magical when they do.
After all, we're halfway through the debut season of 'The Vampire Diaries/The Originals' spin-off and things have just started getting super interesting and complex. As the next generation of supernaturals battle monsters and their own demons side by side, here's where the story has reached so far.
The knife 
The mysterious knife that had ended up playing a pivotal role in the first half of the season has been destroyed. The monsters have won this battle and Hope and her gang is trying to figure out what is going on. Turns out, the knife was actually one of the three keys that kept Malivore locked through all these years. Even before anyone could take a guess about the knife's power to make everyone want to steal it, it was gone. Surprisingly, this time, it wasn't Landon's fault.
He had been the guy who had stolen the knife in the first place causing all the monsters to come and get it. In the last episode, The Necromancer does manage to get it by bringing back Rafael's dead girlfriend Cassie to distract him. The Necromancer's powers include manipulating and raising the dead, something that this whole school conveniently forgot about after he was brought in for questioning in 'Mombie Dearest'.
With the knife gone and one of the keys already broken, Malivore is one step closer to coming alive again.
What is Landon up to?
As much as we wanted him to stay at the school, Landon Kirby was voted out by the newly formed Honor Council after tests came back saying that he was totally non-magical. The Honor Council is a student body that Alaric formed to make sure all the factions in the school are represented.
Hope sets Landon up with an old friend in New Orleans so he can embark on the journey he's always wanted to — to find out who he really is. Landon is trying to figure out who his mom is based on the one photograph he has of her. Fan speculation is that his mum is a crucial part of Malivore.
After he's left for New Orleans, the last thing we heard was that he was in trouble.
What is happening with Handon and Posie?
So Hope and Landon made up after a lot of fights in the first half and even shared a pretty passionate kiss when she went to drop him off at the bus stop. She gives him an enchanted bracelet that lets her know when he's in trouble so she can go use her Tribrid powers to help him out. Handon is still pretty on, by the looks of things.
As for Raf and Hope, they are pretty close now. So far, their relationship has been very platonic, quite like Damon and Bonnie's relationship in 'The Vampire Diaries'.
As for Josie and Penelope, the two are pretty on the fence about being together. After she got her on the Honour Council, Penelope made it clear to Josie's twin Lizzie that she was watching Josie's back and that Lizzie better watch out. Penelope still cares about Jo and hopes to get back together. The two share a kiss and Jo seemed pretty happy after. As of now, their priorities seem different but, as always, they seem to find their way back to one another. 
You'll also never believe who Raf hooked up with — and then broke up — Lizzie saltzman.
Dorian's backstory
Dorian's parents and sister had been killed in cold blood by Stefan Salvatore in 'The Vampire Diaries' during the time the younger Salvatore brother was trying to prove his loyalty to Original Klaus Mikaelson. He had to kill a lot of innocent people just so Klaus could put his faith in him and it so happened that Dorian's family was one of his many victims.
He takes a day off each year on Remembrance Day to pay tributes to his dead family and doesn't like being bothered — even if there's a monster trying to kill the entire town.  
All caught up? Here's what to expect when the show returns
Expect a lot more of Handon drama when the show returns. It is for sure that the show isn't separating these two just yet and neither will it be killing off Landon's character since he's becoming a crucial part of the story. There may be a tiff between Landon and Hope because of Raf — since the two are just getting closer day by day. There's a huge chance that Landon will get insecure and his backstory suggests the same.  
Expect a lot more of the old monsters. The gargoyle makes its second entry in the fall season premiere of 'Legacies' setting the mood for the rest of the season. This could either mean that all the monsters never really died and are being brought back by Malivore or that there are more coming. You can also be sure about the fact that Hope is going to be in the middle of it all, fighting everyone's battles.
The promo for the episode also shows a mysterious shot of Alaric talking about the school and the "difficult semester" to a character we cannot see. There's a chance that this could be a brand new character called Jaques Parker. While we don't know anything about the character, the surname is pretty familiar — Josette, Kai, and Luke Parker. We will definitely be seeing more of this person in the upcoming half of the season. 
'Legacies' episode 8 'Maybe I Should Start From The End' airs on January 24 at 9/8c on CW.