Last words of woman battling cancer are 'I do', as she dies just hours after exchanging vows
In what is truly a heartbreaking turn of events, vows were exchanged between a couple in love jut hours before breast cancer took the life of the beautiful bride! Cancer couldn't come in the way of Heather Mosher, who, even in her final hours of her life, married the one she loved. The bride from Connecticut had been battling breast cancer for a year and her now-husband fulfilled what we can only call a bittersweet and heartbreaking dying wish.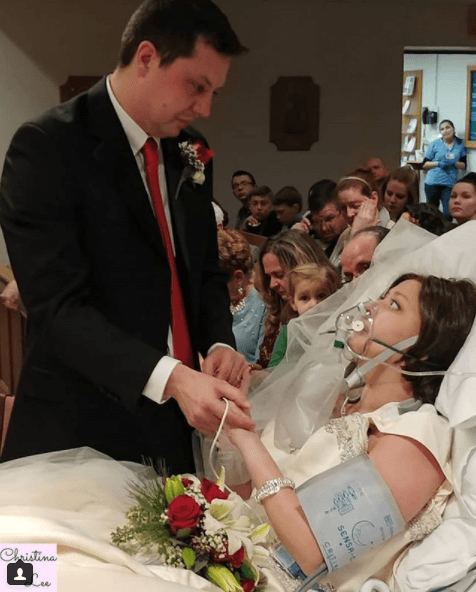 David Mosher, Heather's husband had proposed to her a year earlier on December 23, 2016. This also happened to be the same day she was diagnosed with breast cancer. 
"She didn't know I was going to propose that night, but I said to myself, she needs to know she's not going to go down this road alone," David said.
"A pair of draft horses, a carriage, and I arranged it all for that night. We went out on the carriage ride and I proposed to her under a street light," he went ahead to explain.
The couple had met at a dance class over two years ago in May 2015 and were quite inseparable after that. But before their blossoming relationship could envelop into a love for a lifetime affair, the couple took a hit as Heather got diagnosed with cancer. 
But cancer didn't come in the way of her dream of sharing her special day and the most beautiful moment of her life with her husband, David. She got married to the man she loved at St. Francis Hospital in Hartford, Connecticut, before dying on December 23. Her last words were her wedding vows.
She celebrated her wedding with fleeting joy and arms outstretched. Heather's dream may have lasted only for 18 hours but their love will remain in the hearts of many forever.
"Nobody thought she would've made it that far. She proved them all wrong and that's what that photo says to me. It reminds me of someone who is crossing the finish line of a marathon or something," David said to WFSB. 
Christina Karas - Heather's friend and bridesmaid- was their personal wedding photographer. She captured the bittersweet wedding and the beautiful couple as they exchanged their vows. 
'We were losing her as we were all standing there, thinking, to hold onto this, because this was the last she had to give,' Karas said.
After the proposal, Heather's condition got worse as her breast cancer took the most aggressive of all forms cancer can take. Suddenly their lives were consumed with cancer. 
By September 2017, the cancer spread, extending into her brain and a couple months later, she was on life support with a breathing tube.
Heather was given only until October to live but she didn't give in without a fight. 
'She was tough. Anyone else would have given up a long time ago. The doctors even said we don't know how she's still here,' David added.
Even though the cancer spread, their wedding plans never faltered. They were set to get married by December 30, but because her condition worsened, they bought it forward to December 22. 
"I knew it was going to be the last time we were going to be together in a loving way, it just seemed like the strangest funeral I've ever been to," David said.
Despite losing his wife just hours after getting married, David is going keep his wife alive by fighting on!
"She's my great love, and I'm going to lose her, but I'm not losing her forever," David said.
He also said: "Heather said, 'I want to keep fighting,' so that's the mantra I'm picking up. She was able to fight until the end, I'm going to fight until my end."
"We had a great love, Don't take your love for granted because it could be taken away."
If you have any views or stories that you would like to share with us, drop us an email at [email protected]