Kylie Minogue turns 50: Here's 10 things you may not know about the 'Neighbours' star
In 2000, Minogue made a comeback with 'Spinning Around'. Did you know that it was actually meant for Paula Abdul? Kylie Minogue (Source:Getty Images)
Kylie Minogue officially turns 50! The actress-turned-pop star announced her birthday on Instagram on Monday with a sexy picture of herself in her birthday suit straddling a jewel-encrusted acoustic guitar. She looked as radiant as ever with her iconic smile and wispy blonde hair framing her face.
Following the success of her TV show Neighbours, Minogue soon branched out into her singing career and her journey to stardom has been well-documented.
Minogue has always had a very public life ever since she started out in 1986. From her numerous relationships that had very public beginnings and ends, to her battle with breast cancer in 2005, this fabulous femme fatale has never shied away from saying exactly what she means.
While you may think that the Australian native is an open book but there are some things about her life that you may have never heard about.
1. Kylie's pop career began by accident
---
To think that the world would have otherwise been deprived of her magnificent voice! She actually sang her own rendition of 'The Loco-Motion' at a benefit concert for an Aussie sports team and unsurprisingly swept everyone away. She immediately landed a contract with Mushroom Records and, as fate would have it, her subsequent recording of the song became the best-selling single of the 1980s in Australia.
2. She's been honored with a knighthood and a health degree
She was appointed by the French government as a Chevalier, which in French means knight. The title is called Ordre des Arts et des Lettres, knight of the Order of Arts and Letters. It aims to recognize significant contributions to the arts, literature, or the propagation of these fields. She was honored with the title for her contribution to the enrichment of French culture.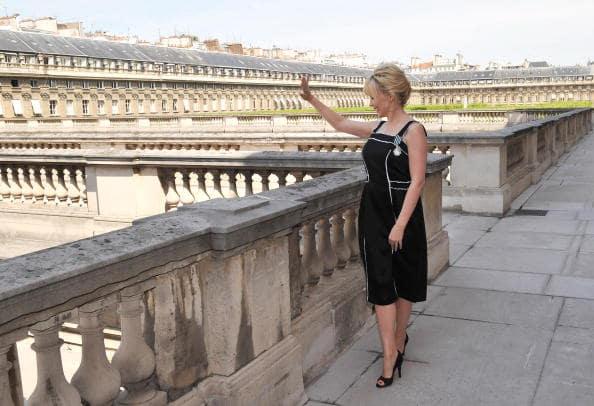 Minogue was also awarded an honorary Doctor of Health Science (DHSc) degree by Anglia Ruskin University for her work in raising awareness for breast cancer. After her open take on cancer, mammograms increased by 40 per cent in Australia.
3. She has inspired an INXS track and a musical
The singer, who herself has a vocal range of approximately 3.5 octaves, has a fan following even among her peers. Minogue was dating Michael Hutchence of INXS from 1989 to 1991. At this time, she had to dye her hair blonde for her role in 'The Delinquents'. She is said to have told Hutchence that she was going "suicide blonde," and Hutchence subsequently wrote the track "Suicide Blonde" which was all about her.
'I Should Be So Lucky', a musical named after one of her greatest hits, premiered in 2001 in Melbourne, Australia. A part of the Melbourne's Midsumma Festival, it was a jukebox musical.
4. She follows a paleolithic diet
---
Also known as the stone age diet, paleo diet or cavemen diet, Kylie is known to religiously follow this fad that only includes food that was available in the paleolithic age — fruits, nuts, roots and meat and veggies. It excludes stuff like dairy products, grains, sugar, legumes, processed oils, salt, alcohol or coffee.
5. She's actually had breakfast at Tiffany's... all the way back in 1993
25 years ago, Minogue was among the select few who had the privilege to breakfast at Tiffany, according to IMDB. In the boardroom of the jewelry store, Minogue celebrated her 25th birthday with her sister Dannii, her mother Carol and some close friends.
6. She's got her own stamp
---
As a part of the Australian living legends series, Minogue was featured on the 60-cent stamp. The living legend series made its debut at the beginning of 2013 and featured some other famous faces - like Hollywood A-lister Olivia Newton-John, the iconic rock and roll band AC/DC and the Australian rock band Men At Work.
7. 'I Should Be So Lucky' was written in under 40 minutes
Minogue flew to the UK for her very first music meeting with Stock, Aitken and Waterman, but they forgot she was coming and did not have anything prepared for her. She ended up writing the track while she was waiting at the reception. It was an international hit, topping charts in Australia, United Kingdom, Japan, and Germany, as well as making the US Billboard Hot 100 top 30.
8. She is competing with the Queen of England in terms of figurines at Madame Tussauds
While most celebrities are happy with one, Minogue has not one or two but four wax figures at Madame Tussauds in various likenesses. The only person to have had more wax figures is the Queen of England.
9. She's got a comeback in her name
Kylie actual means boomerang in the Aboriginal language. In 2000, Minogue made a comeback with 'Spinning Around'. Did you know that it was actually meant for Paula Abdul? The song has been co-written by Abdul and it was meant to push her back into the spotlight but, as fate would have it, it spun Kylie's career around.
10. She also does poetry
At the suggestion of Nick Cave, her duet partner from 'Where The Wild Roses Grow', Kylie recited the lyrics to 'I Should Be So Lucky' as poetry for the Poetry Jam at the Royal Albert Hall in 1995. She described it as a cathartic moment.