'He's not the first to go there': Trolls slam Kourtney Kardashian and Travis Barker's 'garter' moment Kourtney Kardashian and Travis Barker were married for the third time on Sunday, May 23. Switching up her style for the afterparty of their lavish wedding in Portofino, Italy, the 43-year-old reality personality wore a black variant of her white clingy figure-hugging little dress. In a video recorded by Barker's 16-year-old daughter Alabama, Kourtney was seen flaunting her lean legs as her musician husband, 46, dropped down on his knees for the garter toss.

As Kourtney sat in front of a red twinkle light-filled wall, her husband tore the garter belt from her calf with his teeth and tossed it to a crowd of bachelors. Later, the Blink-182 drummer was seen slow dancing with his wife, his arms wrapped around her from behind, to the 1960 Etta James song 'At Last.' Machine Gun Kelly, a close friend of the couple, also released a video of them, which showed Barker in a white leather jacket and his wife in a matching one with the words 'Mrs. Barker' on the back.
READ MORE
'Helpless princess': Kendall Jenner struggles to climb stairs in tight dress at Kourtney's wedding
Kourtney Kardashian dragged over 'tacky' wedding dress: 'Why is she wearing a diaper?'
"Okay y'all cute," the 32-year-old rapper captioned the footage on his Instagram story. "Not gonna say I called it from the beginning but…" he quipped. The newly wedded love birds slow-danced and shared a beautiful kiss in the video before he hoisted Kourtney up and wrapped her legs around him. Barker was dressed to the nines in a black suit, sunglasses, and a silver chain necklace. The couple looked super lovey-dovey and glamorous at the after-party.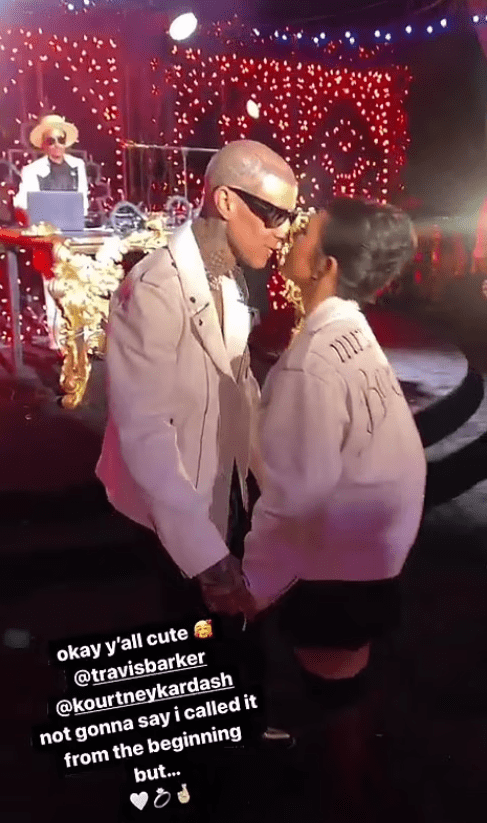 Soon after, Twitter was filled with comments about Kourtney's dress and the after-party. One user wrote, "Kourtney Kardashian needs to stop acting like somebody she's not. Just cause you're married to a drummer/rocker, doesn't mean you have to change your whole style dressing like a rocker, emo, all wearing all black 24/7. She has turned into the biggest weirdo."
"He's not the first to go there, nor will he be the last!," one tweet read.
Another wondered, "Is it just me, or is kourtney kardashian just like super f**king trashy all of a sudden? To be a completely different person than your boring a** old self. And also-wearing a mini skirt to your courthouse wedding? And wearing a black slut suit for your "actual" wedding in Italy?"
---
Kourtney Kardashian needs to stop acting like somebody she's not. Just cause you're married to a drummer/rocker, doesn't mean you have to change your whole style dressing like a rocker, emo, all wearing all black 24/7. She has turned into the biggest weirdo.

— midnightxrider 🥀 (@moonxshadcierra) May 22, 2022
---
---
He's not the first to go there, nor will he be the last!

— boboloutoo (@fears_bob) May 23, 2022
---
---
Is it just me, or is kourtney kardashian just like super fucking trashy all of a sudden? To be a completely different person than your boring ass old self. And also-wearing a mini skirt to your courthouse wedding? And wearing a black slut suit for your "actual" wedding in Italy?

— Kelly🤓 (@kayy_welsh22) May 22, 2022
---