Who is Khalil Ferebee? Andrew Brown Jr's son cries at funeral attended by George Floyd's family: 'Love you, pops' Family, friends, and civil rights leaders gathered on Monday, May 3, at a North Carolina church to mourn Andrew Brown Jr. The 42-year-old Black man was allegedly killed by police last month in Elizabeth City, North Carolina. Around 8.30 am on April 21, deputies with the Pasquotank Sheriff's Office, dressed in tactical gear, drove down a residential street and arrived at a home in Elizabeth City. Moments later, several shots were fired at Brown. He was hit by five bullets and killed by a shot to the head.
The funeral was held in Elizabeth County, with a eulogy delivered by American civil rights activist, Baptist minister, talk show host and politician Reverend Al Sharpton. Several family members spoke, as did relatives of George Floyd.
RELATED ARTICLES
Andrew Brown Jr: Who are Daniel Meads, Robert Morgan, and Aaron Lewellyn? Sheriff identifies cops who shot NC man
Who is Brent Hall? The medical examiner who did Andrew Brown Jr's private autopsy had his license suspended before
Who is Khalil Ferebee?
Brown's grief-stricken family reportedly began arriving shortly before 12 pm ET. His eldest son Khalil Ferebee said that their family intended to "do what he would have wanted us to do in life" and said "I love you, pops" during his emotional address. He also said that his father would have "loved" the proceedings.
"I just wish he was here with us," he said. "As much as I'm going to wish and wish, wish all day, it's not going to happen. It's a terrible way that we had to be together like this, but, you know seeing everybody, I'm glad we're together like this right now." Ferebee also wept at the funeral.
Others at the funeral
As per the Washington Post, others who have mourned loved ones killed by police were also in attendance to support Brown's family. Daunte Wright's mother Katie Wright, Terrence Floyd, George Floyd's brother, and Bridgett Floyd, his sister, and Eric Garner's mother Gwen Carr were present.
Bridgett and Terrence Floyd reportedly pledged their kinship and support to the Brown family. Bridgett Floyd told two of Brown's sons that the pain they're experiencing won't last forever. Terrence Floyd said, "it's a shame in America that us as Black men, we got to duck and dodge death when it's not even looking at us."
Al Sharpton's speech
In his eulogy, Sharpton called for authorities to release the recording of Brown's death. Last month, a North Carolina judge rejected requests to release videos showing law enforcement's fatal shooting of Brown. Superior Court Judge Jeff Foster said he was delaying the release sought by Wooten for 30 to 45 days "to allow completion of any investigation being undertaken" by the State Bureau of Investigation (SBI) and the local prosecutor.
"Before we could get through one 24-hour cycle after the conviction of Derek Chauvin for the lynching by knee of George Floyd, a policeman killed Andrew Brown Jr — a day that we were getting ready to go to the wake of Daunte Wright," Sharpton said.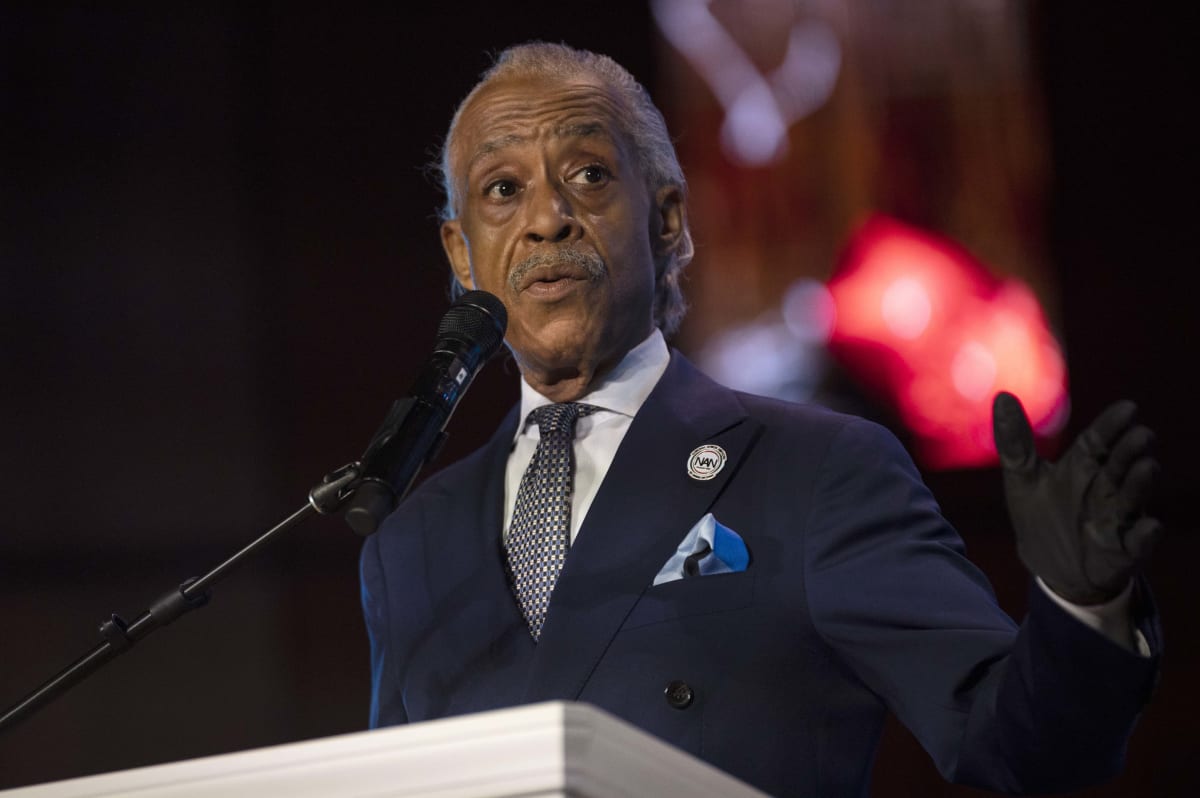 "From Daunte Wright to Andrew Brown to Breonna Taylor to Ahmaud Arbery to Rayshard Brooks to George Floyd — all of this happening during a pandemic. All within a year. And you want to talk about everything other than what the times demand we talk about," he said.
Sharpton highlighted the urgency of the George Floyd Justice in Policing Act and compared it to the Civil Rights Act and the Voting Rights Act of the 1960s. "Andrew Brown Jr, if he did wrong bring him to court," Sharpton said. "But you don't have the right to bring him to his funeral."
Disclaimer : This is based on sources and we have been unable to verify this information independently.
Share this article:
Khalil Ferebee Andrew Brown Jr son weeps at funeral attended by George Floyd family Al Sharpton