How did Keishla Rodriguez Ortiz die? Felix Verdejo, 27, allegedly tossed pregnant woman from bridge and shot her Puerto Rican boxer Felix Verdejo turned himself in on Sunday night, April 2 just hours after authorities identified the body of a dead woman found in a lagoon. The body of Keishla Rodriguez Ortiz, 27, was identified on Saturday, May 1. She was identified Sunday via dental records, Puerto Rico's Institute of Forensic Science said in a statement.
Rodríguez's family said she was pregnant with Verdejo's child. Keila Ortiz, the victim's mother, told reporters that her daughter had called her before she vanished on Thursday and told her that Verdejo was going to her house to see the results of a pregnancy test.
RELATED ARTICLES
Who is Felix Verdejo's wife? Boxer involved in alleged girlfriend's murder happily married to influencer wife
Did Felix Verdejo turn himself in? Boxer probed as pregnant lover Keishla Rodríguez's body is found in lagoon
A series of tweets by journalist David Begnaud said the prosecutors have alleged that "boxer Felix Verdejo called someone on April 27 to ask them to help him terminate Ortiz's pregnancy. On April 29, Verdejo allegedly contacted Ortiz and asked her to meet him near her home.
Begnaud said, "Prosecutors allege that Verdejo and the witness drove to a meeting point in his with Dodge Durango. Prosecutors alleged victim arrived at the meeting place in her vehicle and she got into Verdejo's car." "Prosecutors then alleged that a block was tied to the victim. The witness who was there allegedly took the victims keys and got in the victims vehicle," and "Prosecutors allege that Verdejo and the witness drove both vehicles toward a local bridge which spans a lagoon between San Juan and Carolina." He added: "Verdejo & the witness allegedly then drove onto the bridge where the victim was removed from the vehicle and tossed off the side of the bridge into the water. Verdejo allegedly shot at the victim with a pistol from the bridge. The victims car was then abandoned."
"I told her, 'Be careful,' because he had already threatened her,″ Ortiz said. She said Verdejo had told her daughter not to have the baby, mentioning his career and family. Verdejo is married but had known Rodriguez since middle school and kept in touch with her, her parents said. They reported her missing after she didn't show up for her job at an animal grooming business.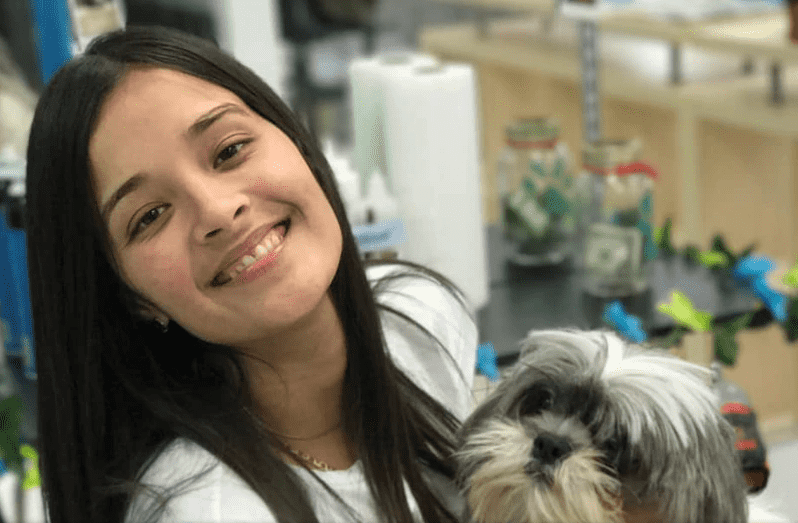 Verdejo was first brought in for questioning by police in Puerto Rico on Friday, April 30, as "a person of interest" in the disappearance of Ortiz, who went missing April 29. On Sunday, May 1, authorities confirmed that the body of a woman found floating in Laguna San Jose was Rodriguez. Her family claimed the 27-year-old woman went missing after meeting with Verdejo to tell him she was pregnant, Verdujo, 27, is married to another woman, named Eliz Marie Santiago Sierra, the couple even has a daughter together named Miranda.
The case has sparked outrage among Puerto Ricans, where another woman was recently found burned to death after she filed a domestic violence complaint that a judge dismissed. A Superior Court judge has announced an investigation into that decision. Hundreds of people gathered on Sunday, May 2, at a bridge that crosses the lagoon where Ortiz's body was found to demand justice for her and other women killed, with some throwing flowers into the water below.