Keanu Reeves stops by superfan's home to leave 'You're breathtaking' message in her front lawn, melts the internet Keanu Reeves has once again told us why he's Hollywood's most down-to-earth megastar after leaving a heartfelt message for a doting fan.
In June, the actor broke the internet after declaring "you're all breathtaking" to a crowd at the Xbox E3 2019 Briefing on June 9.
While driving to the set of 'Bill & Ted Face The Music' in Louisiana with writer Ed Solomon, the 'John Wick' actor, 54, spotted a sign on a fan's lawn referencing the famous moment, Daily Mail reports.
"You're Breathtaking," it read.
As soon as he saw the sign, Reeves stopped the vehicle, knelt in the grass, and wrote "Stacey, You're Breathtaking" along with his signature.
Photos of the emotional moment were shared by Solomon on Twitter, and fans lauded the 'Speed' star for the class act.
"So yesterday this sign was out on a lawn on the way to set," Solomon wrote. "Keanu jumped out of the car and did this."
In a conversation with Nola.com, Reeves's superfan Stacey Hunt recounted her incredible meeting with the Hollywood superstar right in front of her house. She said Keanu took the time to have a chat with her and her family before posing with them for photos.
Hunt, who made the sign after learning Reeves was filming in her neighborhood, said she was walking home after checking out the shoot on Wednesday when she saw 'The Lake House' star walking into her yard.
"Three people got out of the car and were walking into my yard, and I said, 'Oh my gosh, that's Keanu Reeves!' I probably said 'no way' about a dozen times," she recalled. "I could not believe that he was in my yard, and he was casual and like, 'Can I sign your sign?'"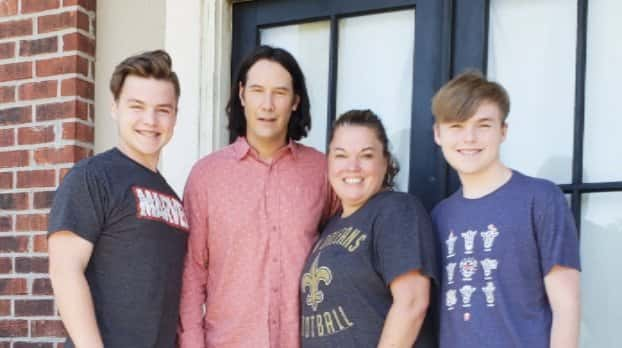 Reeves, Solomon, and the family enjoyed a small chat, Stacey recalled, when 'The Matrix' star asked her name and if she had watched 'Bill & Ted's Excellent Adventure'.
"My heart has been racing for three days," she admitted, saying she was yet to get over her tryst with 'nice guy' Reeves.
"'Speed,' 'The Lake House,' 'Point Break' — we've been watching Keanu Reeves movies for 20 years if not more," she added.