Katie Holmes and Jamie Foxx split: Why everyone with relationship goals should hope the rumors aren't true
Katie Holmes and Jamie Foxx have reportedly split up after being together for around five years despite giving us some serious relationship goals Katie Holmes (Getty Images)
It is being reported that Katie Holmes has split up with Jamie Foxx after being with him for the last five years. The couple were rumored to have been dating as far back as the year 2013 but only chose to confirm their romance last year in September. Despite many reports claiming that the couple has chosen to go their separate ways, their split definitely comes as a surprise given how in love they have been.
According to Radar Online, the couple has even called off their dream wedding which they were believed to have been planning for a while. It is believed that it was trust issues that caused the split. "Katie just couldn't get over her trust issues," a source shared. Their split comes shortly before the couple was ready to go public after having kept their relationship under wraps.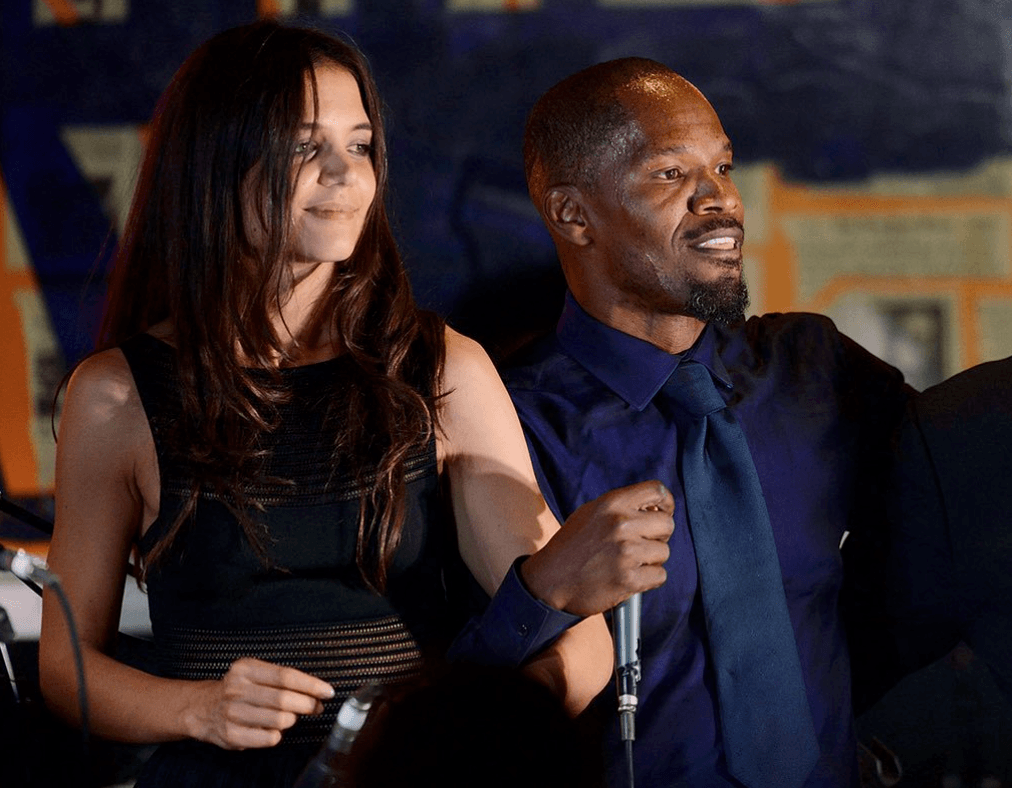 They were supposed to have a wedding in Paris and a lavish honeymoon to follow which was estimated to cost $300,000. "Katie's called the whole thing off! She's devastated," the insider added. When Jamie Foxx and Katie got together, it had been a year since her marriage to Tom Cruise had ended. Jamie and Katie seemed very committed to each other and their relationship.
The couple also went to extreme lengths to not let the public know about their romance with Katie wearing a wig and a hat on one of their date nights. The couple would also use separate exits in restaurants to avoid being seen together. Jamie even went to the extent of calling the reports of their relationship "fake news" and "hilarious". He was also seen walking off a live interview in the month of February when a reporter brought up Katie's name.
Of course, it was not possible to keep hiding their relationship, and they naturally wanted to spend their time with each other which made it hard to keep things a secret. After they were seen on a romantic stroll in Malibu, there was no hiding the budding romance. The couple could not seem to contain their happiness as they walked together hand in hand and were also seen laughing together. The couple showed off their synchronicity by wearing matching fedoras.
Once Katie's divorce agreement with her ex-husband Tom Cruise was finalized, and her promise to stay single had expired, the couple could not keep their hands off each other as was seen at Jamie's 50th birthday bash. Of course, the couple arrived separately, but who were they kidding? Tom and Katie had been dating for just seven weeks when they decided to take a step further and get engaged in the year 2005.
Just a year after Katie and Tom Cruise split up, Katie and Jamie were seen flirting and dancing together at a charity bash in The Hamptons. Jamie is also connected to Tom Cruise and they appeared side by side in the 2004 thriller 'Collateral'.
In the year 2016, it seemed like there was the first public confirmation that Jamie and Holmes were indeed together when former Real Housewives of Atlanta star, Claudia Jordan, who is a friend of Jamie said that they were dating. During an interview for a podcast, Claudia said, "He is very happy with her. I like that he seems very happy. " However, she was quick to take back her comments the day after podcast reveal and told Entertainment Tonight that she had "no knowledge of Jamie and Katie's relationship at all". "I've never seen them together. He's never told me he's dating her," she added.
A source has claimed that it was Jamie who wanted to keep the relationship ultra private and maintain the "we're just friends" stance and this eventually really got to Katie, especially since he was seen out with other women. It is reported that Jamie had not let go of his other single-minded behavior such as bar hopping with a bunch of other rappers and models.
"It rubbed Katie the wrong way. It was hard for her not to feel jealous and worry about cheating, especially since Jamie's a major flirt," the source added. Katie had to look out for herself and her daughter Suri and she did not appreciate Jamie's behavior. The actual breakup between the couple did not include any yelling or drama but just a whole lot of sadness and disappointment.
Reports revealed, "Saying goodbye to Jamie — not to mention the wedding and future plans she'd been making — 'was heartbreaking'. But in the end, she felt like she had no choice." Throughout their relationship, the couple has always looked as though they are very much in love and, on several occasions, have been seen getting close and cuddly despite them saying otherwise. Most important of all, the couple has always looked happy together.
In the year 2014, Katie Holmes spoke to People and shared that she "absolutely believes in love" post her breakup with Tom Cruise which made headlines everywhere. "I'm a very loving person," she said. "Of course, I'm open to finding love again".
We really hope that these rumors are not true and that the will find a way to work things out.