Kamala Harris caught nudging Joe Biden to remind him to speak on Champlain Towers collapse
During a White House press conference on June 24, Biden concluded and was ready to walk away as reporters shouted questions regarding the Miami disaster Joe Biden (R) was discussing an infrastructure bill when reporters asked about the Surfside building collapse (L) (Photo by Joe Raedle/Getty Images, CSPAN/White House)
Vice President Kamala Harris was caught on camera nudging President Joe Biden during a press conference to remind him to talk about the Surfside condo collapse in Florida that has left at least four dead and hundreds unaccounted for.
During a White House press conference on Thursday, June 24, Biden was discussing the $1.2 trillion infrastructure bill alongside VP Harris. He concluded the conference and was ready to walk away as reporters shouted questions regarding the Miami disaster at him. It was then that Harris nudged him to talk about it, the Daily Mail reported.
RELATED ARTICLES
Surfside condo collapse was 'earthquake, bomb and tornado' rolled into one, say residents
Horrifying video showing moment Surfside condo building collapses goes viral
The Vice President appeared to whisper "Florida, yeah," under her breath to the president before walking away, prompting him to say, "Oh yes! I apologize," and thanking her for the reminder. The VP was referring to the horrifying 12-story Miami apartment building that grabbed headlines early Thursday.
It's worth noting that a major search and rescue operation is underway as teams scour through tons of rubble and families await news of any survivors. The shocking moment the building collapsed was captured on surveillance footage, shooting a massive plume of dust and debris into the air.
At least four people have been confirmed dead after the Champlain Towers South beachfront building collapsed at about 1.30 am on Thursday in Miami's Surfside area. Authorities have warned that the death toll could see a sharp increase considering there were at least 129 people still missing at the time of writing. It is still unclear whether any or all of them were inside the building when it collapsed.
Addressing reporters, Biden revealed he had spoken with local officials about the disaster, including Miami-Dade mayor Daniella Levine Cava. "I've spoken with, coincidentally, the mayor of Miami-Dade, was in my office yesterday, not about that, obviously, but I had a long discussion with her today," Biden said. "I've also spoken with, we've been in contact with congresswoman Debbie Wasserman Schultz who's in that district."
Meanwhile, the president said he was waiting on Governor Ron DeSantis to declare a state of emergency in order to provide federal help. "We've gotten in touch with FEMA, they're ready to go," he said. "They're down inspecting what they think is needed, but I'm waiting for the governor to ask for a declared emergency, especially as we learn what might happen to the rest of the building."
The POTUS said his chief of staff Ron Klain has been monitoring the situation right from the get-go and is working closely with FEMA officials. "I say to the people of Florida, whatever help you want that the federal government can provide, we're waiting," he said. "Just ask us. We'll be there."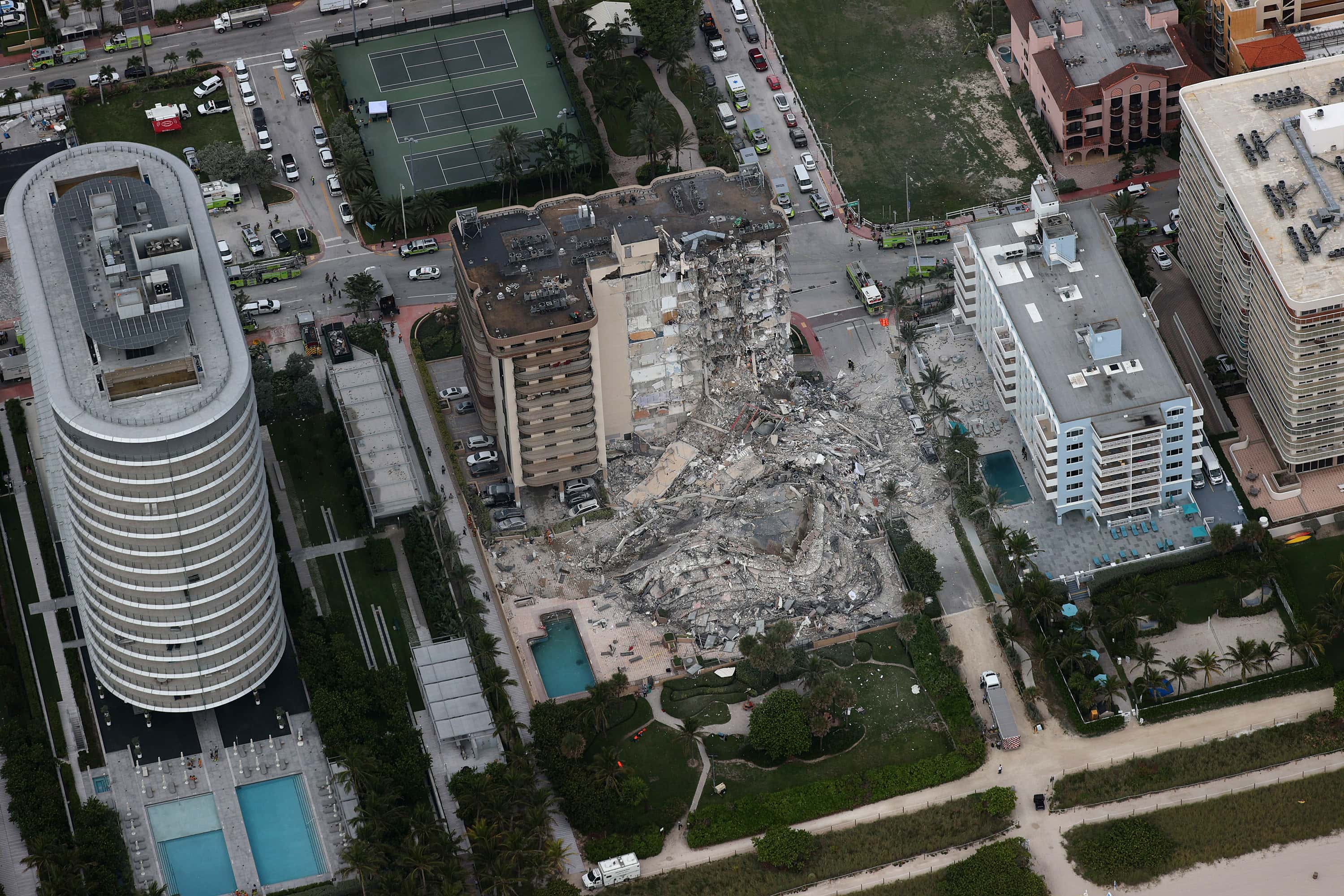 Social media users slammed Biden over the nudging incident, with some questioning the president's cognitive abilities. "Another embarrassing moment for @TheDemocrats as @VP Harris has to [email protected] and remind him to address the Miami condo-collapse. None of the major networks mentioned the incident; I wonder why? It's becoming more obvious each day that Biden is mentally short a few bricks," one Twitter user wrote.
"Oh dear - going to be a long presidency Kamala," another added. "At this level? Pathetic and embarrassing to the [United States]" another chimed in.
Who built Champlain Towers?
Champlain Towers South Associates, a group of developers that included the late philanthropist Nathan Reiber, erected the Champlain Towers South Condo at 8777 Collins Ave. in 1981. Champlain Towers North Condo, a smaller structure with fewer units, was constructed at the same time. In 1991, a third structure, Champlain Towers East Condo, was erected, the Miami Herald reported.

All three towers are 12 floors tall, but the South tower, which contains 136 units, is the tallest. According to Daniel Ciraldo, executive director of the Miami Design Preservation League, it was the first project developed in Surfside after Miami-Dade County put a ban on new constructions in the 1970s.