No more 'Pink Joon'? Heartbroken BTS ARMY miss Jungkook's long hair, 'rainbow' Jimin ahead of 'Butter' release Prior to the release of 'Butter', BTS ARMY is in for a rollercoaster ride of emotions as they witness an era coming to an end even before they had a chance to say farewell. To put the story in context, after Grammy-nominated K-pop leader RM aka Namjoon made it to the topmost social media trends with his Pink hair 'Butter' concept images making ARMY hope for a full-fledged Pink Joon era, the South Korean rapper appeared in a recent MTV video without the pink hair, causing ARMY to worry that the Pink Hair Joon period was too short to process.
To add more to the heartbreaking farewell, BTS' golden vocalist Jungkook has seemingly cut his long purple hair to a much shorter length and the iconic rainbow hair of Jimin from the 'Butter' concept images is also nowhere to be found. While there is still a chance that the video was recorded earlier or BTS members will go back to their iconic hairstyles right before the final release date of Butter on May 21, the shock of the Pink Joon era actually gone is making ARMY flood the social media sites where they pray for it to be back soon.
REALTED ARTICLES
BTS' Kim Taehyung surprises ARMY with 'Vcut' of 'Butter', reveals he's reworking his mixtape 'step by step'
BTS 'Butter': Air time, how to live stream, full teaser photo schedule, concept and all about Bangtan Boys' English dance-pop track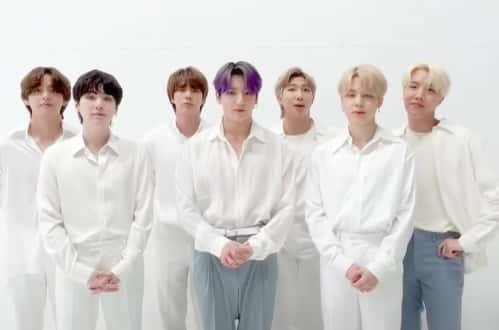 Is this an end to the Pink Joon era?
BTS Namjoon has a love-hate relationship with pink hair. While the 'Mono' crooner has successfully sported peachy pink hair color in the past making ARMY go bonkers with his striking visuals, he has also shared in interviews why he wouldn't likely go back to that anytime soon. In an IHeartRadio Interview, Joon shared, "I had pink hair, it's my dark past, I don't want to go back to pink!" Hence, it was equally surprising for ARMY to see the 26-year-old Billboard Hot 100 rapper going back to Pink for 'Butter'.
BTS ARMY saying farewell to long hair Jungkook and Rainbow hair Jimin
Yet, as all good things come to an end, heartbroken ARMY is saying farewell to 'Pink Joon' era for now with a hope to witness it again soon, perhaps for 'Butter' live performances. A fan thought out loud, "Was pink joon, rainbow jimin, and long haired purple jungkook a lucid dream or did I skip an episode?" Another fan quipped, "All men do is lie.... where is pink joon ??? where is rainbow jimin??? where is Jungkook Yeager???" A heartbroken tweet read, "Jungkook cut his hair Pink joon is gone Rainbow Jimin was temporary " I want to die!" Another fan chimes on saying, "The way it broke my heart after seeing 'Jungkook cut his hair' trending and then knowing that pink jooon and rainbow jimin were temporary...I CAN'T!"
---
The way it broke my heart after seeing 'Jungkook cut his hair' trending and then knowing that pink jooon and rainbow jimin were temporary...I CAN'T ;-; pic.twitter.com/qujVgVH2c2

— 새⁷🍒🧈(🤏slow) (@daebakbangtang) May 18, 2021
---
BTS, deemed as the 21st-century pop icons, will be releasing the final teaser of the music video 'Butter' on May 19 followed by their much-anticipated release of the second English single 'Butter' on May 21. Certified as the biggest music group of the world right now, BTS will be performing 'Butter' for the first time on BBMAs on May 23. Prior to the teaser drop, take a look at the stunning concept images below.
Share this article:
K-pop end to Pink Joon era BTS ARMY heartbroken long hair purple Jungkook Rainbow Jimin Butter