Jersey Shore Family Vacation: Here are some things that have not changed in the reboot and make fans nostalgic 'Jersey Shore Family Vacation' returned to the small screen on Thursday night, April 5, and viewers got to see some of their favorite reality TV stars back together again after nearly six years away from each other.
Nearly all the cast members went on to become reality show staples, and some even started families, but most things haven't changed a bit in the last six years, and here are the top four.
1. Snooki is still a party animal
Nicole "Snooki" Polizzi and Jenni "JWoww" Farley may be married with two children each, but the reality stars haven't given up on partying like they used to in 2012. Snooki got blackout drunk, grabbed another woman's boobs, passed out in the middle of a street, peed in an infinity pool, drowned a blow-up sex doll in a pool, and lost her wedding ring, all this in two episodes.
The women defended their wild ways in an interview with E! News. Snooki said, "Backlash I get off on because you don't me, so eff off. And you have no idea, so if you're a parent and you're going to judge me, go take care of your kid."
Snooki explained that raising kids took its toll on her, "You need to get away from your kids so you're not so anxious and you're not so irritable when it comes to being a parent. I'm a 24/7 parent at home. I'm always with my kids...so the fact that I can get a break and go to the gym for a minute or go out to dinner with my girlfriends for a little bit, it makes me a better mother because I'm not so irritable."
JWoww said, "I actually wanted to do this show for myself to get rid of the stigma that once you become a parent or married or over 30, you're basically not supposed to live your life for you anymore, which is fine. But at the end of the day, my kids are well taken care of at home." However, the guilt of going wild while their kids were at home got the best of the two, with Snooki considering not signing on for another season.
2. Gossip Girl Pauly D's hair is still as sharp as his comments
Pauly 'DJ Pauly D' Delveccchio joined the cast of 'Jersey Shore' in 2009 as a disc jockey, and was famous for his vertical, gel-soaked hairstyle that he meticulously shaped every day. The entire cast was famous for their burnt orange complexions due to their obsessive love for tanning, but this season, Pauly D has out-browned them all.
As Pauly returns to the Jersey shore, he is still working as a DJ, albeit a world-famous one, and his hair still blots out the horizon. He also remains as shady and catty as ever, commenting on all his co-stars, gossiping about them and poking fun at them as soon as they are out of earshot.
3. Vinny and Pauly D's bromance knows no bounds
The two shared their love for fist bumping at the club, going at it with gusto. And while a girl at the club was dancing up on Pauly D, Vincent 'Vinny' Guadagnino ensured that her health did not suffer as a result of her encounter with Pauly. He said, "I'm holding this girl's hand while she's grinding on Pauly, just to give her support because she might hurt her back. From twerking."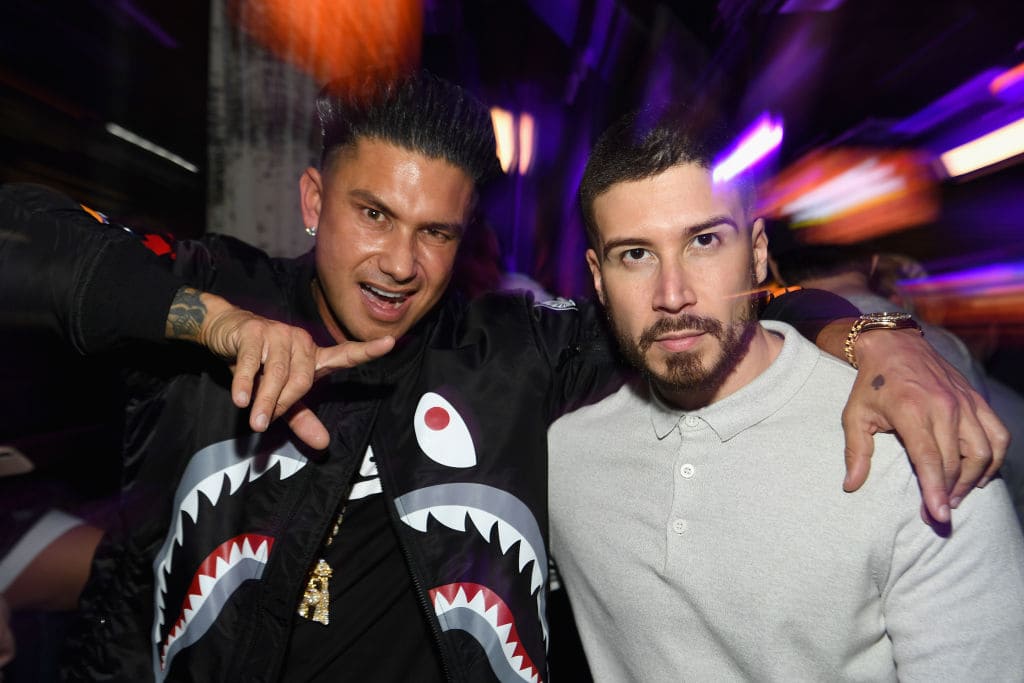 The two then left the rest of their castmates and headed to the airport to pick up Mike "The Situation" Sorrentino, to "complete M.V.P." as he put it. The now-sober guido had been delayed due to a run in with federal authorities over unpaid taxes, and was facing the prospect of jail time. But the power couple didn't have his back for long, as they eventually plonked him right in the middle of a teetotaller's nightmare situation, a.k.a Snooki.
4. Sammi Sweetheart's drama will never die down
Despite choosing not to return for the 'Jersey Shore Family Vacation' season, Samantha 'Sammi Sweetheart' Giancola has managed to make her presence strongly felt on the show. She followed the show as it aired, and favorited tweets that seemed to be shading her ex, Ronnie 'Ron' Ortiz-Magro. She also tweeted her love for Deena Cortese, who had been sticking up for her throughout the episodes.
To be fair, Sammi had been dragged quite a bit by her former castmates. Pauly D had brought along a plastic doll that had been programmed to repeat Sammi's catchphrases and pick fights with Ron. The doll was wearing a tank top that read, "I'm in a really good place," which was Sammi's reason for choosing to stay out of the season. Deena came to her defense and called it "f**king weird," but that didn't stop Ron from doing some nasty things to the doll.
The show seems to promise a lot more drama than it did in the promos, and with Angelina's return to look forward, things can only get messier from this point on.
Share this article:
Jersey Shore Family Vacation: Here are some things that have not changed about the show in six years