'This is not Harry Met Sally': Jennifer Newsom asked by defense to fake orgasm during Weinstein trial
The first lady of California has alleged that Weinstein raped her in 2005 and she faked an orgasm to escape her ordeal LOS ANGELES, CALIFORNIA: Jennifer Siebel Newsom was reportedly visibly emotional as she took the stand second day on Tuesday, November 15, at Harvey Weinstein's sexual assault trial. The documentary maker also slammed a defense attorney after being asked to show the court how she apparently faked an orgasm to stop the disgraced film producer's alleged assault on her.

As per reports, Jennifer told a court in Los Angeles that Weinstein "ruined my life, I put it in a box, and I was not going to not pursue my entertainment career because of what happened." However, when Defense Attorney Mark Werksman demanded her to enact how she "indicated her pleasure" to her rapist, she reportedly claimed, "This is not When Harry Met Sally. I'm not doing that," referring to Meg Ryan's role as Sally in the 1989 film. In the movie, Ryan had faked a climax at a diner in a scene that has become iconic.
ALSO READ
'He's staring at me': Gavin Newsom's wife Jennifer Siebel in tears as she testifies at Harvey Weinstein trial
Lauren Young: Harvey Weinstein accuser says his p***s 'looked like it had been chopped off and sewn back on'

The wife of Gavin Newsom was allegedly raped by Weinstein in 2005 at the Toronto International Film Festival. Jennifer, who was a struggling actor at the time, reportedly thought that she would have a meeting with the Hollywood mogul and others regarding her career. But somehow ended up alone with him at the Peninsula Hotel's suite in Beverly Hills. As per her, Weinstein was wearing nothing but a bathroom robe at the time.
He also allegedly started touching her up while masturbating. So to put an end to the alleged assault, Jennifer faked an orgasm. She asserted, "It was to expedite his experience so I could get out of there." Also, when Weinstein's lawyer, Mark Werksman, tried to imply that "the purpose of you having an orgasm was to get him to finish having sex with you," the first lady of California clarified, "He wasn't having sex with me."

She added, "I was making some noises to get him to finish, he had already raped me. It was at the very end after I'd already been assaulted. And I left right after." During the testimony, Werksman also questioned Jennifer about "18 emails" she apparently sent to Weinstein by 2007 and the two or three times they met. She, however, told the court, "I was trying to not feel like a victim, and be able to live my life and take control back from somebody who had harmed me and violated me."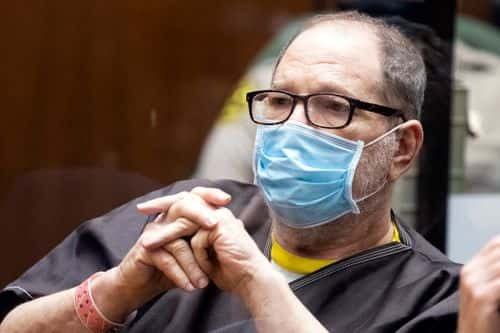 Deputy district attorney for Los Angeles County, Siebel Newsom, also cross questioned Jennifer and when Siebel asked, "When you went to the Peninsula, was it your intent to have sexual intercourse with Harvey Weinstein?" the 48-year-old said, "No." Deputy district attorney went on to question her if she said no to Weinstein's inappropriate advances, Jennifer insisted: "I did! I did with my voice and with my body. I tried to be kind - I did by slamming my legs together. I tried to get out of there, I tried, I tried so hard."
Share this article:
'This is not Harry Met Sally': Jennifer Newsom asked by defense to fake orgasm during Weinstein trial