Playboy model Iryna Ivanova squeezes 30GG breasts into tiny bra, asks 'does it fit?'
Iryna Ivanova, with 1.1 million followers on Twitter, is known for flashing her followers in revealing outfits on her social media accounts Playboy model posed for her fans in a pink bra (Twitter)
The playboy model Iryna Ivanova with 30GG boobs joked around with her followers as she tried to fit herself into a tiny bra and asked them if they think it fit her. Iryna has been previously known to flash her followers in revealing outfits on her social media accounts.
The model enjoys a following of 1.1 million followers on Twitter and is often seen showing off her prized 'assets' on social media. While she flexes her perfect physique in front of her fans, she is more private about her relationship status. But she has dropped hints about wanting a "couch partner."
READ MORE
From masturbating in bathhouse to Don Lemon: 5 takeaways from Jussie Smollett's testimony
Pete Davidson and MGK's underwear bromance: Fans go gaga over convo about their 'goods'
Recently, the playboy girl was seen joking about the size of her plus-sized boobs in a caption for a photo, where she wrote, "Does this fit?," drawing attention to the relatively small size of her pink bra, and added lots of laughing emojis to it. Every time she posts one of her pictures, her fans go gaga over her and flood her comment section with comments. In one of her interviews with the Daily Star, she also spoke about her DMs and said that she receives a lot of love and kinky DMs.
She said, "I love all the comments and I am happy that people care enough to write anything at all. Some of my favorites are 'would you rate my p*nis on a scale of 0-10?' As well as 'is there anything on you that isn't fake?' and 'I'll pay you thousands to join me on a week's vacation, will you come?"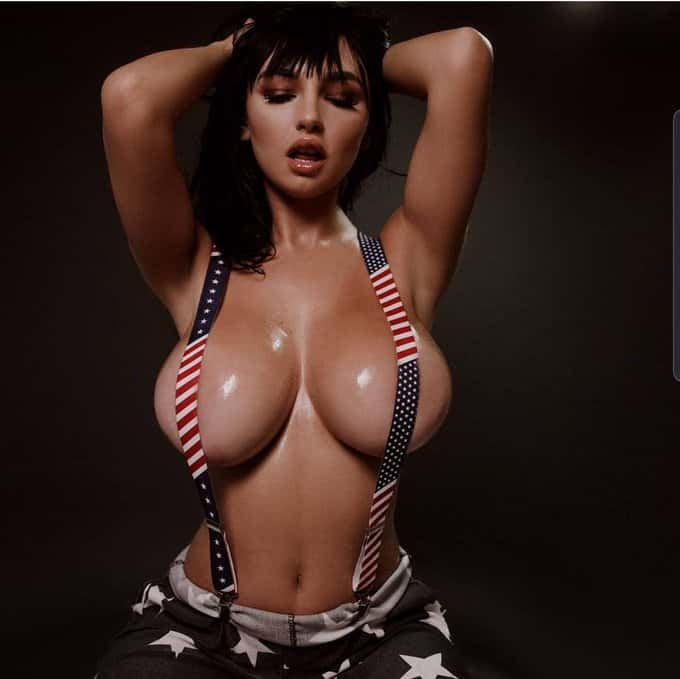 Iryna has been earning a lot of money by having one-on-one chats with her fans as she rates thousands of photos shared by desperate and eager men. She says, "I'm the top earner on Celeb.TV and selling racy content has totally changed my life for the better."
Iryna spends the money she earns on luxurious vacations and filling her wardrobe with designer clothes. One of her fans wrote on Twitter, "miss iryna very sexy Very big and beautiful bust Your style is just the perfect goddess of beauty Iryna."
---
miss iryna ☺️very sexy❤️
Very big and beautiful bust Your style is just the perfect goddess of beauty iryna

— しょうたのとも (@shouta_tomo) December 2, 2021
---
From calling her the goddess of beauty to giving her the title of 'sexiest' and 'most gorgeous lady alive,' Iryna's fans have not left any word of appreciation unsaid. Recently, she has also shared a photo where she showed of her glistening body and asked her fans if she should keep it oiled or not. Her fans wrote that they like it oiled. One of the users wrote, "Oil most definitely, the more the better."
---
Oil most definitely, the more the better.

— Paul Henson (@paulhenson50) December 4, 2021
---