Inside Larry Elder's alleged sexual harassment scandal as radio host hints at 2024 presidential run SAN FRANCISCO, CALIFORNIA: Larry Elder, one of the most popular political commentators, has hinted at running in the 2024 presidential election. He had legally filed his candidacy on Wednesday, February 8, and confirmed it to Steve Hilton in a podcast recording.
"Keep in mind, you're talking to someone who is very likely going to run for president," Larry told Daily Mail before adding, "If I decide to, I'm gonna announce sometime early April or mid-April." The host Hilton then responded, "It's exciting to have a potential presidential candidate discuss their plans on The Steve Hilton Show and we look forward to having more exciting guests join us in the future." Elder will begin his campaigning along with Donald Trump.
READ MORE
Alexandria Ocasio-Cortez discloses how sexual abuse in her early 20s drove her to run for office
'Felt abused again': Ron Jeremy victims demand 'closure' as he won't be tried for sexual assault of 21 women as he's mentally unfit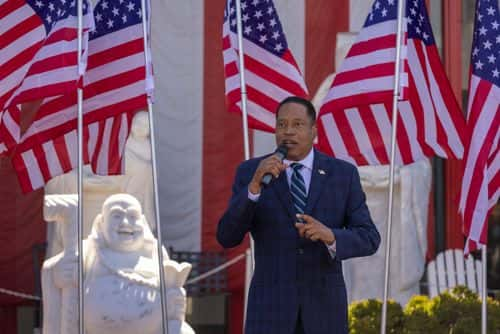 What are the allegations against Larry?
Elder was also a radio host, and during his show he stated that he had been accused of sexual harassment. The first time he was accused was in the 1980s by a colleague when he was an attorney in private practice. He said, "This woman who tried to break the contract, not to compete and then accused me of hitting on her," Elder said in one episode. "That's how, that's how she put it. If you had seen her, you would know that the picture would be a complete defense. I'm just saying."
This statement was quite controversial, but he responded to it in an interview with CNN's Joe Johns. John asked, "You said, if you saw her, if you had seen her, you would know that the picture would be a complete defense. In other words, the suggestion that she was unattractive. You don't remember at all?" Elder then answered, "I think I was making a joke, making light – no, I don't [remember]. The whole point behind your series of questions is, do I disrespect women, and I don't. I have a great deal of respect for women. My mom was a woman. I had her on my show every Friday."
He then explained, "I've never been accused of sexual harassment. I've never been accused of sexual abuse. I've never been accused – I worked with hundreds of women throughout my career," Elder said, adding that most of his staffers throughout his career were women. "I think it's unfair for you to suggest that I am, somehow, don't like women or somehow I think women are inferior to men. I don't."
In the same broadcast, he later recounted another incident in which he asked Bobby Slayton to show his butt tattoo in front of two camerawomen. He said, "[Slayton] told me he had a tattoo. And I said, 'Where's the tattoo? I don't see it.' He says, 'It's on my butt,"" Elder recounted. "I said, 'Well, let me see it.' And I thought, for sure, he was going to laugh it off, but he stands on the desk and pulls down his pants. And, uh, uh, we show it on the camera — a closeup — of his tattoo."
Then Larry claimed, "There were just four of us in the studio: Slayton, me and these two [camera]women. And they were laughing and laughing and laughing. And next thing you know, I get a letter and a phone call. And the producer of the show calls me in and tells me if I don't apologize to the two women for what Bobby Slayton did, I'm going to be fired. And I said, 'Why?' And he said, 'It's sexual harassment,'" Elder said. "I said, 'How am I guilty of sexual harassment? It was he who stood up there.' And he said, 'Well, you encouraged it.' And I said, 'Well, they were laughing.' He said, 'They were laughing because they were uncomfortable. And if you don't apologize to them, I might have to let you go.' So I apologized. If that had been on my record, it would have looked as if I had been guilty of sexual harassment because of an apology. I'm telling you what the facts were," as per CNN.
What were the allegations of Larry's ex-fiance?
Larry's ex-fiance, Alexandra Datig, claimed, Elder allegedly "Walked over to the drawer, and he pulled out his .45 revolver. And he opened the chamber and looked at the chamber to check if all the bullets were in the gun, closed the chamber, and then put it back in the drawer. And he wanted to make sure that this was in my plain view," this led the actress to call off their 18 months engagement, Inside Edition reports. She added, "It was an act of silent scorn — and anger. For a minute there ... I thought it was a Phil Spector moment. My fear was great, and I understood I needed to de-escalate. At that point, he was threatening to throw me out on the street ... and rather than answer back or throw something, I tried to use every tool I had in recovery... I just walked out. I locked myself into the bedroom downstairs.''
​Datig met Elder at a party at the Playboy Mansion in the early 2000s. She was allegedly forced to have threesomes with other women. Datig said, "He expected me to keep sleeping with women who were complete strangers, and I didn't feel OK with that. I think when you're in love with somebody, in the beginning, you do crazy things with them. You know, after a while you don't expect that to become part of an everyday conversation," Politico reports.