Indonesian woman publicly flogged for breaking Sharia law by having sex outside of wedlock Pictures have now emerged of a woman in Indonesia being caned in front of an enraptured crowd of spectators as a cruel punishment for having sex outside of wedlock. The frightened woman can be seen kneeling down on a stage while a male official with a mask holds a cane ready to flog her. A crowd gathered at the spot to witness the flogging which is common in the area under Sharia law. The official, who is known as "algojo" wears a masked hood and a robe to cover his face and body completely.
The images emerged from the city of Banda Aceh and the woman can be seen keeping her head down low as she was escorted to the stage by two women officials in order to face her punishment for breaking the Sharia law in the province. Many of the spectators could be seen trying to get as close as possible and a slew of them had their phones in hand taking pictures and videos of the incident.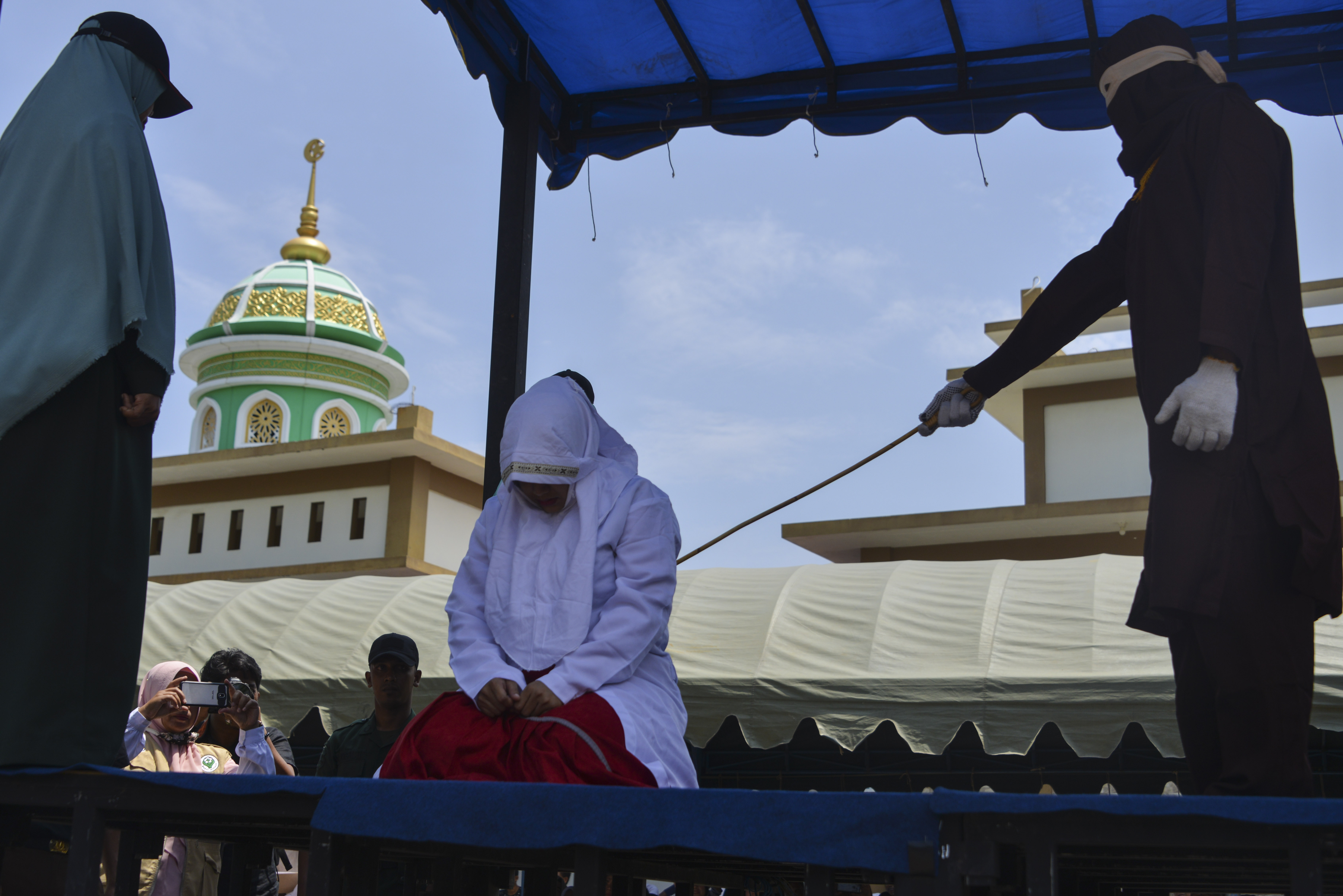 Another image was released of a man seen wincing close to the executioner and wearing similar white clothes to the woman, but it is still unclear if he was being punished as well. Flogging is said to be quite common for an array of offenses in the area, which is located at the tip of Sumatra Island. These include gambling, drinking alcohol, and having gay sex.
Aceh province adopted the archaic law after it was granted special autonomy in 2001, which was an attempt by the then central government to suppress a long-running separatist insurgency. Right groups in the country, however, have condemned the public flogging as cruel and Indonesia's President Joko Widodo has also called for the practice to end.
Flogging, however, has a lot of support among the mostly Muslim population in Aceh where around 98% of the 5 million residents in the country practice Islam. The most heinous crimes and offenders in the province receive a 100-stroke punishment aside from the possibility of prison time.
Back in 2018, Aceh had said that the caning would happen behind the walls of a prison in the future but there are still some local governments who have continued the public floggings. In the same year, a village in the province announced that WiFi was banned after some children were caught viewing pornographic material instead of going to Quran study classes. The same area made national headlines in 2018 when it introduced a ban in which women and men couldn't dine together anymore unless they were married or related.