With Hollywood shut down, actors are leaning onto online auditions, voice-over and writing to keep afloat
With coronavirus pandemic shutting down Hollywood, MEAWW spoke to working and up and coming actors to find out what they are doing to keep busy (Getty Images)
With a huge part of the world's industries shut down, it is really a very scary place for everyone, specifically with those in careers that cannot currently work. One of the many industries being majorly affected by the coronavirus pandemic is of course Hollywood. Every single film and television series that was in production no less than three weeks ago are now shut down indefinitely. This leaves thousands of people without a job and income, including of course the actors themselves.
MEA WorldWide (MEAWW) spoke to some Hollywood up and comers as well as well-established actors to figure out what their biggest concerns are during this time, what they are doing to stay afloat and what they can still do now to keep their careers alive.

One of the most important aspects of an actor's career is auditioning and meeting casting directors. This is obviously a vital part of the process of producing a television series or film, and with everything on halt indefinitely and with social distancing, one would think that the casting directors cannot do their jobs and the actors do not have an opportunity to land a role or foster a relationship with said casting directors.
Actor Darren Darnborough, who is also the co-founder of the virtual audition platform WeAudition, however, explained that actors can still audition and hone their craft through his website, which is a huge plus right now.

Darnborough can be seen in projects like 'True Blood', 'Two Broke Girls', 'Timeless', 'MacGyver', 'Magnum P.I' and more. A little over five years ago, Darnborough was sick of asking his neighbors to run lines with him and decided to create a platform where actors could interact and help each other rehearse. Not long after, Darnborough and his partner launched the audition aspect to the website, which lets casting directors audition actors remotely.
It was a complete game changer and is more important now than ever before.
"We have had a very good community around the world for a few years, but now with all of this, there seems to be an explosion of business because we are now having to do things online instead of wanting to do them. We have had a lot of new sign-ups, not just for auditions, but so people can continue with their training and grow their skill set. And for the casting community, they are freelancers too and they can't do their job without having contact with the actors. So really it's a win-win."
He went on to say, "it's interesting that it takes something like a pandemic to realize how essential this is, and we have been plugging away at the idea for a while. I'm hoping that the long-term effect to this will be that it will introduce people to a new way of working."

Many working actors have been using WeAudtion for several years now to submit self-tapes and foster relationships with casting directors online. Actress Chelsea Harris has been using WeAudition for a couple of years now and has found great success. She was just finishing up a recurring role on TNT's 'Snowpiercer' and was actually up in Vancouver filming the finale of Season two when the news of the shutdown hit.
While it was a jarring experience seeing production shut down, it was something that actors were expecting for a week or so.

"On Thursday (March 12) there were actually only two actors on the call sheet. It was just me and another actor for the entire day. We were taking precautions, we were no longer allowed physical contact, even craft services had completely changed. The interesting thing was on that Friday, I wasn't scheduled to go into work until late afternoon and we actually had a scene where we were supposed to have about fifty to sixty background actors in a contained space and I think that was the thing that set everything off. On the talent's side, this is when the tone really started to shift. Do we feel safe? Do we feel comfortable? Is this a good idea? And a few of the main actors on the show raised some of their concerns and that's when it was decided that this was it. We were supposed to wrap a week later so that means we were only six days out from finishing the entire season. They had us out on flights first thing the next morning…it was a very abrupt ending."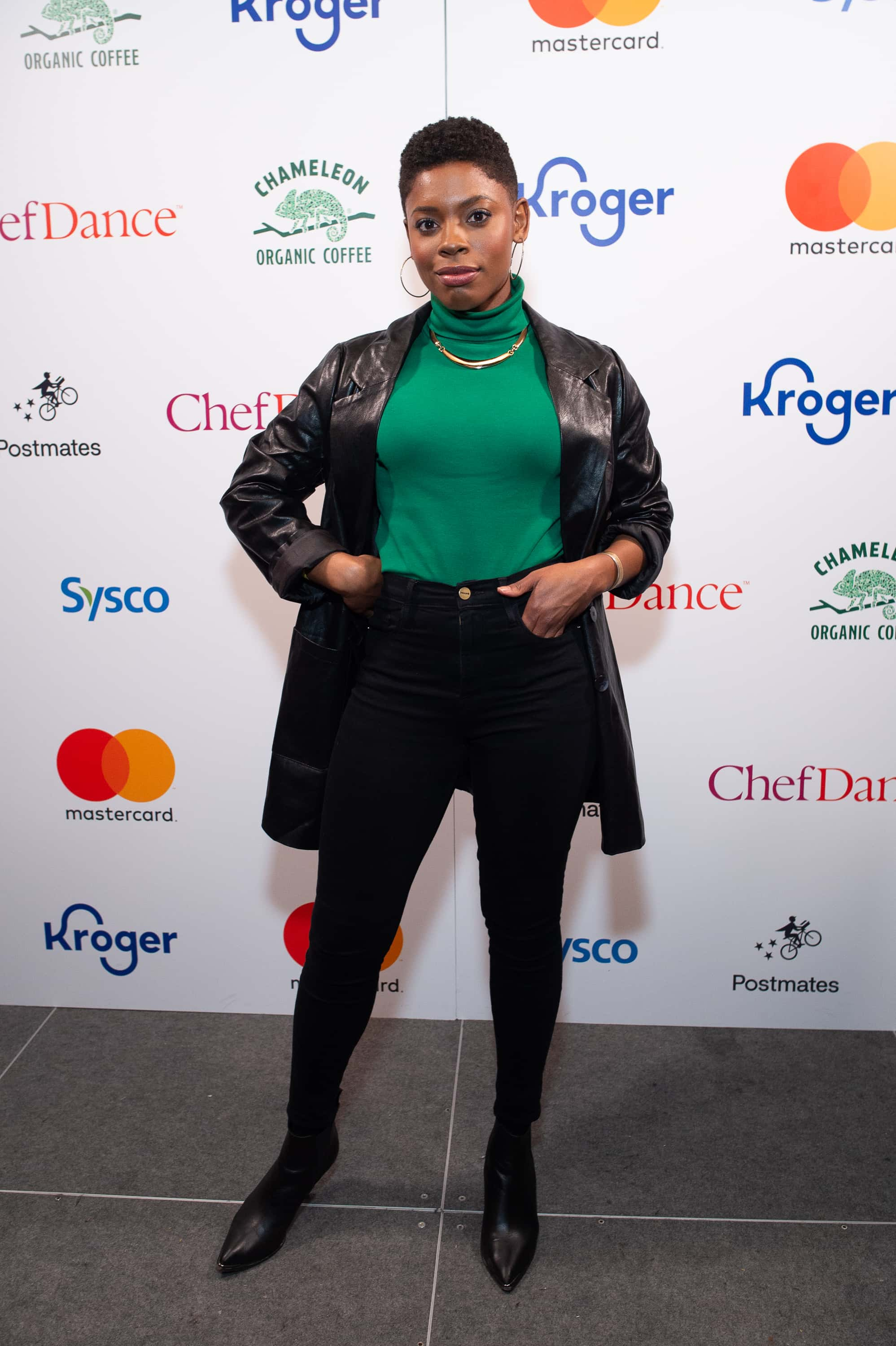 While Harris is still a big supporter and user of WeAudition, she also, of course, has concerns about not being able to meet casting directors in person right now. It seems as though many productions are still doing castings online, with the production dates TBD, but auditioning virtually is the best anyone can do at this current time. That said, many actors prefer a combination of both virtual and in-person auditioning, but right now their options are slim.

"I feel like we are kind of in the wild, wild west right now…it's the turning of a new order and we are not one hundred percent sure yet of what anything looks like as far as entertainment is concerned. Even going back to casting, when you are casting bigger roles, it still seems it's important to meet them in person to get an energy check on somebody. Even if you are doing virtual chats, how is that going to change? But then also, is there going to be new content even being created anytime soon? There is just so much uncertainty right now, " expressed Harris.

Up and comer Harry Jarvis (who recently starred in the dance hit 'High Strung Free Dance' and Netflix's 'The Knight Before Christmas') personally prefers to do in-person castings and is concerned that the virtual audition aspect is here to stay given what is currently going on in the world. A big part of why actors prefer the in-person castings is because if you get that far, you know you are doing something right. However, with the virtual castings, it can be seen as a one for all.
"I personally prefer in-person castings. First is that if you are going into the room then you are probably in a smaller pool of people, and you know that. Self-tapes can be sent to hundreds if not thousands of people at a time. The casting director only has a certain amount of time so when you go into a room you know that you are being prioritized a little bit. You also have the possibility to make an impression on that person. Let's say you go in the room and your work was as good as someone else's, but if you have a rapport going and they like you, you can perhaps get a second take. For me, that has definitely happened. I love the feeling of acting in front of people and getting direction from someone who is behind the camera. It's a very ephemeral industry already and it would be nice to maintain some of those connections."

However, the shutdown of all sets and physical productions does not necessarily mean that voice over work is halting. For actors that get consistent work in television and film, often the voice over work is pushed to the side. Since all physical productions have ceased, now is a time that actors are doing more voice over auditions to land work so that they can pay their bills, for the time being.
Actress Carrie Bernans has been in many films, including 'X Men: Dark Phoenix' and 'Avengers: Endgame' as well as television series including 'The Orville' and 'Swat'. Being as busy as she was, she didn't have much time for voice over projects. Now, she is taking advantage of this time to potentially take on some of those opportunities.

"I typically get three to twelve voice over auditions a day but I wasn't really able to do all of them. It wasn't because I didn't want to but I would have to pick and choose because of time. But now I am actually doing all voice over auditions with all of the free time that I have. I actually own two other companies, and that was something I had always done before I got into acting full time. So now I am just creating even more ideas with my companies to generate more resources and am creating more products I can sell online through the brands that I have."
Many actors also write and produce and right now is a time that many of them are working on those other facets of their career. The list includes Jack Turner who can be seen in countless Hallmark movies as well as popular TV series such as 'Legends of Tomorrow'. Turner opened up about how he was putting a lot of his energy right now into his writing projects, especially now since he has more time.

"At this point, the projects I have in the works are those that I'm writing — they're not yet in the production phase, so nothing's been pushed back, fortunately. I have a movie script and a pilot that I think is pretty strong."

The entertainment industry is doing its best to brighten these dark times and one of the ways in which they are doing so is bringing back Christmas. Yes, you heard us right, Christmas.
Not only are people deciding to put back up their Christmas trees, but the Hallmark Channel also had a Christmas movie marathon last weekend and will likely be doing it again soon. As Turner is a Hallmark movie staple, he is in some of the films that have and will continue to be replayed. Even though this movie marathon is great for the actors in the films, giving them even more exposure during this crazy time, Turner is just happy that Hallmark decided to do this to merely bring some much-needed joy into people's lives.
"I think it's good they're playing the Christmas movies! Hallmark movies are feel-good movies, that people watch for comfort and enjoyment. We're at a time where we need that more than ever. I'm not really concerned if it makes the movies or the stars bigger, that's the last thing I'm thinking about. I just hope the audience gets value from watching."

Another actor who is currently doing her best to be positive in all of this is Ashleigh Morghan, who has appeared in series like 'Kidding', 'The Neighborhood' and Tyler Perry's newest series 'Ruthless'. She is taking this time to finish a script that has been in the works for over a year and to relax and discover new people and projects in the industry.

"I am trying to find the silver lining and be the devil's advocate. The cool thing about this is people are actually having time to watch television, sitting and enjoying shows and watching things we might not have watched before because now we have the time. It's allowing people to find new shows, to find new actors they enjoy watching, to find new creators they enjoy following. And now the writers have more time to create cooler ideas because there is no deadline right now. And maybe there will be more opportunities when this is all over because of that. Also, all last year my writing partner and I only finished half of the first act of our script. This past week we finished the entire film in three days."
One thing is for sure. This is a time that is difficult for everyone in every industry. Entertainment is the perfect distraction during a time like this and we need it now more than ever. One can only hope that actors and creators figure out how to keep this industry alive and are ready to start creating again once this quarantine is over. I say, let's take a page out of some of these actors' books, finish that project you have been putting off, take up a new hobby and find ways to still make yourself valuable during these crazy times.