The breakdown on the Hollywood celebrities pouring money into 2020 Democratic presidential candidates As the 2020 presidential race inches closer, celebrities from Hollywood and the music industry have come out in support of their Democrat friends as they stand against President Trump's growing popularity.
A dazzle of prominent personalities have already thrown their support behind and opened up their wallets for promising candidates on the left.
Leading the pack is Senator Kamala Harris, who enjoys unfettered support from Hollywood stars as California's junior senator. The lawmaker's coffers are rapidly being filled by some major players in the industry, including actress Eva Longoria, who gave a generous $5,400 with husband José Bastón; Ben Affleck threw a $2,800 campaign donation; "Two and a Half Men's" Jon Cryer, furnished $2,775 while former "Mad Men" heartthrob Jon Hamm proceeded to donate $1,000. Among other contributors are actor Don Cheadle, who has spent hundreds of dollars on Harris' campaign over the last couple of months, as well as music producer Quincy Jones, who also doled out a generous $2,800 donation.
A close favorite of celebrity donors is Senator Cory Booker, who received significant contributions from Bon Jovi, to the tune of $5,600; Kevin Bacon, who gave $2,800 last month; Marg Helgenberger, who furnished $2,700 and "Glass" director M. Night Shyamalan, who donated the same amount. Actress Rosario Dawson, who is currently dating Booker, also donated hundreds of dollars to his campaign in February.
Moving on, a series of famous faces threw their support behind Sen. Bernie Sanders, one of the strongest Democratic contenders for 2020. In February, actor Danny DeVito bestowed Sanders' campaign with $2,700, while Academy Award winner Susan Sarandon donated $2,800. Among the other "Bernie Bros" in Hollywood are actress Madeleine Stowe and singers Jackson Browne and Norah Jones, all of whom have made significant contributions to his cause.
Despite losing a Senate bid against Sen. Ted Cruz last year in Texas, former Rep. Beto O'Rourke has received considerable support from Willie Nelson, celebrity chef Rachael Ray, "Breaking Bad" actor Bob Odenkirk, "Saturday Night Live's" Cecily Strong and actor Tate Donovan. Furthermore, Nelson even performed a new song dedicated to O'Rourke at a rally last year.
Pete Buttigieg, the mayor of South Bend, Indiana, has also garnered quite a following among celebs of late. Among his most famous donors are actors Mandy Moore, Ryan Reynolds, and Bradley Whitford, who also threw money behind Sen. Elizabeth Warren for the 2020 race. An unusual contribution of $2,800 towards Buttigieg's campaign came from James Murdoch, the son of conservative media mogul Rupert Murdoch.
Warren, who has routinely been mocked by the president for her claims of Native American ancestry, also received support from producer James L. Brookes, actor Evan Handler, and singer Jackson Browne.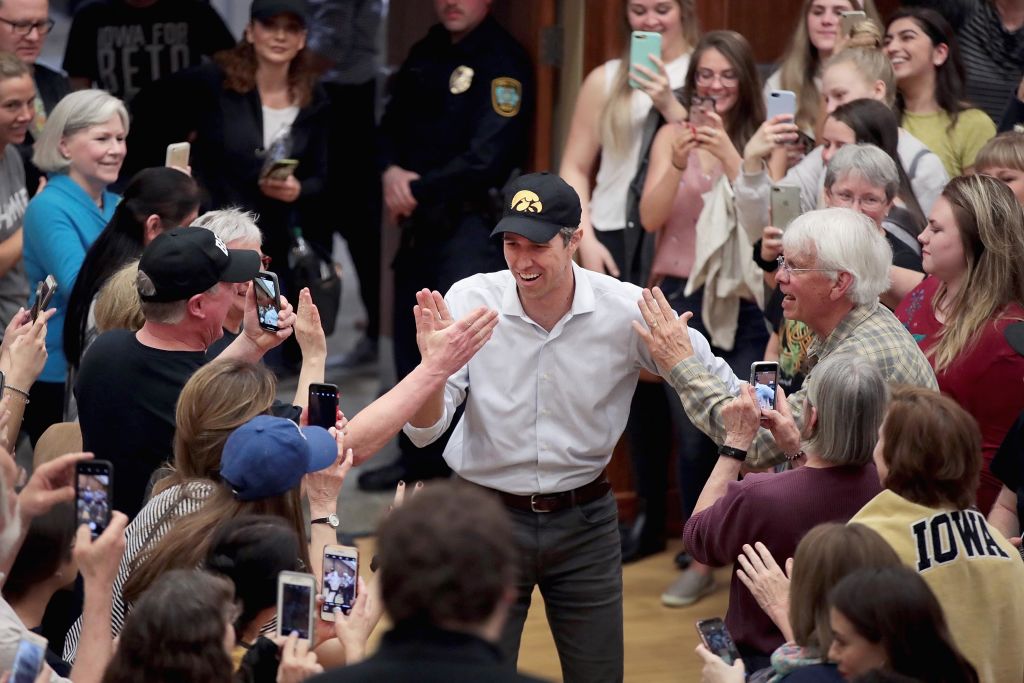 Meanwhile, former "Nashville" star Connie Britton has raised quite a lot of money for her former college roommate Sen. Kirsten Gillibrand. She reportedly donated thousands of dollars to her campaign earlier this year.
Even fresh faces in the battle for the Oval Office are having a nice payday from Hollywood, with Andrew Yang securing two $1,000 contributions from Nicolas Cage and Rivers Cuomo respectively.
If you're wondering why the donation amounts cap at $2,800, it is only due to limits placed under campaign finance law, which mandates the same regulation for both primary and general election campaigns.
With that said, Sanders is leading the charge in the Democratic brigade, boasting a whopping $18.2 million in fundraising. Nonetheless, the amount is rather meager when compared to President Trump's re-election haul in the same time frame, which stood at a staggering $30 million. In the left, Harris became the runner up after her campaign raked in more than $12 million. She is closely followed by O'Rourke at $9.4 million and Buttigieg at $7 million.
The starry Tinseltown had launched a never-before-seen effort to help their Democrat friends in 2018, funneling money into various campaigns across the country. In September 2018, it was reported that celebrity donations to help Democrats were far more during the midterms as compared to the 2016 presidential race.
It is no surprise that cash from the Hollywood elite goes almost entirely to Democratic candidates, with over 99.7 percent of donations from the bigwigs in the entertainment and music industry going towards Democrats or Democratic Super PACs, per a report by The Hollywood Reporter.