Here's a quick tour of Jennifer Aniston's beautiful and dreamy Bel Air home The Bel Air property is located in Los Angeles, California and started out as a 1965 Quincy Jones house. The Friends star, Jennifer Aniston, bought the property in the year 2011 when the house had just undergone renovations by the architect, Frederick Fisher as reported by the Architectural Digest.
Jennifer purchased the beautiful house in 2011 after she sold her previous Hal Levitt designed home also in LA. Her initial plan was to attempt to move to Manhattan but her plan was foiled by paparazzi which had swarmed outside her Greenwich apartment building.
How the house initially looked from the inside.
On seeing the house, Aniston was not happy with the renovations and found that it did not sit well with her tastes. She reportedly told AD, "Aesthetically, it was the furthest thing from what I wanted. But I immediately had the sense that it could work. It's hard to describe, but I felt a connection."
"It had a very dramatic entry sequence that led to this massive front door painted in Chinese red."
Jennifer who is a midcentury architecture fan worked hand in hand with the interior designer Stephen Shadley and her husband Justin Theroux to completely renovate and redo the space. According to Shadley Anniston who told AD, "Jen is drawn to wood, stone, and bronze, materials that have real substance and depth. No matter how beautiful or glamorous something is, it has to be warm and inviting."
The interiors of the house has a lot of mid-century furniture, silk rugs, and abstract expressionist paintings amongst many things. The house is also full of many prestigious artworks by likes of Adolph Gottlieb, Robert Motherwell, and Glenn Ligon. All the interiors are very tasteful and have been well thought out.
The bathroom looks a little something like this. It is the centerpiece of the master bedroom and is a Calcutta made marble bathtub.
Jennifer said, "Every corner you turn, you have an experience. Everywhere you look, you get a vista. We worked very hard to get that flow right. I feel extremely powerful when I sit at that desk—so powerful, in fact, that I'm almost never there."
The garden in the house is very well designed and adds a lot of charm to the house. It was overseen by garden designer Marcello Villano and landscape architect Anne Attinger who also designed interconnected outdoor rooms and terraces as well.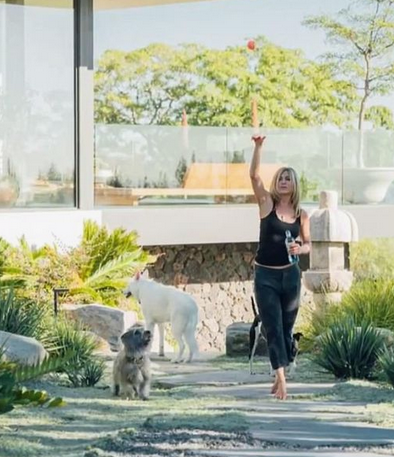 On most Sundays, Jennifer and Justin, spend time in their garden or by the pool with friends and family. "We put out a mean taco bar, and the chili's pretty good in the colder months. There was a time when I thought there was something romantic about picking up and trotting off somewhere different every three months. Now I'm becoming more particular about the projects I take."
A side view of the swimming pool.
"No matter how beautiful or glamorous something is, it has to be warm and inviting."
"I look around at my husband and my dogs and our home, and there's nowhere else I want to be."
A great start to a great house.
If you have any views or stories that you would like to share with us, drop us an email at writetous@meawwworld.com