'Hellboy': Release date, plot, cast, trailer, news and everything else about the film
'Hellboy' reboot directed by Neil Marshall starring David Harbour in the titular role is slated to release on April 12. 'Hellboy' franchise has been rebooted and the upcoming film is directed by Neil Marshall. This is the third live-action installment of the series. The previous 'Hellboy' films starred Ron Perlman in the lead role and Guillermo Del Torro played a part in both the films. The third film, a sequel to 'Hellboy II: The Golden Army' which was in development in 2009 was canceled and the reboot was announced in 2017. The film was initially labeled Hellboy: Rise of the Blood Queen, however, the latter part of the title was dropped in August 2017. The film has a screenplay by Andrew Cosby, and is based on 'Darkness Calls', 'The Wild Hunt' and 'The Storm' and 'The Fury'.
Plot:
'Hellboy' will introduce a powerful sorceress Nimue who is out to destroy mankind. The only one who can face her is Hellboy and his team from BPRD which includes a magician and a shapeshifter. BPRD is headed by Hellboy's adoptive father Trevor, who was present at the time of Hellboy's conception. As Hellboy faces off against Nimue, he will also find the truth about his father, will deal with self-doubt and plan an attack strategy while doing all of this to save people.
Cast:
David Harbour as Hellboy
David Harbour plays the titular role in the film. He is a powerful Cambion (an offspring of either incubus, succubus) who works at Bureau for Paranormal Research and Defense (BPRD) and helps them deal with other creatures that do not have good intentions towards humans as he does.
Ian McShane as Trevor Bruttenholm
Ian McShane is the founder of BPRD and also the adoptive father of Hellboy. From the trailers of the film, it is also clear that he heads The Osiris Club and also does something that makes Hellboy mad. In Hellboy's words, "You made me a weapon" he says and that makes us wonder, what did Trevor really do?
Milla Jovovich as Nimue, the Queen of Blood
Milla Jovovich plays the role of Nimue, the Queen of Blood in the upcoming film 'Hellboy'. She is a British sorceress who is out to destroy mankind. She seems to have an interesting relationship with Hellboy. She has her warthogs follow and attack Hellboy but is also glad that he has arrived right on time. Is that for his own funeral, metaphorically speaking?
Sasha Lane as Alice Monaghan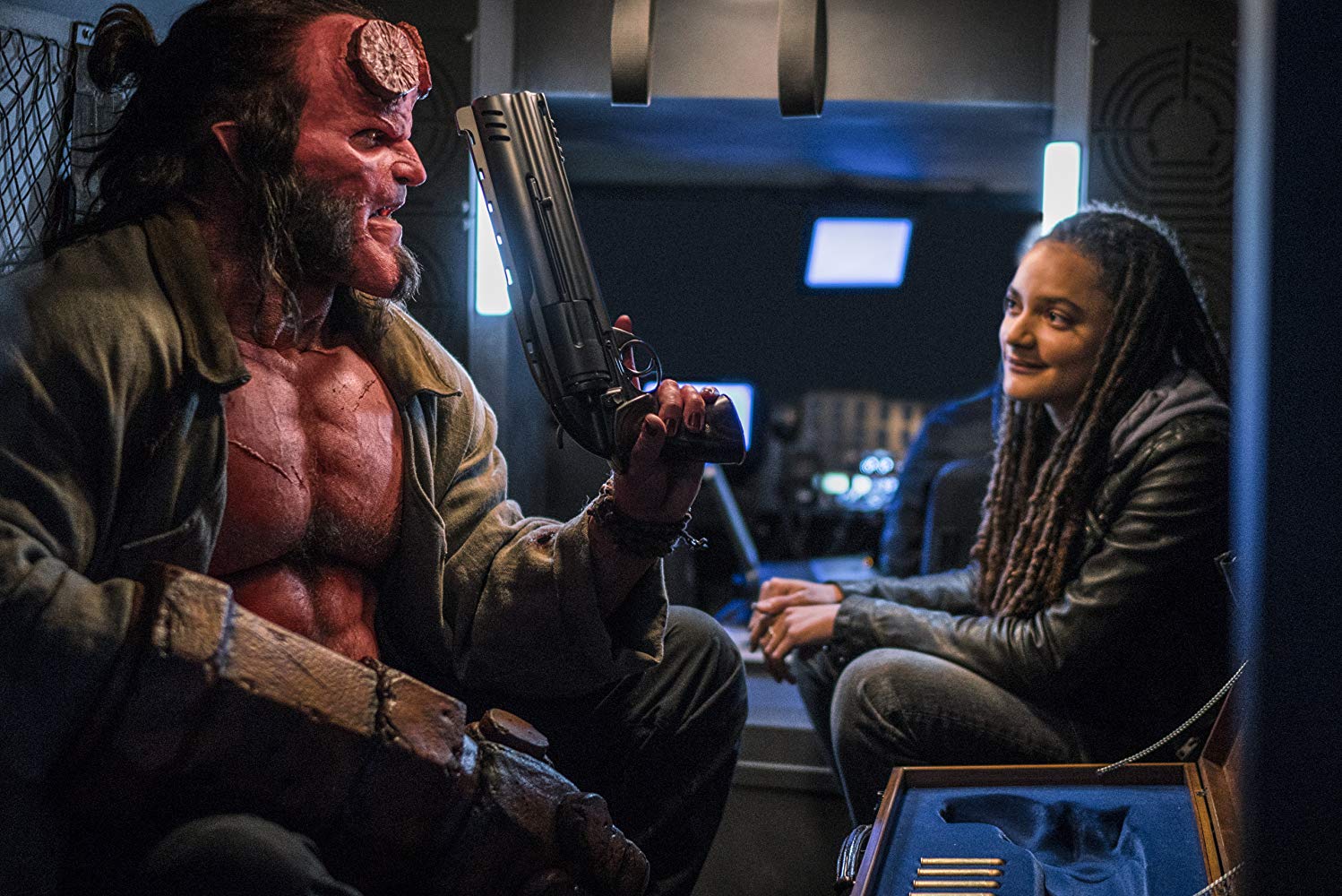 Sasha Lane plays the role of a woman of Irish descent who gets magical abilities after getting kidnapped by fairies when she was a kid. She is seen accompanying Hellboy in the trailer and may be a part of The Osiris Club.
Daniel Dae Kim as Ben Daimio
Daniel Dae Kim plays the role of a Japanese military officer in the BPRD. His power is to turn into a Jaguar when he is angry or in pain because of a supernatural encounter. His equation with Hellboy is something that should be looked forward to and his dry humor is expected to be a crowd pleaser too.
Other cast members:
Thomas Haden Church as Lobster Johnson / The Lobster the vigilante
Penelope Mitchell as Ganeida, an elder witch
Sophie Okonedo as Lady Hatton, a seer at The Osiris Club
Brian Gleeson as Merlin, a powerful sorcerer
Alistair Petrie as Lord Adam Glaren, a member of The Osiris Club
Laila Morse as a BPRD employee
Stephen Graham (voice) and Douglas Tait (physical performance) as Gruagach, a Nimue loyal creature
Director/Writer:
The film has a screenplay by Andrew Cosby who has previously worked on the SyFy show 'Eureka'.
'Hellboy' is directed by Neil Marshall who is well-known for his work on 'Game of Thrones episode' - 'The Watchers on the Wall' which fetched him a nomination for a Primetime Emmy Award for Outstanding Directing for a Drama Series. He also worked on the episode titled 'Blackwater'. He has also directed episodes of 'Lost in Space', 'Westworld' among other TV series.
News:
A clip from 'Hellboy' was released in which we are introduced to The Osiris Club, which is headed by Professor Trevor Bruttenholm, Hellboy's adoptive father. The video features a funny interaction with the son and the father discussing the club and why it was formed.
A feature from Hellboy was released recently on social media and it contains some really interesting details about the making of the show. The film will see the filmmakers delve deeper in the world of Hellboy, who lives a dark life that is filled with questions about self worth. Harbour, in the featurette, explains how hard he and his crew have worked to bring the passion seen in the comics alive on screen.
Trailers:
The first trailer of the film was released on December 19, 2018, and featured Hellboy's inherent self-doubt about how he might cause trouble to the humans. Only, there is a humorous twist to it. Ian McShane also makes an appearance in the trailer along with a lady who asks Hellboy for an ID when he tries to enter the 'secret headquarters of the group led by McShane's character.
The second trailer was released on February 28 and it featured the inception of Hellboy, and how Trevor Bruttenholm, Hellboy's adoptive father turned him into a weapon. There is a lot more action in the second trailer compared to the first, and we have to watch out for Daniel Dae Kim who plays Ben Daimio in the film!
Pics:
If you liked this, you'll love these: 'Captain Marvel', 'Avengers: Infinity War', 'Shazam!', 'Aquaman', 'Ant-Man and the Wasp'.