Hannah Gutierrez: 'Rust' armorer's dad is stuntman Thell Reed who trained Brad Pitt Armorer Hannah Gutierrez-Reed is currently all over the media after it was revealed she played a key role in the death of cinematographer Halyna Hutchins. As we previously reported, Gutierrez is responsible for bringing a live gun on the set of 'Rust', with real ammunition.
It's not the first time she's landed in trouble. The 24-year-old reportedly gave a gun to an 11-year-old actress without checking it properly, forcing filming to be briefly halted. In fact, one person has described her as "a bit careless with the guns". Since the shooting of Hutchins, Gutierrez has since disappeared from the spotlight, quietly deleting all her social media profiles. Notably, Gutierrez isn't alone responsible, the set for 'Rust' was reportedly filled with a lot of safety issues. In fact, the issues were so dire, the crew even threatened to walk off the set.
READ MORE
Who is Dave Halls? AD on 'Rust' set handed live gun to Alec Baldwin, said it's safe
Is 'Rust' canceled? 'End of the road' for Alec Baldwin movie after Halyna Hutchins death
So far, the police haven't charged Gutierrez over the death of Hutchins or the other person believed to have been the "last line of defense", Assistant Director Dave Halls. Nonetheless, the duo has quickly become major talking points all over social media, after court documents revealed what exactly happened on the set. In our digging into Gutierrez, we discovered that she is in fact the daughter of notable American stuntman, armorer, and film consultant Thell Reed.
Who is Thell Reed?
A well-known exhibition shooter, Reed first shot to fame as a child. His IMDb profile says Reed's father "bestowed on him a pair of match Colt .45s and told him to "Make a living with them"." And so he did. Even before he was legally allowed to enter, Reed began winning fast draw tournaments, which drew the attention of noted actor Gene Autry. Autry roped in Reed for his Wild West tours, where he performed for the British royal family as well.
In 1955, Reed got his first Hollywood gig with 'Gunsmoke', where he worked as a consultant. Since then, he's gone on to do various weapons-related roles such as coach, armorer, and specialist consultant in over 45 films. You may not have heard the name, but you would have seen his work through films like 'Once Upon a Time... In Hollywood', 'Django Unchained', 'Cowboys & Aliens', 'State of Play', and 'Mr. & Mrs. Smith' to name a few. He's worked directly with some of Hollywood's biggest stars like Russel Crowe in 'Winter's Tale', Brad Pitt in 'The Assassination of Jesse James by the Coward Robert Ford', and Don Cheadle in 'Rat Pack', among others.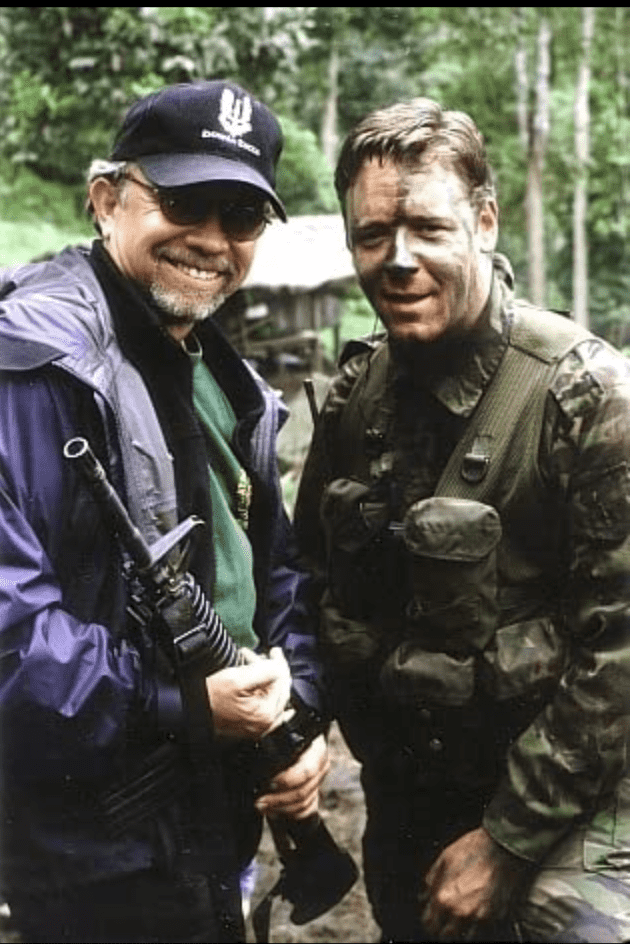 With such a long and distinguished career, Reed has become Hollywood's go-to for weapons. So naturally, his daughter spent a lot of time in and around guns and on film sets. But despite that, she appeared to be in two minds about taking up the job of an armorer. "I almost didn't take the job because I wasn't sure if I was ready, " she admitted on a podcast in September, after completing her first job - the Nicholas Cage starring 'The Old Way'. 'Rust' was only her second solo film as an armorer, and she's still learning as she admitted. "Dad has taught me everything but a lot of things I just kind of caught on by myself through observation, watching him do things or just knowing how the firearms work," she added.
Not much is known about Gutierrez's mother. Beyond his film credits, there's not much information on Reed so we couldn't find out more about him. The California native maintains an extremely low profile outside of work. His last gig was on the 2020 film 'Unhinged' starring Russel Crowe.