Will GOP endorse Donald Trump for President in 2024? RNC boss Ronna McDaniel says party must remain 'neutral' Republican National Committee Chairwoman Ronna McDaniel has suggested that the party will not encourage former President Donald J. Trump to run for office again in 2024.
According to McDaniel, the party must remain "neutral" while considering Trump's bid in comparison to other candidates that may participate in the future. "The party has to stay neutral," McDaniel told the Associated Press. "I'm not telling anybody to run or not to run in 2024. That's going to be up to those candidates going forward. What I really do want to see him do, though, is help us win back majorities in 2022."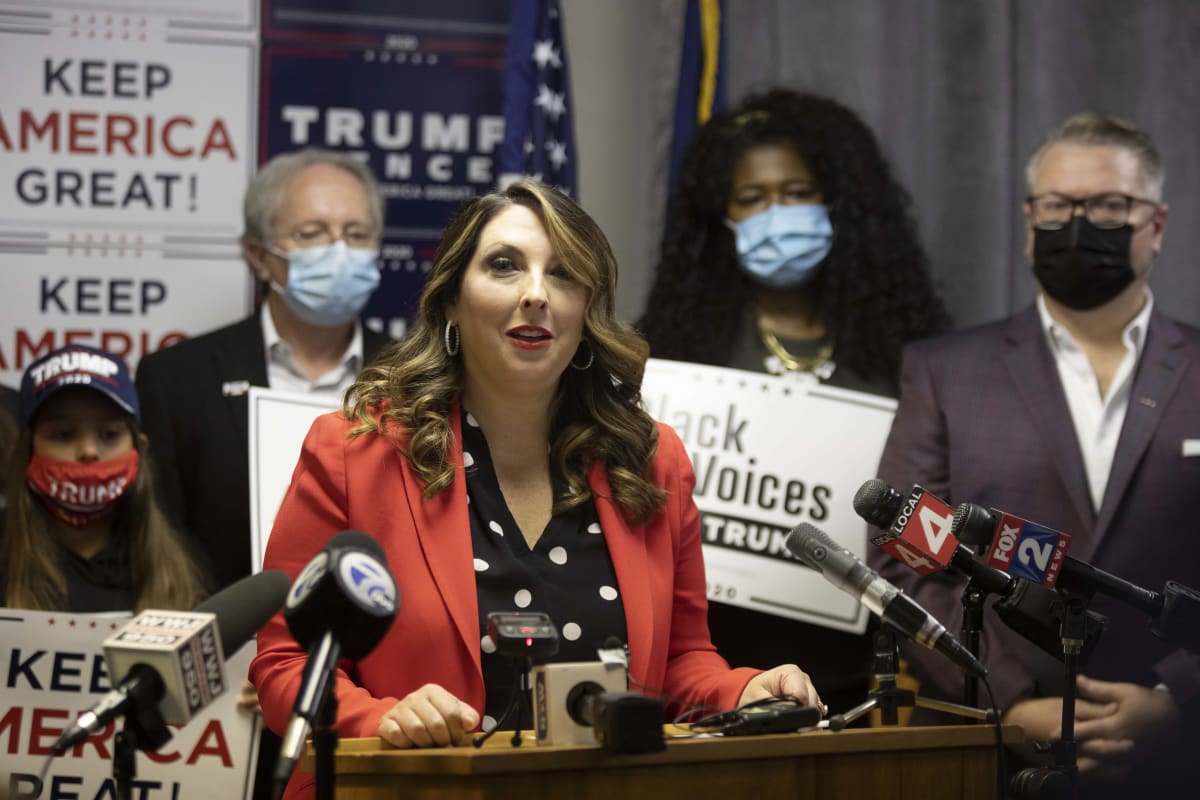 The RNC chair insisted that the focus of the party was to stick together and work to regain control of Congress after Republicans were forced to give up the Senate, the House, as well as the White House in the 2020 election.
McDaniel also branded the conspiracy theory movement QAnon as "dangerous" -- although Trump never condemned its followers. "I think it's really important after what's just happened in our country that we have some self-reflection on the violence that's continuing to erupt in our country," she told AP. "I think QAnon is beyond fringe. I think it's dangerous."
McDaniel's remarks are sure to raise eyebrows considering she remained loyal to Trump for years. The former President was impeached by a Democrat-controlled House of Representatives before he left office on January 20.
House Democrats were joined by ten Republican defectors as they voted to impeach Trump after a violent mob stormed the Capitol building on January 6 as lawmakers voted to certify Joe Biden as the winner of the 2020 election.
Five Senate Republicans joined Democrats on Tuesday and voted to move forward with an impeachment trial that could potentially bar Trump from running for public office in the future, as well as strip him of privileges enjoyed by a president post his tenure.
Considering, McDaniel noted that infighting was not conducive to the main goal of the GOP. "If we're fighting each other every day and attacking each other and brandishing party purism, we're not going to accomplish what we need to win back the House and take back the Senate, and that's my priority," she said.
Having said that, Trump's second impeachment trial is set to begin on February 8, despite 45 Republican Senators voting against it moving forward. While the vote in favor of impeachment was 55 to 45 in the Democrat-controlled Senate, a conviction requires two-thirds of the 100-member Senate to vote for impeachment. At the time of writing, it seems highly unlikely that Trump will be convicted once the trial is completed.
The 45th POTUS, who was previously impeached by the House on charges of abuse of power and obstruction of justice, was acquitted of both counts by the Senate in December 2019.
President Biden's confirmation was interrupted by a mob of rioters that stormed into the U.S. Capitol building on January 6, 2021. A number of lawmakers were forced into hiding until the situation was quelled. Democrats have claimed Trump's remarks to a crowd of his supporters at a Washington, D.C. rally earlier that day were responsible for "inciting" the riot. "We fight like hell," Trump said, "and if you don't fight like hell, you're not going to have a country anymore." However, he did call on his supporters to protest "peacefully."


Share this article:
Will GOP endorse Donald Trump for President in 2024? RNC boss Ronna McDaniel says party must remain 'neutral'