The sex was great yet Billy Bob Thornton reveals that Angelina Jolie's "global lifestyle" led to divorce
Thornton even went on to address the necklaces that the stars wore while they were married, which contained vials of each other's blood Billy Bob Thornton (Getty Images)
Billy Bob Thornton is finally ready to look back and speak up about his highly publicized marriage to actress Angelina Jolie. "I look at that time as a great time," said the 62-year-old star said at the latest HFPA in Conversation podcast episode about Jolie, who he was married to from 2000 to 2003.
"Angie is still a friend of mine and she's a great person and she's done so much," he added. "She makes movies that are important to her whether they succeed or fail, she still does what she believes in and I'll always respect her for that."
He also opened up about the immense amount of media coverage their marriage got at the time. "A lot of the things they said about us at the time were exaggerated," he explained, adding, "It wasn't as crazy as people wrote about it."
The former spouses met on the set of 'Pushing Tin' in 1999 when Thornton was engaged to 'Big Little Lies' star Laura Dern. According to Dern, she learned of Jolie and Thornton's relationship after receiving calls from tabloids.
"I left our home to work on a movie, and while I was away, my boyfriend got married, and I've never heard from him again," Dern said. "It's like a sudden death. For no one has there been any closure or clarity."
From the looks of it she never got the closure either. The cold air between them was palpable during the 2017 Golden Globes,18 years after Dern was dumped by Thornton. When ex Thornton past the 'Big Little Lies' actress to accept his award, all eyes were on the former couple.
Thornton even went on to address the necklaces that the stars wore while they were married, which contained vials of each other's blood.
"The necklaces were a very simple thing, 'Hey let's poke our fingers with a pen and smear a little blood on there and when we're away from each other we'll wear the necklace,' " he said. "It was that easy. But by the time it came out in the press, it sounded like we were wearing a bucket of blood around our necks."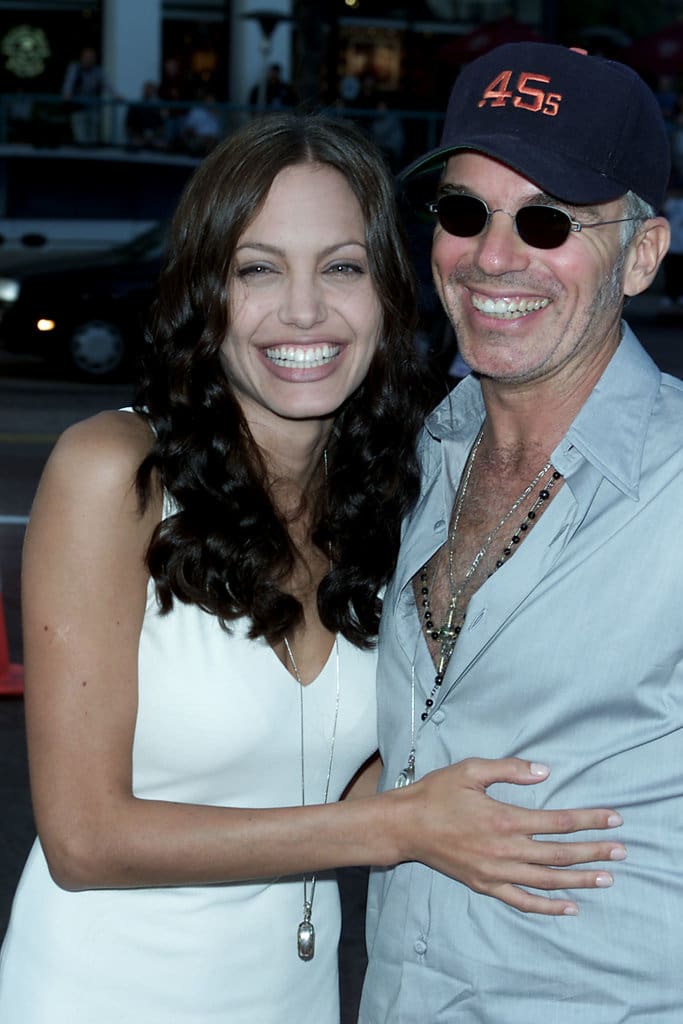 Thornton and Jolie were even supposed to adopt a child from Cambodia together in March 2002, but it was later announced that Jolie had adopted the child as a single parent. This is of course 16-year-old Maddox Chivan.
The follwing year, in June 2002, Jolie and Thornton separated. Less than a year after this plit he started a relationship with makeup effects crew member Connie Angland.
Addressing the issue of their split, Thornton said "We just had different lifestyles. Hers is a global lifestyle and mine is an agoraphobic lifestyle," he said with a laugh. "So that's really, that's the only reason we're probably not still together, maybe. There was a different path in life we wanted to take."
Back in 2016, when the news of Jolie splitting from Brad Pitt became public, Thorton had spoken about his marriage to the 'Maleficent' star. "I never felt good enough for her," he shared, adding that even after spending so many years in Hollywood, he's "real uncomfortable around rich and important people."
Thornton has been in relationship with Connie, who is also the mother to his 13-year-old daughter Bella, ever since.On October 22, 2014, they even got married. He had initially claimed that he did not want to marry her, afte expressing an interest in the same at the beginning of their relationship, claiming marriage "doesn't work" for him.
And the actor says that even though he gets comfortable around important people, he is not looking to change his ways anytime soon. "I like how I am," he said.
Recently, the 'Goliath' star has claimed that his character, Billy McBride picked up after his personal bad habits in the second season of the Amazon Original.
"I still don't know how to act. Being somebody that got successful in this stuff, I'm not far away from the character in a lot of ways. In other words, it's easy for me to go there every day and put those clothes on, because they're the same clothes I wear in my regular life," explained the actor.
"At the end of the day I'm a little bit agoraphobic," Thornton said. "I don't get out much. You don't normally see me on the red carpet and Star Tracks in the magazine and all that. I'm not out there too much. I'm kind of uncomfortable around rich people, kind of uncomfortable around social scenes, so it's easy to play a guy who likes to just walk down to Venice Beach by himself and sit there and have a smoke."