Heartwarming moment a 4-year-old girl who survived cancer spends the day as a princess riding a horse-drawn carriage In a most adorable news update, a four-year-old cancer survivor got all her wishes fulfilled when she got a chance to dress up as her favorite princess for the whole day. The celebration marked her victory over the horrific disease. Dottie McKernan, who was diagnosed with Burkitt lymphoma in December 2017, finally got to ring the cancer bell last month after enduring six rounds of chemotherapy, each of them so intense that they burnt the inside of her throat.
In order to celebrate her daughter's brave and beautiful recovery from the terminal disease, single mum Leanne Foskett decided to fulfill her daughter's dreams of being a princess, which she did with the help of The Owen McVeigh Foundation, as per StoryTrender.
With the help received from the charity, the little schoolgirl spent her Saturday getting sprinkled with glitter, having her nails painted, hair done, as well as choosing the perfect princess gown at the Angels & Scallies party shop in Liverpool, Merseyside.
Apart from being on the receiving end of all sorts of royal treatment, little Dottie also got to meet her favorite Disney princess, Belle, before leaving for her fairytale horse and carriage ride.
Leanne, who is a mother of three and a warehouse assistant from Widnes, Cheshire, said: "Dottie's princess day was absolutely amazing. I have never seen a child smile so much. I thought she might be dead shy, but she wasn't at all. In the horse and carriage, she was waving at everyone like she was royalty."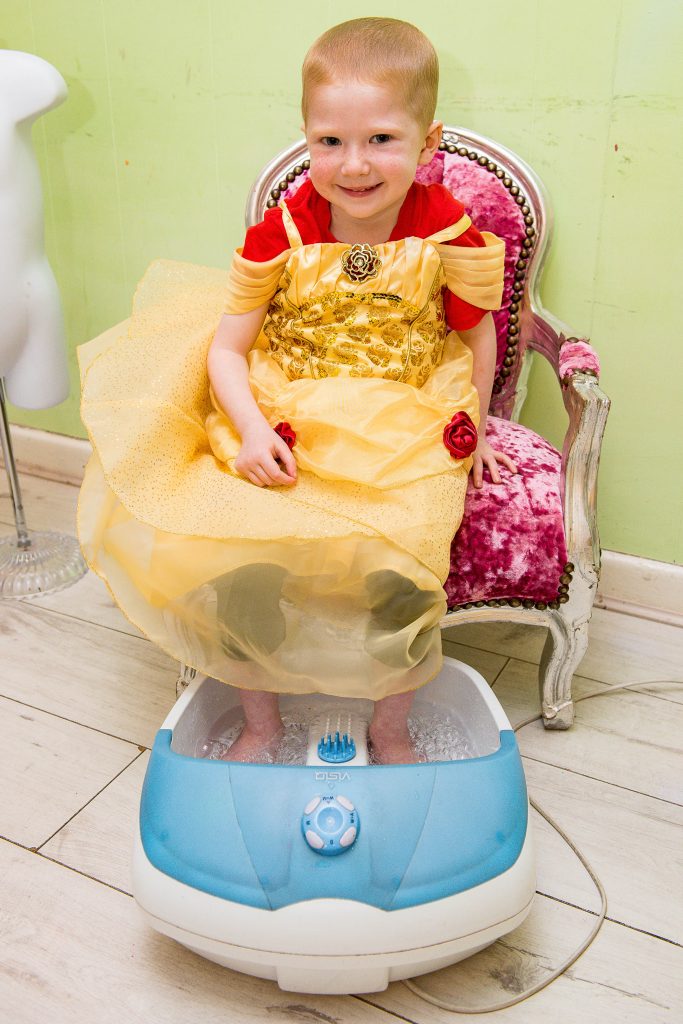 "She was the best princess. She loved getting dressed up and having her hair and nails done. They sat her down with this glass pretending it was champagne and gave her a foot spa. It was brilliant. If anyone deserves to be pampered, it's Dottie. She has been through so much, and she has taken it all in her stride. She never let anything faze her or upset her, she kept smiling throughout. I'm so proud of her. I think it's that strength in her that got her through it all."
Leanne also thanked the charity for making Dottie smile more than she'd ever seen a child smile, especially after the mother had to see her youngest child miss out on the last nine months of her childhood. "Dottie has always loved princesses. She loves them all but her favorite is Belle, and she got to meet her on Saturday. The whole day meant so much to all of us. I can't thank the charity enough. It is absolutely amazing that they would go out of their way just to put a smile on a little girl's face."
Dottie's aunt, Amanda Foskett had reportedly set up a JustGiving page previously so as to fund the princess day, as well as, buy a dollhouse for her niece. But when one of the moms on Dottie's oncology ward at Alder Hey Hospital, Liverpool, spotted the page, she spoke to Leanne about mentioning it to The Owen McVeigh Foundation.
The Owen McVeigh Foundation is a charitable institution launched by Mark and Joanne McVeigh in memory of their son Owen, and it aims to give underprivileged kids happy memories to cherish forever, something they definitely achieved with little Dottie. As per reports, the money raised from the little one's page would now be used to fund a trip to Disneyland for Dottie and her siblings Lacee and Archie.
Mark said: "When I got in touch with Leanne and asked if we could help with Dottie's princess day, I don't think she could believe it. She seemed shocked. When Owen passed away, and we set up the foundation, we just wanted to make kids smile who were going through some difficult times."
He continued, "Children like Dottie deserve all the help we can offer. She wanted a princess day, and we were able to help, so that's what we did. We've done princess days before, but we've never arranged a horse and carriage ride, so that was something new and special for Dottie."
Little Dottie fell ill for the first time last year when an apparent sickness bug did not clear up after a few days, leaving her mother Leanne immensely worried. It was the night of November 24 that things took turn for the worse, and Leanne had to rush her daughter's 'lifeless' body to Alder Hey Hospital.
According to reports, the doctors at the hospital discovered a blockage in Dottie's bowel, and the little girl was immediately rushed to an emergency operation where surgeons were forced to cut away 18 inches of the organ. Two weeks after the emergency operation, biopsy results revealed that Dottie was suffering from Burkitt lymphoma, which is known to be a fast-growing type of high-grade non-Hodgkin lymphoma.
After doctors found that the disease had reached her chest, Dottie had to undergo six grueling rounds of chemotherapy, around 10 blood transfusions, 12 platelet transfusions, and countless hospital stays. But in spite of all the hardships, the brave youngster fought through her disease and came back strong, ringing the bell to signify the end of her treatment at the end of August.
Leanne said: "It started out like a sickness bug, and I took her to the doctor but they said it would clear up. Instead, Dottie just kept getting worse and worse. Then one night I went to check on her, and she was completely lifeless, and all the color was drained out of her. I rushed her to the hospital, and they took her straight in for surgery. Dottie had to stay in to recover because she was still so poorly."
"It was during that time I got the call to say it was cancer and they needed to check to see if it had spread because it's the fastest growing cancer. It had to three places in her chest. I just didn't believe it at first. And everything after that – all the tests and the treatments – it all happens so quickly that you don't ever really have any time to process it. I had never even heard of Burkitt lymphoma, but they explained that it was caused by damage to Dottie's cells during a viral infection that she'd had a few months before."
She further added, "It's crazy that something so simple could lead to something so serious. The next nine months we were in and out of the hospital – it felt like we lived there. The chemotherapy was so intense that it burnt all round Dottie's mouth and down her throat and digestive tract."
"She lost all her hair, and her immune system was so destroyed by the treatment that she kept getting infections. The chemo even affected the way she walks, and the doctors said it might never go back to normal. It was awful, it was like living your worst nightmare. Dottie could be on 10-15 drips at a time and seeing her like that was horrible."
Speaking about her older kids, Leanne couldn't help but gush about how supportive they had been during this difficult period in all their lives. "You just try to tell yourself that the doctors are doing what they have to do. With the kids at home too I felt like I had to split myself in two. They were really upset by it all, and they had to stay with my mum a lot, and they've coped so well. Despite being passed from pillar to post they've both done so well in school."
"When we found out Dottie was going to get to ring the bell it was amazing. She was so happy. She has been fantastic through it all. It is so nice for us to all be back at home as a family and to see Dottie getting back to herself and playing and going to school. It's only part-time, but it's incredible that she's back at all. She has missed out on nine months of her childhood fighting this disease, and now she can finally get back to living a normal childhood."