Inside sex fiend Ghislaine Maxwell's leisurely new prison where she can bake, sing and TEACH inmates
Ghislaine Maxwell was sentenced to 20 years in prison for her role in helping convicted pedophile Jeffrey Epstein abuse young girls Ghislaine Maxwell has been moved to FCI Tallahassee, where she will serve her 20-year sentence (Mark Mainz/Getty Images and Zoukis Consulting Group/YouTube)
TALLASSEE, FLORIDA: Disgraced socialite Ghislaine Maxwell has been moved to a Florida prison where she will serve her 20-year sentence. She has been sent to FCI Tallahassee, a low-security prison in the Sunshine State. Maxwell will reportedly be eligible for release on July 17, 2037.
The choice of prison by the BOP is against Judge Alison Nathan's recommendation, the Daily Mail reported. Nathan, who oversaw Maxwell's trial, had asked the BOP to send her to FCI Danbury in Connecticut.
READ MORE
Ex-federal prosecutor says 'narcissist' Ghislaine Maxwell will NEVER spill Epstein's secrets
Ghislaine Maxwell's victims BLAST socialite after her court apology: 'Actions speak louder than words'
Maxwell was sentenced to 20 years in prison for her role in helping convicted pedophile Jeffrey Epstein abuse young girls. US District Judge Alison Nathan said the sentence of 240 months was "sufficient and not greater than necessary" for Maxwell. She was also ordered to pay a $750,000 fine for her role in the crime. "To you, to you, all the victims who came in court and those outside I am sorry for the pain that you experienced," Maxwell said after the sentencing. "I hope my conviction and harsh incarceration brings you closure," she added.
Before her sentence was delivered, Maxwell acknowledged that her friendship with Epstein will "forever and permanently" stain her. "I believe that Jeffrey Epstein was a manipulative, cunning, and controlling man who lived a profoundly compartmentalized life and fooled all of those in his orbit," she said. "It is the greatest regret of my life that I ever met Jeffrey Epstein." She added that Epstein "should have been here before all of you."
In 2019, Epstein died in an apparent suicide while he was in federal custody. The 66-year-old was facing up to 45 years in prison on charges of sex-trafficking several teenage girls.
Talent shows, movies, and yoga
FCI (Federal Correctional Institute) Tallahassee, which was opened in 1938, has a population of 755 inmates. It houses only women. A prison handbook revealed that Maxwell will be woken up at 6 am every day. An inmate identification card that will be issued must be worn by her at all times.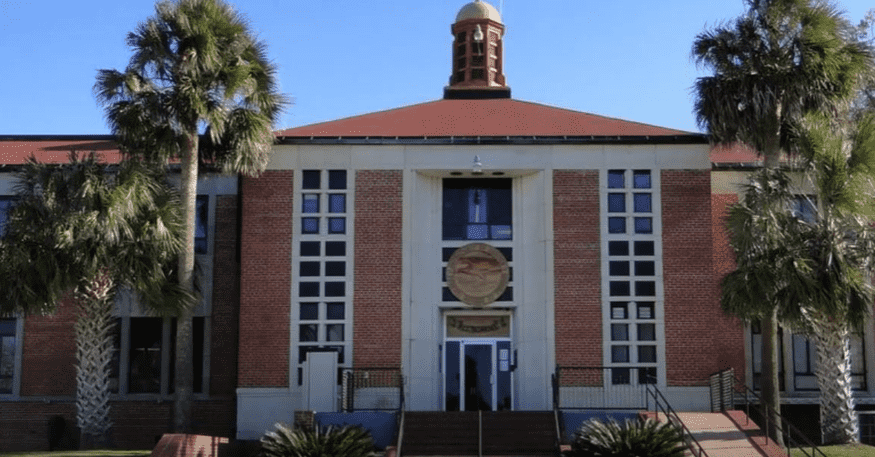 The inmates' cells may be searched by staff at any time for contraband or stolen property. Each prisoner shares a cell with another person. The handbook revealed that the only approved uniform is khaki pants, khaki shirt, khaki dress, underwear, bra, socks, and authorized shoes. Maxwell will be permitted to wear a plain wedding band, although her marriage to former tech entrepreneur Scott Borgerson is reportedly heading for divorce.
There will be exercise sessions and work periods over the day. Inmates can also learn cosmetology. Prison consultant Zoukis Consulting Group confirmed that yoga is available along with pilates, weights, softball, flag football, and frisbee. English is taught to those who wish to learn.
Maxwell was issued basic items like deodorant, a bar of soap, socks, a bottle of shampoo, toothpaste, and a towel upon arrival. She will be teaching yoga and English to other inmates and will be allowed to take part in prison talent shows and watch movies. She can continue to learn Russian in the recreational library. Maxwell can do apprenticeships, including electrician, baker, horticulturist, and plumber.
In 2007, six guards at the prison were convicted of a sex-for-contraband scandal. Back then, the men were accused of exchanging items such as gum, perfume, makeup, and bras for sex with women inside. The BOP settled a lawsuit in 2021 in which as many as 15 women accused corrections officers at the facility of sexual abuse. Terrorist Colleen LaRose and Earth Liberation Front member Chelsea Gerlach are among notable inmates of the prison.
Maxwell was expected to be held at the Danbury Federal Correctional Institution in Connecticut after her sentencing. It is a low-security facility with separate male and female prisons. The facility was the inspiration for the fictional Litchfield Correctional Institution in the popular TV series 'Orange Is The New Black'.
Before her sentencing, Maxwell was under a suicide watch at the Metropolitan Detention Center. She was being held in the general population area of a prison where an inmate threatened to kill her. Maxwell had claimed that her cell was squalid and tiny and that she was groped by guards in pat-downs.
She also claimed that she could not sleep and was woken up every 15 minutes by a torch light being flashed into her room. She alleged that she was fed "rancid" food, and denied soap, toothpaste, and a toothbrush.
Maxwell was convicted on December 29, 2021, of recruiting and grooming underage girls for him for several years. She was convicted of almost all counts, with the top charge being sex trafficking of minors, which carries a maximum of 40 years in prison.
The other counts that Maxwell was found guilty of are conspiracy to entice a minor to travel to engage in illegal sex acts, conspiracy to transport a minor with the intent to engage in criminal sexual activity, transporting a minor with the intent to engage in criminal sexual activity, conspiracy to commit sex trafficking of minors. While both the first and second counts carry a maximum sentence of five years in prison, the third carries a maximum sentence of 10 years in prison, and the fourth carries a statutory maximum of five years in prison. She was acquitted of count 2, which involved enticing a minor to travel to engage in illegal sex acts.