Man, 22, left with horrific injuries after thugs yelling 'gays should die' stamp on his face in brutal homophobic attack A 22-year-old British hotel worker who sustained horrific injuries in a homophobic attack says that the incident "isn't gonna stop me from being fabulous!"
Ryan Turner from Preston, Lancashire, was attacked by a group of seven people near a McDonald's outlet last Saturday, following which he was hospitalized.
Following the ordeal, Turner took to Facebook to share a picture of his bloodied face that included a swollen lip and bruises on his upper cheek and eyebrow. He captioned the picture: "I never thought in my life that I would get beaten up for being GAY! Wtf has this world actually come too, you're all vile and disgusting! I want people to understand that being gay ISNT a choice and I can't help it, I'm sorry that you can't deal with it but hey ho no need to knock someone out because of it! I seriously can not believe that a homophonic [Sic] attack happens! Which it does and it's wrong! Stand strong and love yourself, this isn't gonna stop me from being fabulous! BEING GAY IS OK!."
Warning: The following photo might be graphic for some readers: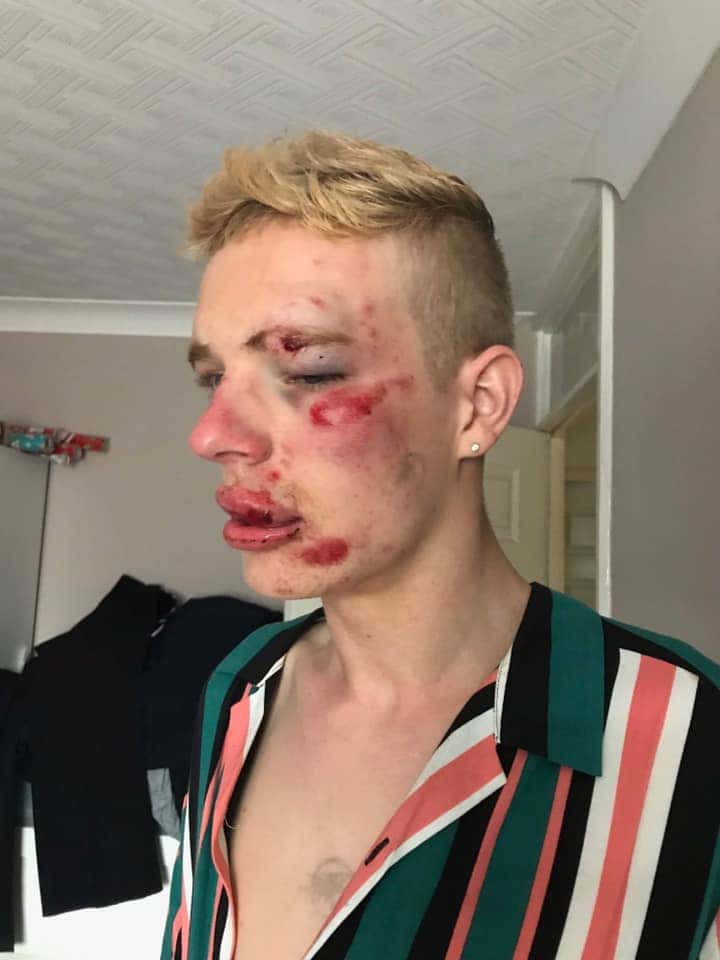 He also opened up about his experience in an interview with Daily Mail in which he said the attacked by the group of seven men was completely unprovoked.
"I was just walking home from a night out, minding my own business. There was a group of lads one of them started throwing gay slurs to me and my friends - you can tell I am gay just by the way I am. The man was saying 'you should die because you are gay' so I said 'there's no need for that, just stay away'. The next thing I know one came up behind me and struck me. I fell to the ground then he stamped on my face and I was knocked unconscious. When I woke up in [the] hospital, the doctors told me I could have died," he said.
Turner said his mind went blank after he got his face stamped on by the men and all he could remember after being attacked was waking up at the Royal Preston Hospital. He was discharged from the hospital after being given a CT scan and pain medications, nine hours later. He is currently recovering at home.
A Lancashire Constabulary spokesperson confirmed the incident: "We were called around 6.30 a.m. on Saturday (July 13) following reports of an assault in Friargate, Preston. A man in his 20s had been punched by another man close to McDonald's. The offender then made off from the scene with two men and a woman. The victim was knocked unconscious suffering facial injuries. He later was taken to Royal Preston Hospital for treatment. The assault is being investigated as a hate crime and inquiries are ongoing."
Turner, who came out as a gay man at the age of 15, said that he was targeted for his sexual orientation twice in the past but in the January and March attacks he had managed to come out unscathed.
"The two other times I managed to cover my face. The other two were by the same group. I've been contacted by three people all saying they have suffered homophobic attacks in Preston. I really don't know what is causing this, it is just shocking," he said.


Share this article:
Gay man beaten up by 7 men, left with horrific injuries: "Doctors told me I could have died"