Actors who came out to their fans after years in the spotlight
Coming out take a lot of courage, and we're here to celebrate the actors and actresses who decided to address their sexuality America has made some great strides in terms of LGBTQ+ rights. From punishing homosexuality, the US now celebrates it. But the discrimination against the LGBTQ+ community has often run deeper, making it tough for people to come out. This is why it's often very difficult for celebrities to address their sexuality. It is a major stepping stone is a lot of people's lives, and until the day comes that 'coming out' is no longer a big thing, we should celebrate the people who do. 
1. Alyson Stoner
Alyson came out recently in a heart-warming essay that was shared on Teen Vogue. The young actress expressed how she fell in love with a woman, writing "I saw you color the air around you. You heard the music a different way." We had tears of happiness when we read the essay! 
2. Barry Manilow
In 2017, 'Mandy' singer Barry Manilow finally admitted to his sexuality. The singer said he's been in a relationship with his manager since 1978, but only came out recently because he was afraid of disappointing his fans. 
3. Gordon Thomson
In a 2017 exclusive with The Daily Beast, 'Dynasty' actor Gordon Thomson decided to address his sexuality. "The shame, the breathtaking lack of self-esteem, has only just begun to seep out of my soul" the actor admitted. 
4. Elizabeth Gilbert
The author of the famous 'Eat, Pray, Love' came out in 2016 in an emotional Facebook post about her finally realizing her sexuality. Elizabeth spoke openly about falling in love with her best friend Rayya, who was diagnosed with pancreatic cancer. Unfortunately, Rayya succumbed to her disease soon after their relationship went public. 
5. Holland Taylor
Holland Taylor admits that she never needed a 'coming out' because she was always out. In 2015, the 'Two and a Half Men' actress spoke openly about her sexuality for the first time to WNYC Studios. Holland spoke about her new found love, who we now know is legend Sarah Paulson, and how it was "the most wonderful extraordinary thing that could have ever possibly happened in my life."
6. Ellen Page
In a stirring speech for the Human Rights Campaign back in 2014. She admitted to the fear of coming out, and how she admired the people who already had. The crowd applauded her after she declared "I am here today because I am gay." 
7. Victor Garber
In an interview back in 2013, Victor Garber decided to publically address his sexuality and admitted to being gay. It actually took him by surprise when he was asked if he was gay. "I don't really talk about it but everybody knows," Victor said. 
8. Lily Tomlin
Lily Tomlin has always been 'out', but the actress only started publically in the recent years. In 1975, TIME magazine had approached the actress to appear on their cover and talk about her sexuality. But the actress declined the offer, saying that she didn't want to be 'that gay person who does comedy'. 
9. Wentworth Miller
When 'Prison Break' star was invited to the Russian Film Festival in 2013, he declined by saying "I am deeply troubled by the current attitude toward and treatment of gay men and women by the Russian government. As a gay man, I must decline." 
10. Robin Roberts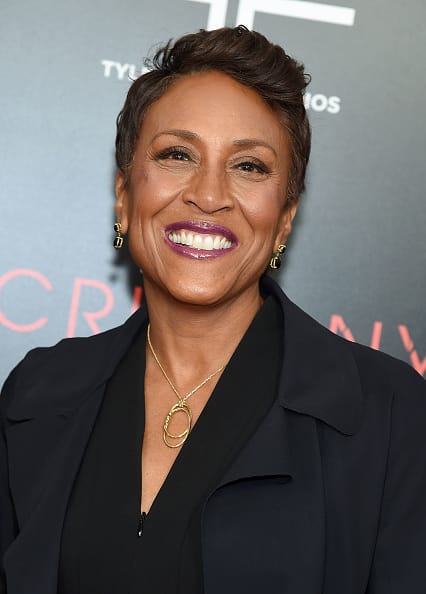 Good Morning America's Robin Roberts came out in 2012 after an emotional speech marking the 100th day following her bone marrow transplant. The talk show host publically acknowledged her relationship with her long-time girlfriend while she reflected on how grateful she was for the love and support she received over the years.
11. Ricky Martin
Sex symbol and all-round hottie Ricky Martin addressed his sexuality in 2010. Ricky admitted that while he was writing his memoirs, he was getting very 'close to the truth'. He concluded by saying: "I am proud to say that I am a fortunate homosexual man. I am very blessed to be who I am."
12. Kristen Stewart
Kristen came out in a hilarious monologue on SNL after calling out Donald Trump's unnecessary involvement in her love life. "I am sooooo gay, dude," she offered the now-President, along with a cheeky grin.
While we do celebrate these people for braving the public eye and its equally-harsh scrutiny, there was one actor we debated on mentioning. Kevin Spacey also 'came out' last year, but it was amid the sexual assault allegations made against him. While we would like to note that coming out is difficult, under no circumstances should it be used as an 'excuse' for admitting to your sexuality.