'Game of Thrones' season 8: Arya and Gendry sex scene wasn't necessary to prove she is a grown woman Nudity in 'Game of Thrones' has always served a purpose far more important than the mere use of sex to entertain the audience. In the case of the HBO show, nudity and the act of sex have been often perceived through politically charged lenses. Be it Daenerys' rape scene, Yigrette's love making in the cave, Melisandre's seducing of Stannis Baratheon or Cersei's walk of shame, the naked body has often served as a mirror to highlight the violence and power structure in the show. Yet, when it came to Arya Stark, something about that scene between her and Gendry in Episode 2 of Season 8 was quite not right- in fact, it was rather unnecessary.
The scene took the audience by shock as no one saw it coming, considering how Arya's character was built up over the course of the show. Arya started off as a girl who refused to abide by any rules, instead she soon became one of the feminist icons of the show who was constantly driven by her own desire to take control of her life. Over the course of the show we saw her grow up from a helpless child to a faceless assassin who likes to juggle words in order to find out the true face of people. Arya struck the perfect chord when she managed to destroy the whole of Walder Frey's family and immediately after that she participated in a conspiracy with her sister, Sansa, to kill Littlefinger.
While Arya was the one character who broke the shackles of convention, Gendry has always been one of those characters in a story who don't really come to the forefront until the last minute. Gendry's parentage was revealed long back in Season 5, but the fact that he was the bastard son of Robert Baratheon, did not make him one of the most sought-after characters on the show. Even when the boy reveals his identity to Arya it simply does not work well enough to surprise her. Instead, recalling Ned and Robert's conversation in Season 1 of uniting their children, Arya and Gendry immediately sparked romance through sex.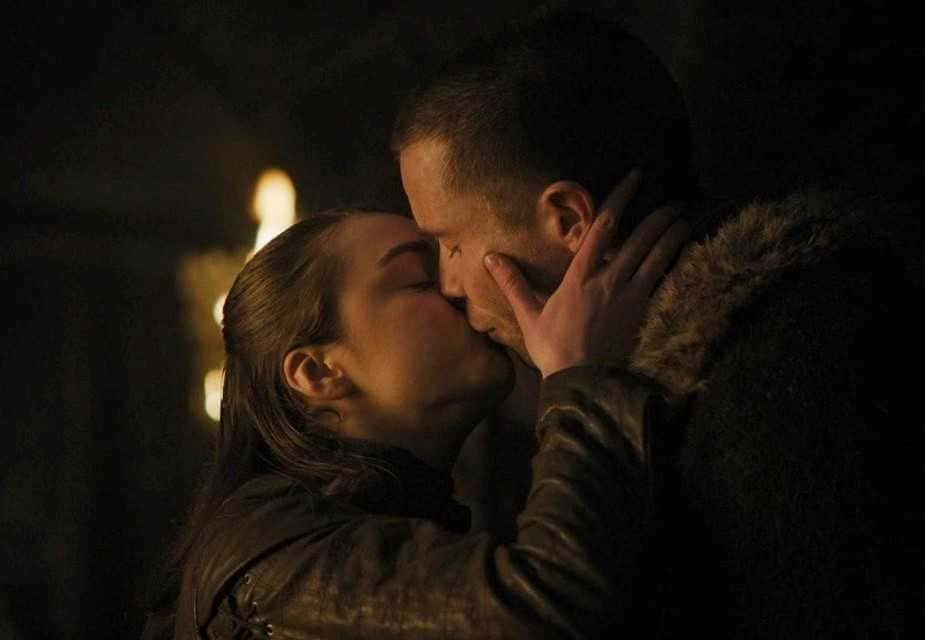 Although some of us were kind of hoping that Arya gets to have her own romantic angle on the show, it, unfortunately, came at a time when we kind of weren't hoping to see any more sex scenes. Let's be honest, 'Game of Thrones' has tuned down its nudity quite a bit ever since Season 7, and it is only for the reason that the show has reached a point where it no more needs an additional agent to catalyze the whole game of power structure. Any sex scene here onward will perhaps be just a comic relief or more of a move by the creators to keep some section of the audience hooked to the show. After all, when we see an entire army of White Walkers standing right at the doorstep, we don't really want to see our characters spend too much time on things that should have happened long back.
We all expected Arya and Gendry to get together, but let's be honest, none of us wanted to see them get naked right on the night before a Great War. It is only a very cliched way of indicating the arrival of tragedy; the kind of cliche that is not expected out of 'Game of Thrones'. It is fair that Arya perhaps needed to sleep with a man to gain full maturity but it is also something her character can totally do without. While most of the characters needed that romantic angle to bring them to a full circle, Arya was complete without it since she attained maturity way before anybody else on the show. Although unlike Sansa her womanhood's arrival is not announced, we do see Arya developing into a woman of her own making.
If Arya did not need the whole declaration of womanhood as Sansa did, they she perhaps did not even have to sleep to a man to make the audience understand that she is a woman now. Arya and Gendry will have a major role to play in the upcoming Episode 3, and we are totally rooting for that weapon which Gendry has forged for her. Considering Arya manages to save people in the crypts during the Great War, we cannot wait for the episode's arrival on April 28.