Gabrielle Union shows off her enviable figure in a gorgeous white bikini When it comes to choosing the right bikini and what to wear this summer, Gabrielle Union has it completely locked down. The actress and her husband, Dwayne Wade were spotted vacationing in Miami, Florida.
Gabrielle stripped down to beautiful two-piece swimsuit and showed off her gorgeous figure.
The actor was seen sporting a striped, sailor-inspired bikini as she showed off her gorgeous and enviable figure. She also showed off her toned abs in a white ribbed bikini which had black highlights. Her swimsuit was from the luxury brand, Solid & Striped.
The actress was all smiles as she held up a peace sign. Gabrielle who is currently 45-years-old was seen cuddling up to her shirtless husband and NBA star, 36-year-old Dwayne Wade. The couple seemed to be soaking up the summer Miami sun as they posed happily.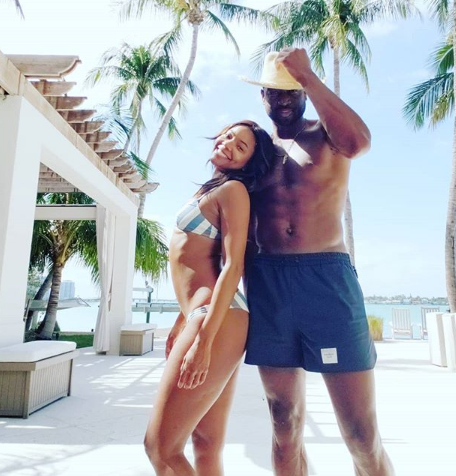 Clearly, their weekend was not just romance as Gabrielle was also headed to the Miami Open with some of her friends. She was seen sporting a tan Romeo Hunte jacket, a Veronica Beard dress, and Suecomma Bonnie sneakers. Gabrielle was seen with fellow basketball wives Faith Haslem and Alexis Stoudemire. The trio was able to watch Sloane Stephens win her first ever Miami Open.
Union and Wade started dating back in the year 2009 and officially got married in the year 2014 after which they spent their honeymoon in the Maldives and then Tanzania.
Recently, Union released her autobiography titled 'We're Going To Need More Wine'. The 45-year-old spoke to Good Housekeeping, "Writing my book, We're Going To Need More Wine, was therapeutic...whether I was talking about sexual assault, failed marriages, or finding joy in being my authentic self," she said.
"Acknowledging you're in pain is the first step."
"If anyone in your life is making you feel bad...they need to be cut off. Give yourself permission to let go. I feel a responsibility to be a decent human being to everyone and accountable for my actions. I want to leave every room I enter brighter than how I found it," she continued.