Friday, December 21 marks what would have been the 78th birthday of Frank Zappa, one of the most prolific and experimental figures in modern rock. During his musical career spanning 30-odd years, Zappa pioneered the concept of blending disparate musical genres, self-produced almost all of the 60-plus albums that culminated from his band, the Mothers of Invention, and his solo works. Zappa created entirely new concepts in sound engineering, lent his name to an asteroid, and was immortalized in the lyrics of Deep Purple's 'Smoke on the Water'. And that doesn't even begin to cover half of the virtuoso's many accomplishments.
Known for his eccentric approach to music that never ceased to push the boundaries, Zappa was also a fervent activist who viewed the establishment, particularly religious institutions, with a critical eye. His music and lyrics reflected his views, often using hyperbolic and comedic gestures to put his point across. One of the few artists of our times who transcended genres and pre-defined templates, Zappa's experimental approach influenced a whole generation of musical innovators. 15 years after he succumbed to prostate cancer, Zappa's extensive body of work and iconoclastic views remains as relevant as ever.
As we celebrate the controversial rocker's 78th birthday, let's take a look at how he influenced hundreds of artists across multiple genres and created a whole new genre of "comedy rock".
Zappa was born in Baltimore, Maryland, on December 21, 1940, to Sicilian-born Francis Zappa, who was of Greek-Arab descent, and Rose Marie Colimore, who was three-quarters Italian and one-quarter French. Drawn to music at an early age, Zappa's heterogeneous ethnic background and the diverse cultural and social mix that existed in and around greater Los Angeles at the time were crucial in situating Zappa as a practitioner and fan of "outsider art."
Zappa's diverse musical influences ultimately led him to create music that was difficult to categorize into a single genre. While in his teens, he acquired a taste for 20th-century classical composers such as Edgard Varèse, Igor Stravinsky, and Anton Webern, along with 1950s rhythm and blues and doo-wop music. At age 12, he started collecting R&B records which he continued to cherish till his last days.
In 1956, Zappa met Don van Vliet (best known by his stage name Captain Beefheart) while taking classes at Antelope Valley High School and playing drums in a local band, the Blackouts. At age 17, Zappa wielded his first guitar. Among his early influences were blues legends Johnny "Guitar" Watson, Howlin' Wolf, and Clarence "Gatemouth" Brown. Using the electric guitar as his main instrument of choice, Zappa developed an eclectic, innovative, and personal guitar style and eventually became one of the most highly regarded electric guitarists of his time, featuring at number 71 on Rolling Stone's list of "100 Greatest Artists of All Time".
In 1965, joined Zappa a local R&B band, the Soul Giants, as a guitarist. Zappa soon assumed leadership of the band, convincing its other members to play his original music so as to increase the chances of getting a record contract. The band was renamed "The Mothers" and the switch to original material worked like a charm. After striking their first deal with MGM-owned Verve Records, they renamed themselves again, adopting the name "The Mothers of Invention" because "Mother" was short for the expletive "mother***ker."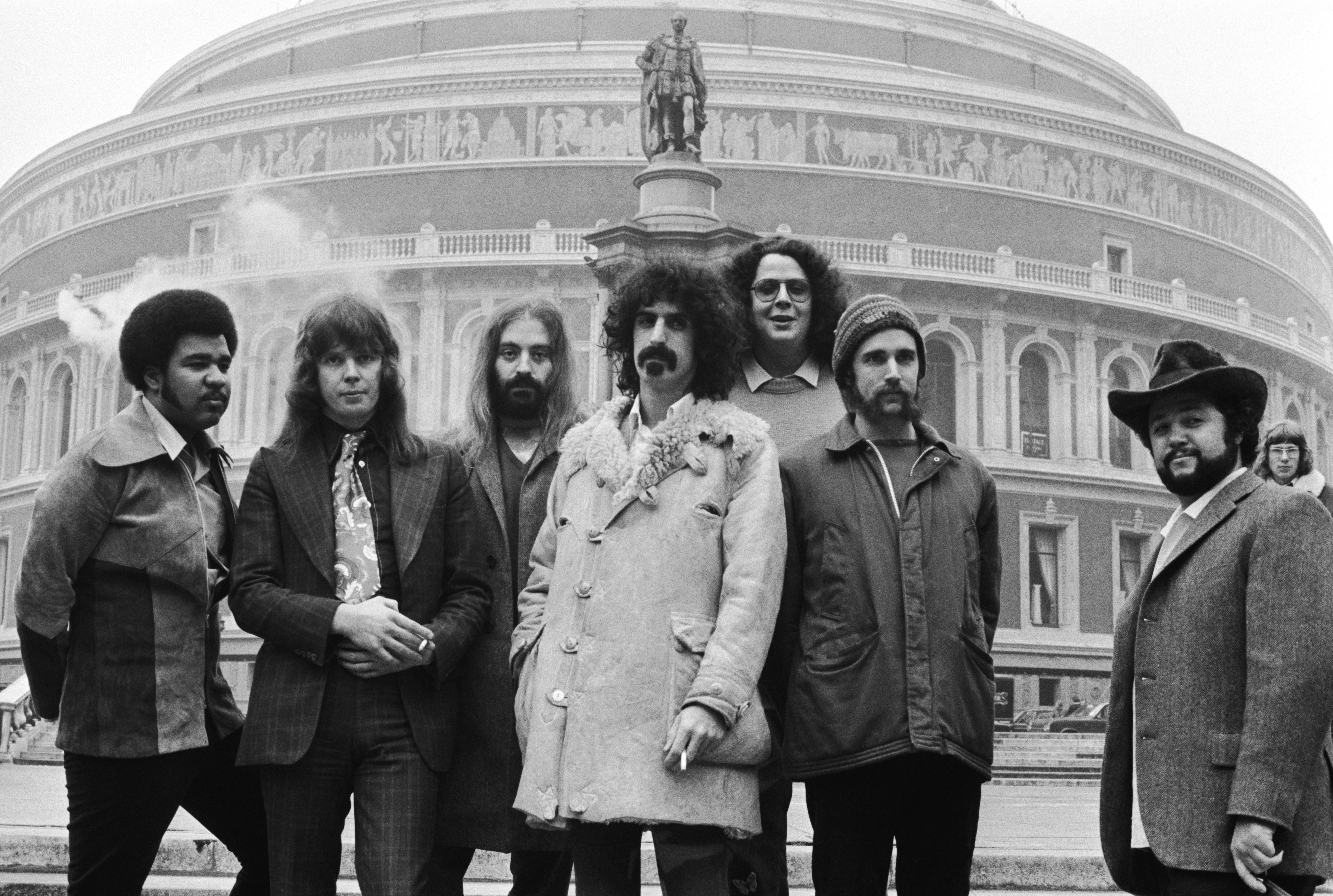 The Mothers of Invention recorded the groundbreaking double-album 'Freak Out!' which was released in 1966. The album was one-of-a-kind, mixing R&B, doo-wop, and experimental soundscapes that captured the "freak" subculture of Los Angeles at that time. It immediately established Zappa as a radical new voice in rock music, providing an antidote to the relentless consumer culture of America and an icon to the anti-establishment flower-power movement of the era.
As someone who produced most of his own work, Zappa experimented with many techniques in audio engineering and effects throughout his career. Zappa's output is unified by a conceptual continuity he termed "Project/Object", with numerous musical phrases, ideas, and characters reappearing across his albums.
As mentioned earlier, he used his lyrics to shock and provoke, often employing satirical and absurd humor to put forth his iconoclastic views. Widely considered as the 'godfather of comedy rock', Zappa sparked a whole generation of musicians who would adopt the style of comedy rock, including Phish, Weezer, The Aristocrats, Tim Minchin and, of course, Weird Al Yankovich, who repurposed Zappa's foundations for the '90s to produce several hilarious hit singles and covers.
Zappa's influence didn't just trickle over to future generations, but also inspired many of his own peers including Jeff Buckley, Black Sabbath, Jimi Hendrix and even The Beatles. In fact, Paul McCartney once admitted that he regarded 'Sgt. Pepper's Lonely Hearts Club Band' as the Beatles' equivalent of 'Freak Out!'
Interestingly, The Mothers of Inventions' 1968 record 'We're Only in It for the Money' would go on to take a shot at The Beatles and, although it featured some of the most creative audio editing and production yet heard in pop music, the lyrical themes would go on to alienate some fans as they ruthlessly satirized the hippie and flower power phenomena, with the cover photo parodying that of 'Sgt. Pepper's'.
Zappa increasingly used tape editing as a compositional tool. A prime example is found on the double album Uncle Meat (1969), where the track 'King Kong' is edited from various studio and live performances. Zappa had begun regularly recording concerts, and because of his insistence on precise tuning and timing in concert, Zappa was able to augment his studio productions with excerpts from live shows, and vice versa. Four decades after Zappa stumbled upon it, effects like tape delay and saturation are a staple in genres like psychedelic rock and is used extensively by a number of contemporary acts.
Zappa was also an early figure to dabble with "musique concrète" in the landscape of pop/rock music. It's a form of experimental music constructed by mixing a range of pre-recorded sounds including musical instruments, the human voice, and the natural environment that are obscured from the source of their origin. Zappa's experimentation would go on to influence many artists in the ambient/atmospheric genre including legends like Brian Eno and Thom Yorke.
Zappa's eccentricity was not only limited to his music, but also his visual art, which he paid close attention to as he designed many of his album covers and directed his own films and videos. It also extended to his stage antics and provocative personality, something that would be adopted by many eccentric artists of the coming generations like System of a Down and Marilyn Manson.
He even managed to influence many modern classical composers and artists like Tomas Ulrich, the Meridian Arts Ensemble, Ensemble Ambrosius and the Fireworks Ensemble regularly perform Zappa's compositions and quote his influence. Even some contemporary jazz musicians and composers like Bill Frisell and John Zorn are inspired by Zappa, as is funk legend George Clinton.
Clearly, the method to the madness of the legendary Frank Zappa crossed all boundaries of genre and style and there are hardly any experimental artists in the contemporary scene that don't owe some form of debt to the shock rocker.
In spite of Zappa's crucial place in rock history and wide-ranging influence as demonstrated above, he didn't garner much commercial or critical success. Like many visionaries ahead of their time, his greatness was not fully acknowledged during his own lifetime and many critics dismissed his work for lacking emotional depth.
Both the Recording Academy and the Rock and Roll Hall of Fame acknowledged the icon only after his passing. Zappa was posthumously inducted into the Rock and Roll Hall of Fame in 1995 and received a Grammy Lifetime Achievement Award in 1997.
In 2005, his aforementioned album with the Mothers of Invention, 'We're Only in It for the Money', was inducted into the United States National Recording Preservation Board's National Recording Registry. The same year, Rolling Stone ranked him number 71 on its list of the 100 Greatest Artists of All Time.
Nonetheless, Frank Zappa remains one of the most innovative and fearless voices in modern and contemporary music, a true visionary and a renaissance man who was unafraid to express his true beliefs and address controversial issues. He will forever remain one of the weirdest and most influential voices in rock history.
Happy birthday Frank Zappa, you inimitable mad genius!