Florida man traveled 236 miles to kidnap and rape 10-year-old girl
23-year-old Jonathan Diaz Fundora groomed the 10-year-old girl on Facebook before then setting up a meeting with her and sexually assaulting her. Fundora initiated contact with the girl on Facebook (Polk County Sheriff's Office)
A news release by Polk County Sheriff's Office announced the arrest of a Miami man for kidnapping and sexually assaulting a 10-year-old girl. PCSO detectives apprehended 23-year-old Jonathan Diaz Fundora of 7370 South Waterway Drive in a motel in Lakeland, Florida, shortly after he kidnapped the victim, whom he had allegedly met and groomed online.
According to an affidavit, Fundora met the victim online on Facebook approximately six weeks ago. He then began chatting with her on the social media platform, and detectives say the messages reveal a pattern of sexually explicit requests, including directing her to perform sex acts and send him pictures and videos.
Fundora presented himself to the girl with an alias of El Yoni King Diaz (Chojo Akimichi) and in the subsequent conversations, he calls her his 'good girl,' 'little one,' and 'baby.' He directs the girl to call him 'daddy,' to which she obliges and soon, he arranges to travel to Lakeland to meet with her.
Fundora took three days off his work as the manager of a local Burger King and drove to a motel close to the girl's residence on March 27. He arranged to meet her at the said motel, which was located at the end of the road where she lived, and the 10-year-old left a note for her parents that said she was going to stay at a friend's house for three days and told them not to worry.
The note read: "I'll be staying 3 nights with my bff, not (redacted). She's going thru a lot, I'll come back on Thursday! Muwh! XOXO.....I wunna help her. She's one of my friends at school. She doesn't want to see anybody but me. I'll be safe."
When one of the parents found the note, they called the sheriff's department to report the child missing. Within 35 minutes of having received the call, PSCO deputies found the suspect and the vehicle he drives through his Facebook page.
They tracked the car down to the Motel 6 in Lakeland, found the room the suspect had checked himself into, and duly arrested him. The girl was found hiding in the bathroom wearing a pink dog collar and pacifier. Both the victim and Fundora told detectives they had engaged in sexual intercourse, with a rape kit confirming the sexual abuse.
According to Sheriff Grady Judd, Fundora attempted to defend his actions by claiming that he thought the girl was 14 or 15 years old. But that defense failed. Judd pointed out that the password to his computer was the victim's date of birth.
He said: "You know what his defense was? Well, I thought she was 14 or 15. Are you kidding me? Oh, if you thought she was 14 or 15, why was your password into your computer her date of birth, which clearly says she's ten years of age."
Speaking about the incident while holding the dog collar and pacifier in plastic bags, he said: "This is one of the sickest things you can ever imagine and our deputies got there within 35 minutes, and still it was too late," adding that Fundora was a monster and that parents should be outraged.
He continued: "This suspect groomed and manipulated a little girl online and then traveled all the way to Polk County to sexually abuse her – he is the poster child for why it is critical that parents monitor their children's activities online."
Praising the work of the detectives, he added: "I commend our patrol deputies for catching him in the act of sexually abusing a child, and I shudder to think of what the other horrible consequences would have been had her parent not immediately reported her missing. We will do everything in our power to ensure he spends the rest of his life behind bars."
Fundora has been slapped with a multitude of charges, including Kidnapping (Life Felony), Kidnapping (Life Felony), Sexual Battery by a Suspect over 18 on a victim under 12 (Capital Felony), Traveling to meet a minor (F-2), 5 counts Possession of Child Pornography (F-3), 3 counts Directing the Sexual Performance of a Child (F-2), and 2 counts Use of a Computer to Seduce a Child (F-3). If convicted of the charges, he faces a life in prison.
He was charged after a preliminary review of his electronic devices, which showed he had photos and videos sent to him by the 10-year-old that he had directed her to create of herself, depicting sex acts. He is expected to be charged further once the full forensic analysis of all his devices is complete.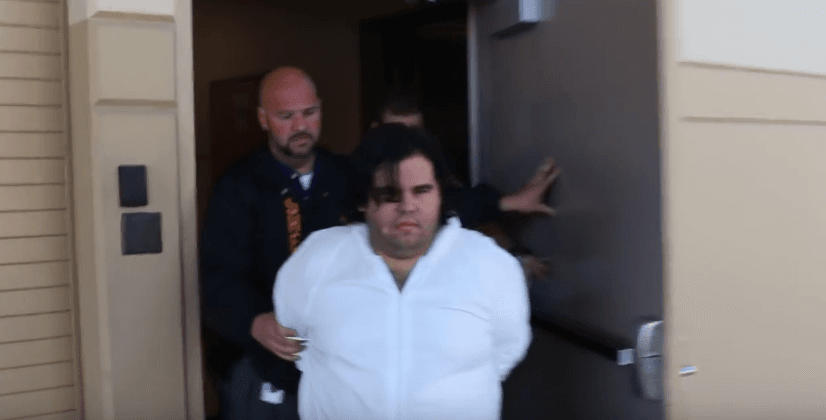 After his arrest, Fundora was booked into the Polk County Jail and was expected to have his first court appearance in the coming days.
A video of the suspect's walk from the prison: