What are Florida's real Covid-19 numbers? Gov Ron DeSantis slammed for saying he will ban 'vaccine passports' Florida Governor Ron DeSantis is facing scrutiny after new research showed that the state may be undercounting its Covid-19 numbers. The paper, published on March 10, argues that "the impact of Covid-19 on mortality is significantly greater than the official Covid-19 data suggested." These claims could damage DeSantis' standing, despite being defended by conservatives, with many have called his handling of the pandemic "successful".
To make matters worse, the Governor has refused to follow CDC advice and has eased the requirement for masks in the state. Adding fuel to the fire, the Florida Governor has also publicly stated opposition to "vaccine passports", despite proof that they can help combat the virus. DeSantis is currently overseeing a major spike in Covid-19 cases in the state, and these announcements could have major implications for the state.
RELATED ARTICLES
Miami Beach declares emergency over uncontrollable spring break crowd, Ron DeSantis under fire: 'He must resign'
Maskless Trump mingles with Mar-a-Lago guests despite Covid outbreak at Florida resort, could be fined $15K
The report, combined with DeSantis' statements, has left many social media users furious. Despite the backlash, the Governor is not expected to change track, given the strong support he has amongst conservatives. For Florida, that could be deadly. Especially after the state recently saw a surge in spring breakers, who defied guidelines to party in close quarters without masks.
Florida's COVID numbers
To date, the virus has killed over 300,000 people in Florida, but as the study points out, that could be grossly underreported. The study, published in the American Journal of Public Health uses the concept of 'excessive deaths' to find the true number of deaths from COVID-19. Excessive deaths are calculated by adding the 'historical trend' number of deaths (i.e. the average number of people that die each year) and subtracting that from the total number of deaths. That difference is called excessive deaths and is widely used by scientists to learn the full impact of Covid-19.
Analyzing that data, the team of scientists came to the conclusion that "Florida experienced 19 241 (15.5%) excess deaths above historical trends from March to September 2020". The study argues that the state experienced far greater deaths than reported due to Covid-19. It is important to note that these studies aren't always 100% accurate. Many deaths could be falsely attributed (or not attributed) to Covid-19. But they do tend to provide a more accurate picture, since they take into account all the deaths in the state, rather than just relying on what the government declares.
The argument that it is not easy for "the government to provide accurate statistics is two-fold". For one, early in 2020, there was a huge lack of mass testing. Secondly, each state has varying rules about how it reports a Covid-19 death. Some states require a Covid test, other's don't. That means it is very easy to wrongly attribute one death to Covid-19 or another factor, without much evidence. As a result of this, no state – or even country – may have been able to fully paint an accurate picture of the devastation left by the virus.
This isn't the first time Florida has been accused of underreporting. Back in October 2020, the Sun Sentinel ran a similar story after Flordia asked doctors to call the death, rather than medical examiners. That change in protocol meant that many deaths were wrongly classified, along with many professionals failing to list Covid-19 despite positive tests.
That confusion, along with other factors led to the reduced death count. According to the paper, 4,924 excess deaths were not counted by the state as they were ruled as something else. However, not everyone seems to agree with that report. Many experts interviewed by Yahoo News argued that not all excess deaths can and should be attributed to COVID-19. "You could've never gotten the coronavirus, delayed needed health care, and died from diabetes-related complications. That's still indirectly tied to the pandemic," Jason Salemi, an associate professor of epidemiology at the University of South Florida, told Yahoo.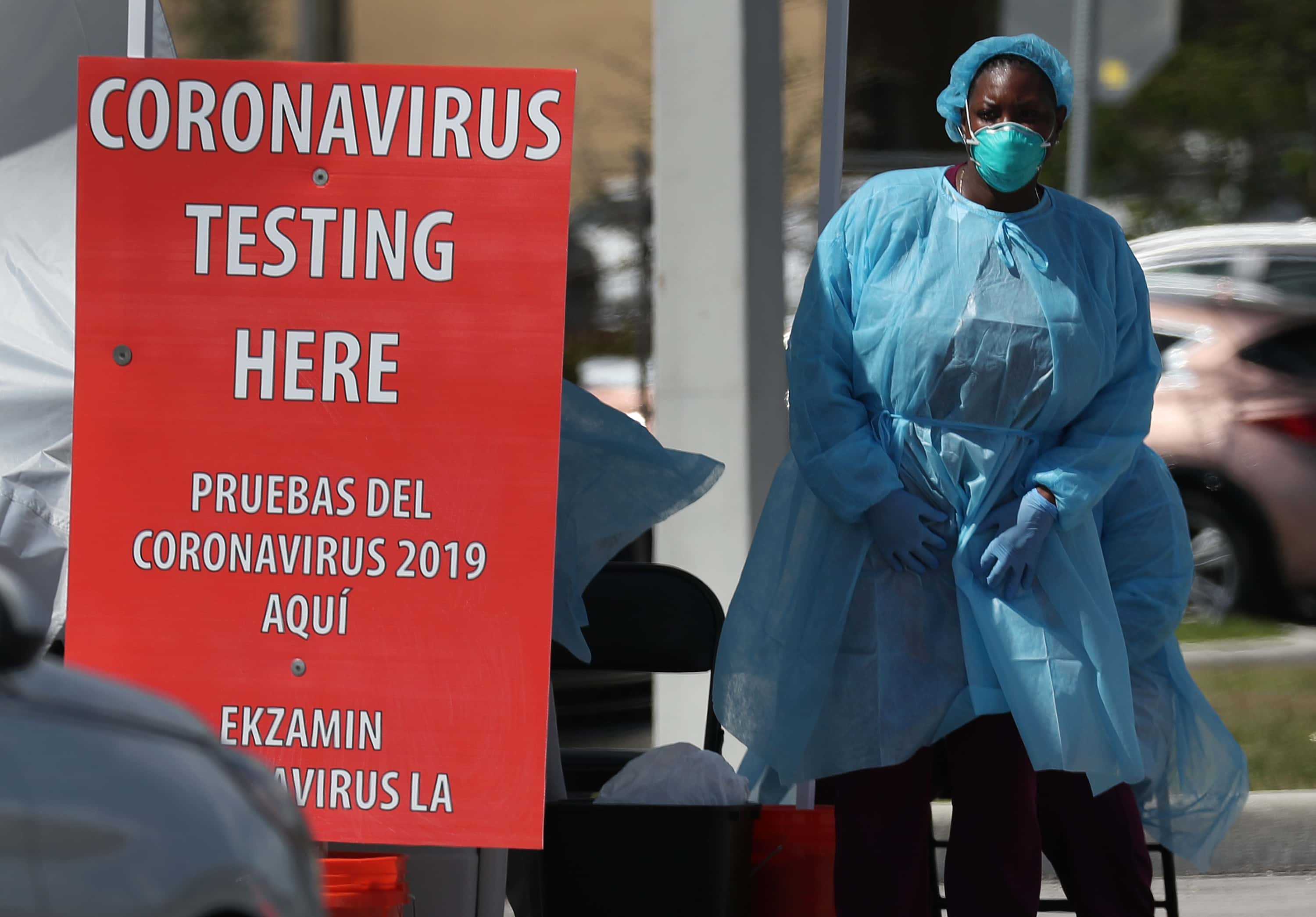 'Vaccine passports have huge privacy implications'
While the number of deaths in the past is now something we cannot change, the number in the future is. However, Governor DeSantis believes that passports are not the way to deal with the virus. At the state Capitol, the Governor made the announcement, bucking the growing acceptance of the concept. He said, "It's completely unacceptable for either the government or the private sector to impose upon you the requirement that you show proof of vaccine to just simply participate in normal society." He also argued that the passports have "huge privacy implications".
DeSantis announced that he would soon be issuing an executive order banning private businesses from requiring individuals to show proof of vaccination. He also called on the state legislature to pass a bill banning passports entirely. This comes at odds with President Biden and the Democrats, who plan to work with private businesses to roll out a nation-wide voluntary vaccine passport program.
The state of New York was the first to successfully trial a vaccine passport program, as the concept is gaining popularity over the world. The World Health Organization is also working on a 'smart certificate'. Having a vaccine certificate would help drastically combat COVID-19 since it would encourage anti-vaxxers to get their shots, helping bring the pandemic under control swiftly.
As Florida battles another huge surge in cases due to the spring break parties, DeSantis' next few weeks will be a key test of his leadership skills. Judging by Twitter's reaction to the news, it doesn't seem like he has the peoples approval. Many have taken to social media to criticize DeSantis for his leadership, while others have rushed to his defense, including Rep. Lauren Boebart, who tweeted, "My passport says I'm an American citizen, and that's the only passport I need."
---
My passport says I'm an American citizen, and that's the only passport I need.

— Rep. Lauren Boebert (@RepBoebert) March 30, 2021
---
Vaccine passports could become the next battleground for the Joe Biden administration, which may reportedly cause more harm than good. However, Republicans seem keen to not have them around, and it is possible other states could follow DeSantis' move. So far none have, but it is possible.