Fire The Stylist: Lady Gaga loses the plot thrice, Bella Hadid channels the foam net and Fergie is just trying too hard With all eyes on celebs, watching their good and bad days, the A-listers are always under pressure to look good. But trying so hard, is often times, a futile move. We don't blame the celebs for putting a wrong foot forward, rather it's the stylist who should be blamed.
Here, we ring the alarm bells for these celebs to turn down their stylist. In excruciating detail, we explain why it takes more than just good looks to carry off an outfit. These stars, for starters, should get someone else to pair their clothes, someone with their head on their shoulders - because remember, we are always watching you!
Jessica Marais
Did Dreamworks order another 'Madagascar' movie? Jessica Marais appears to be in the mood for some zebra cosplay. Tell me if you don't think her left arm looks like Marty the zebra's hindquarters - once you see it you cannot unsee it. In one of the worst outfits we've seen all week, the Australian actress is giving off the worst kind of circus vibes. While her pairing in terms of the pointy black stiletto and the high pony is definitely the saving grace of this outfit, the sleeve just cannot go unnoticed. She got the bronzy dewy face on point, along with the frayed detailing on the hem, hence making the sleeve choice even more unfortunate. Who styles this stuff?
Lady Gaga
In this week's column, Lady Gaga has blessed us with an array of bad outfits. Hallelujah! Here are three of the worst ones!
Gaga was spotted last week in New York walking around in this frilly piece. Though she's known to dress in creative outfits that are more often than not, ridiculous. This dress is definitely better than the meat dress, or the bubble one - thankfully she's moved on from those. It seems like now she's all about costumes. Who will remind her that Halloween is celebrated once a year for a reason? The frills on this one remind me of the throne in the HBO series without the Khaleesi fierceness.
As the story goes, Gaga had to tame a horse in the city for a music video where she played a nun cum jockey. She got her team of talented stylists to get her something that truly represented this character. The team hastily put together this nude ensemble and she ran onto the streets of NYC calling out the horse's name and refused to leave without him.
While this is totally fabricated, doesn't it seem true? Gaga's attempt at a creative outfit failed miserably with this gown. And honestly what is up with the hat? The corset design on the stomach looks like a badly made shapewear and the material for this dress looks like it may also function as a windcheater. The front zipper makes the dress look like something that the actual dress would be contained in. Fail.
Yep, the circus look is definitely in. In another celebrity spotting, she was seen wearing this extremely oversized cheetah coat and matching legging boots. The boots were more boyfriend sweats than leggings, tbh. She paired this massive outfit with a pair of tiny aviator glasses and a black box clutch. Her hands were lost in the sleeves and so was her body - I am sure that she was in there somewhere, judging by the fact that the face was still intact on top of the suit.
Bella Hadid
Can someone let Bella Hadid know the difference between the runway and real life? The supermodel was spotted in this white see-through dress at a Tag Heuer event at Monaco. The sheath dress by Dion Lee was worn with a gold belt and paired with white pumps.
Was Hadid inspired by a fruit? Because the dress certainly looked like something you'd find on an apple at a grocery store. The foam-like appearance of the cloth is undeniable and so is the typical futuristic eye makeup. It's a request to Hadid's stylist, please make use of that gorgeous woman and style her like the goddess she is. She keeps landing on our worst dressed list almost every week and it's kind of getting boring.
Salma Hayek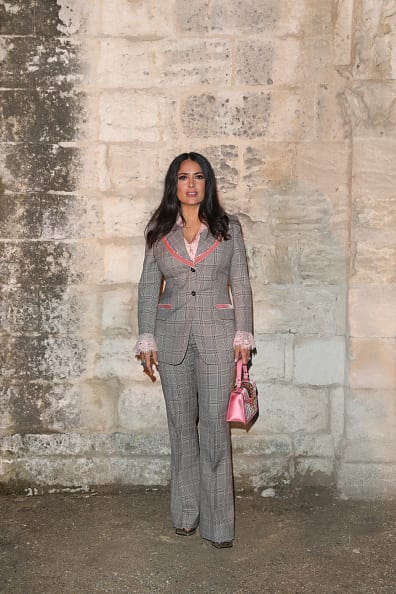 The A-lister stepped on to the Gucci Cruise event in this checkered grey pantsuit look with bubblegum pink details on the collar and the pockets. Like that wasn't bad enough, she added a matching bag to the outfit and some really tired looking frilly lace to the sleeves.
Her hair looked oily and unkempt and it felt like she didn't have time to change as she came straight from an errand to the red carpet. The scalp oil may have moved to her face as well or is that just an overly done highlighter, I can't even tell anymore. This look is so sad and infuriating at the same time. Salma, its time - fire your stylist.
Nicola Roberts
Here's a tip Nicola - the next time you pick an outfit, it is really okay to pick two different colors. Everything need not match your hair. This fawn suede jumpsuit combo isn't flattering at all on Nicola - it doesn't fit well on her legs and the cameltoe is too in your face. It's like the bottoms are confused as to what to be - skinny or on the way to be flared. The matching jacket makes the look even worse - oversized padded jackets went out of style a while ago. One cannot even spot her shoes - until you look closer to see that she has no toes.
It is an unfortunate miss as the look has so much potential - imagine the same jumpsuit, without the jacket, a pair of nice black pumps, Nicola's hair tied up in a clean, fuss-free bun and a maroon lippie to complement the look.
Katherine McPhee
Katherine McPhee wore this Zimmerman outfit to the Audience Choice Awards in NYC last week. Must say - bold, but bad choice. From the bottom up, this outfit is so chic - the striped flared pants are a great look for anyone as tall as lithe as her. The pointy brown pumps making a peekaboo is also very cute. And then your eyes reach the top and you wonder, 'was there not enough fabric to make this top?'
The bottom cut of the top makes it look stranger and somehow unpleasant on the eyes. What was the loss is making a straight cut on what would have become a really pretty top? This is a waste of an itty bitty top outfit.
Fergie
Things have not been going well for the Duchess. From the looks of this outfit, the anthem fiasco hangover hasn't worn off completely. Fergie is definitely so 2008 (or late) in this sequinned t-shirt dress and over the knee black velvet boots. Her face looks so washed out and tired underneath a mop of blond hair that is a sorry excuse for beach babe waves.
They say when you leave your house take off one accessory, not add ten rings and more bling to a sequinned dress. Fergie's outfit tries too hard.
That's all for this week's worst fashion moments - stayed tuned for the next batch of bad outfits, so that you never make the same mistake!