Ryan Samsel who attacked female cop during Capitol riots beat up pregnant girlfriend, tortured other women
Feds are using Ryan Samsel's long history of violence against women to keep him in jail, saying hin 'release would pose a danger to the community' Ryan Stephen Samsel assaulted a police officer during the Capitol riots (FBI)
One of the first people to arrive at the US Capitol on January 6, ahead of the riots, was Ryan Samsel, 38. He had arrived at the location before then-President Donald Trump had even finished his speech. After Trump's speech, most of his supporters barged into the Capitol rioting. There, Samsel allegedly assaulted several Capitol Police officers, including one female cop, and according to the Department of Justice, left one with a concussion. The DOJ filed a document on the Pennsylvania man about his extensive history of physical violence against women and are now hoping to keep him in federal detention for his alleged involvement in the Capitol riots.
Since 2006, Ryan Samsel has had a spine-chilling history of "choking and beating women to the point of loss of consciousness, of many hospital visits for many victims, of chipped and missing teeth and of Samsel even breaking into one victim's home multiple times to assault her," according to the federal government's filing to keep Samsel in detention.
RELATED ARTICLES
Capitol riots: Nearly 60% of those who took part in violence faced financial hardships, says report
Capitol riots saw nearly 22 current or ex-members of US military, police forces involved in violence: Report
'Danger to the community'
"Samsel's release would pose a danger to the community," the federal filing said. In a 15-page document that seeks to keep him in prison, all of Samsel's misadventures are detailed. It was two months ago when the debate over his detention intensified — it was when Samsel alleged that he was beaten at the Washington, DC Central Detention Center. Steven Metcalf, his attorney, said that his client was beaten to a "bloody pulp," and that they would pursue a civil suit. The Department of Justice is currently investigating the claim.
According to the latest local reports, the most recent federal filing acknowledged Samsel's injuries, but doesn't outweigh the current charges against him "and the need to protect the public."
A look into Ryan Samsel's violent history against women
It has been reported that in 2006, Samsel, of Bucks County, was convicted of multiple charges for running a woman's car off the road and then threatening to kill her because she owed him $60. In another instance from 2009, Samsel "held a victim against her will for five hours, choking her to the point of unconsciousness, pushing her, beating her, and chipping her teeth," prosecutors stated. Reports say that three years later, he was reportedly convicted of choking and beating his pregnant girlfriend. The DOJ added that a simple assault conviction followed in 2015, again on a woman.
"The allegations of that assault involved Samsel smashing a hot pizza in the victim's face, beating the victim, pouring a beer over her head, and eventually throwing her into the canal, where he then hopped down and held her head under," the motion stated. "When Samsel finally stopped holding her, the victim ran into the street barefoot and found a police vehicle. She desperately tried to open the door of the vehicle and the officer saw her and unlocked it so she could get in."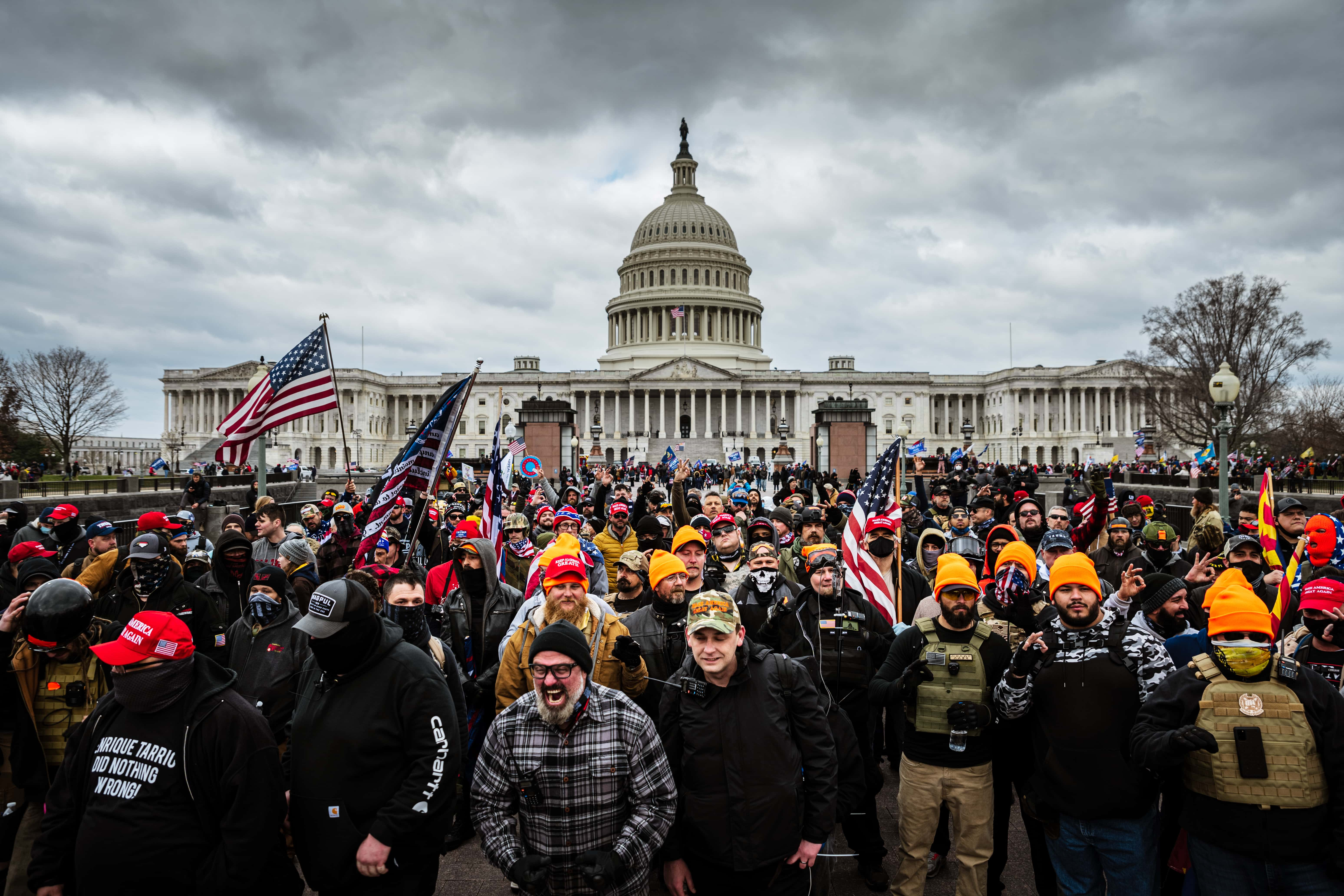 In 2019, a woman alleged that "Samsel raped her multiple times and that she had often been scared he would kill her", for which he faces an outstanding warrant in New Jersey, according to the court filing. "There is an outstanding warrant for Samsel's arrest based on this conduct in New Jersey. Samsel was not only wanted on that warrant at the time of the offense conduct in this case, but he was also still on parole for the 2011 conviction described above," the motion states.
For his alleged involvement in the Capitol riots, Samsel has been charged with assaulting a police officer and other crimes.