'Extreme Engagement': Tim Noonan and PJ Madam on why they needed to visit Earth's toughest places to see if they can live together Netflix's 'Extreme Engagement' is a newly released reality TV series and Australia's first unscripted show.
The show reveals that marriage is not only about all the glitz and glamor as a couple embarks on a year's journey to eight of the toughest places on Earth to see if they are really ready to get married. They witness and take part in traditions that have been followed by tribes for generations to keep them and their relationship happy and strong.
The series revolves around Tim Noonan and his fiancée of four years, PJ Madam, as they embark on this journey together after spending two years apart. According to Noonan's website, he is a world-traveling filmmaker, multi-award winning cameraman, journalist, and television presenter. Noonan and PJ are also the founders of Wildman Films. Noonan is also the executive producer, host, and DOP of 'Extreme Engagement'.
PJ, on the other hand, is a reporter. She studied politics and communications at the University of Queensland. According to her website, She became the youngest parliamentary attendant in the parliament's history.
While their new series is now released on Netflix, we are dying to know how their experience helped them as a couple and what made them want to see if they should be together in such an unorthodox and public way.
In an exclusive interview with MEA WorldWide (MEAWW), the couple shared their experiences about the journey, and how it brought them closer together. They also spoke about the trials and hardships they faced living amongst tribes with no hospitals or even a road.
You (Tim Noonan) and PJ Madam embarked on a year-long journey through the toughest places in the world. Can you tell us why you two wanted to see if you should be together in such an unorthodox and public way?

Tim: I think ultimately we're filmmakers. So doing it publicly wasn't really that much of a stretch for us. We've lived in front of the camera for years most of our careers, but we really wanted to test ourselves. It's our lives to travel and we hadn't been together for so many years and it was just. I know it was the adventure of a lifetime and a chance to really get to know each other. They say those who travel together stay together.
PJ: Tim had been away for 2 years of our engagement. And so we hadn't had much of an engagement. We haven't really seen each other. We haven't been together and when he came back, he did have so many stories of so many wonderful places and people that he had met and their cultures and their traditions and their beliefs of what makes love last. So we thought it was the perfect opportunity to roll everything in together and see if we could have an engagement this way and we knew it would be hard, it would be challenging but we had no idea of the extent of how it would push us to our break.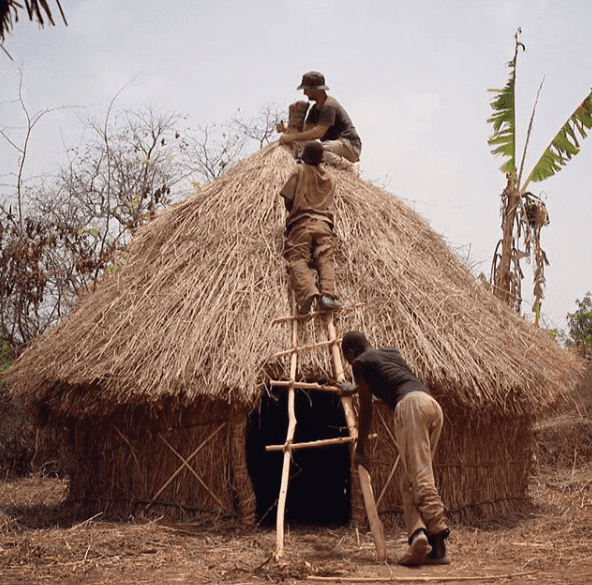 How did this journey bring the two of you closer than you were before?
PJ: You've got no choice honestly, you break down barriers and boundaries that you never even thought you had and if you're still coming out smiling and laughing and you know forgiving each other and still being close to one another, isn't that marriage? Like that's what it's about. Isn't it? It's kind of like what we learn, there will be issues or any anything that you might have between each other, but you try to get over yourselves and you move on and yeah, that was the most refreshing thing for us.
Tim: Yeah, it forces you into a corner to work out your problems with yourself so you can love yourself and then love somebody else. I think PJ and I are both committed to that journey of our own self-discovery if you like because you've got to be sort of fearless and brave to do that.
What is your takeaway from the places you visited on the year-long journey?
PJ: My takeaway is what I said before in all these different places that we've been to culturally women are quite similar. It's often thought that yes, women nag, and yes all those men don't listen. We heard that eight times over around the world. It was almost as though relationship problems can be quite identifiable.
Among the eight places you visited, which one stood out the most?

Tim: That's a really tough question. I mean, I've been to a couple of these places before, but they're also incredibly unique and had their own challenges. When we went to Cameroon, it was really different, PJ had never been to Africa or never been to a tribal Community like that. So there was a massive change from her from the first episode from when we first the first adventure to when we finally went to Papua New Guinea in the end to have our tribal wedding and we've had such an incredibly epic journey.
In the first episode, 'Like A Woman Possessed' you (PJ) underwent this ritual where you had to get possessed. How was that experience?
PJ: That was an incredible experience, to be honest. It was such a bonding experience with the women. That possession ritual is to help women embody the spirits of female ancestors and it's to help them be a better housewife, a better mother, a better wife. Be strong, be powerful, take pride in everything that they do from the household duties to looking after the children to washing to cleaning to putting food on the table, and looking after their husband. Learning their way of life was incredible. It was so humbling. I will never ever complain about my life ever again. And you know those women, they are so strong and what that possession did was it enabled me to really relate to them on just a female level.
What were the hardships and trials you faced while shooting in different tribes?
Tim: We got some places where we had to get helicoptered into because there were just no roads. There's no access. Some places were a five-day walk to the nearest town and maybe over a week to the closest hospital. We were sleeping in the dirt and mud straw huts and sometimes going through blizzards that were -33 degrees.