'Thalassic' Review: Ensiferum meld melodic folk and power metal in epic concept album inspired by the high seas With their eighth studio album 'Thalassic,' which releases on July 10 via Metal Blade Records, the Finland-based folk/Viking metal stalwarts Ensiferum are raising the bar... or the mast, if you will. Translating from ancient Greek as "of or relating to seas", 'Thalassic' features a medieval folk ethos set to rousing guitars, rumbling bass, and roaring drums. "I think we managed to take another step ahead musically and we also utilized the best parts of our old sound," the band's bassist/vocalist Sami Hinkka stated, before adding, "There are lots of Ensiferum's trademarks: beautiful folkish melodies, ass-kicking riffs, a nice mix of different vocals, and great sing-along choruses."
After their previous albums 'Two Paths' (2017) and 'One Man Army' (2015), 'Thalassic' stands apart in Ensiferum's catalog as their first album with a central theme. As Hinkka revealed, "I started to listen to the demos much more from the feeling aspect instead of analyzing them musically. For some reason, all of them took me to seashore, and the theme was found: something related to sea or water. So I started to read about history, myths, and legends around the world that had something to do with the theme, but even though all of the lyrics are obviously inspired by this, I tried my best to keep Ensiferum's heroic mentality in them."
'Thalassic' was recorded and produced by Janne Joutsenniemi, who produced the band's previous albums 'Victory Songs' (2007) and 'From Afar' (2009). The vibrant artwork comes courtesy of Gyula Havanchak, whose vision helped reflect the songs, and the overarching nautical theme running through them. The power metal of tracks like 'Rum, Women, Victory' and 'Run From The Crushing Tide' meld nicely with the jaunty 'Midsummer Magic' and the triumphant 'Andromeda' (inspired by Greek mythology), with violinist Lassi Logren also recording several folk instruments. The band's new keyboardist/clean vocalist Pekka Montin "really raised the new songs to another level", while Mikko P Mustonen once again took care of the wide-ranging orchestration.
The album opens with 'Seafarer's Dream', an orchestral arrangement beginning with the noise of waves, setting the scene for what's to come. From a lone acoustic guitar, the piece starts to progress dramatically and builds up the tension which carries on into the next track. The triumphant brass instrumentation also comes with a lot of breathing room, and this piece sounds like it belongs on the TV series 'Vikings'. Ensiferum artfully use the opening moments of this album to draw the listener in and then hit them hard.
'Rum, Women, Victory' is the second track, taking off from where 'Seafarer's Dream' left us. This track features fast and furious melodic riffs, amped up by the splendid voice of keyboardist Pekka Montin. Montin's fantastic vocal range is on full display in the second verse, with his power metal style fitting perfectly with Ensiferum's brand of Viking metal. The growled and clean vocals, coupled with some fantastic guitar playing and a sing-along chorus make this a very enjoyable song. While the track may take some getting used to for the older fans, 'Rum, Women, Victory' will reel you in quick and throw you into a mighty sea of riffage.
'Andromeda' is up next, which serves as a retelling of the Greek myth of Andromeda, the daughter of King Cepheus and Queen Cassiopeia. The latter's pride led to Poseidon unleashing a monster on Cepheus' kingdom. As a counter to Poseidon's curse, Andromeda is offered to the beast as a sacrifice and is eventually rescued by the hero Perseus. This track, while being slower compared to 'Rum, Women, Victory', still packs a punch. Clean vocalist Montin is on the top of his game again as he trades verses with Petri Lindroos, whose guttural rendition adds a powerful dimension to the song. A memorable chorus accompanied by a grandiose arrangement makes this a standout track on the album.

'The Defence Of The Sampo' is a song inspired by the Finnish epic 'Kalevala'. The Sampo is actually a magical artifact constructed by the god Ilmarinen, which attracts fortune. The evil witch Louhi stole the Sampo, provoking Ilmarinen and the demi-god Väinämöinen to retrieve it. When Väinämöinen reclaimed the Sampo, Louhi took the form of a giant bird and tried to steal it back. After a dramatic struggle, Louhi was vanquished but the Sampo was lost to the ocean. This myth forms the crux of the song and it is depicted in epic style. The track is cinematic in its arrangement, conveying the energy of the story very effectively. A powerful chorus and excellent backing vocals also make this a glorious listen.
'Run From The Crushing Tide', as the title informs us, is a crushing number. It starts off with galloping rhythm sections set to imposing riffs played at breakneck speed. It features a call and response chorus section along with a tempo shift near the outro, making this track an absolute earworm. There is some impressive vocal work on display too, including an incredible scream as the chorus sets in. 'Run From The Crushing Tide' delivers one hell of a battering as the album's fastest track.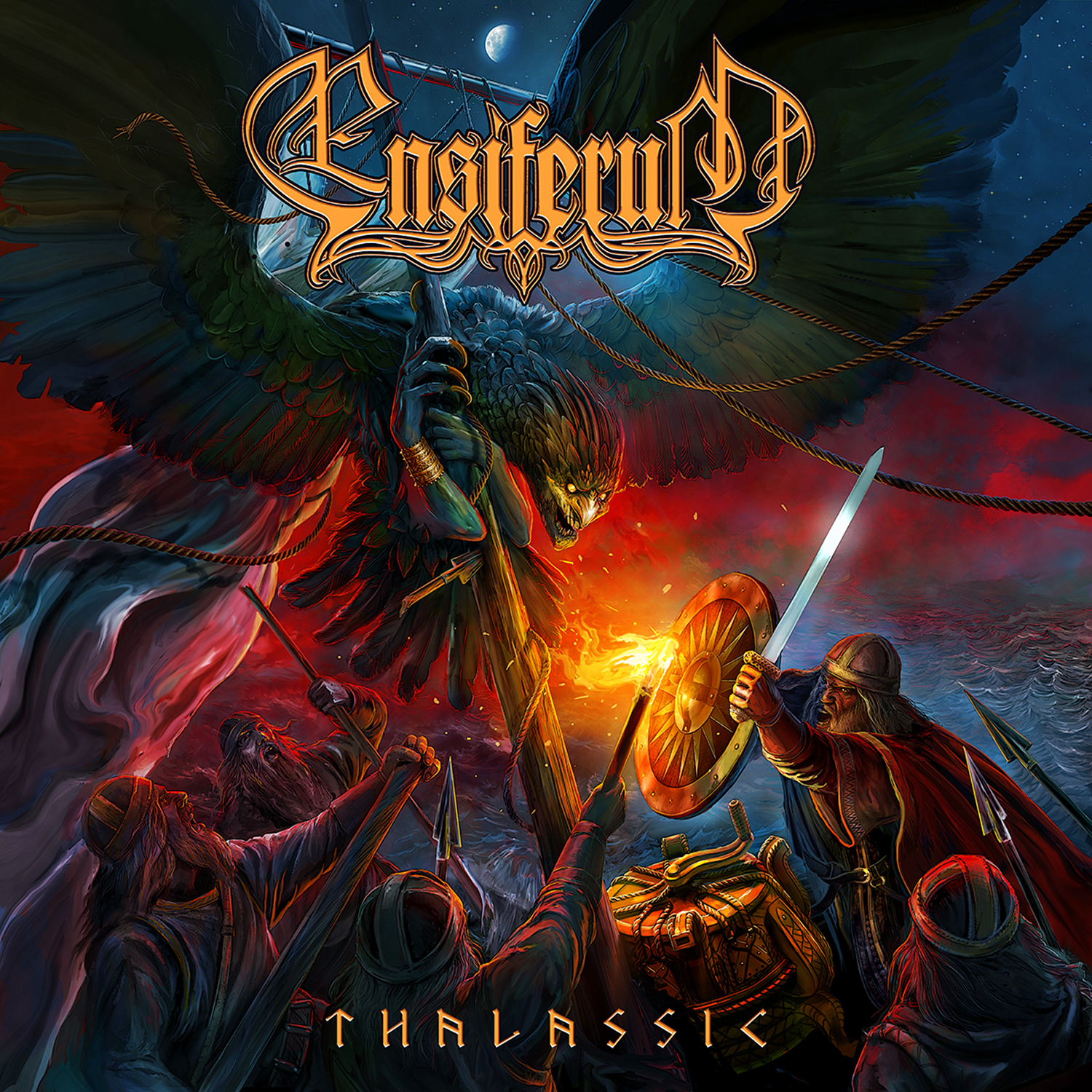 'For Sirens' is up next and while it slows down the pace, the track is extremely catchy. With a rich arrangement that oozes swagger and a folky vibe courtesy of the accordion, the track features some exquisite vocal delivery by both Montin in the clean sections and Lindroos' fierce delivery in the harsh sections. There are plenty of melodic highlights in the song and the blend of Lindroos and Montin's voices is electric.
'One with the Sea' serves as a brilliant sonic reset, starting with violins and an acoustic guitar before picking up the heaviness. While drifting into ballad territory, 'One with the Sea' is a great display of Montin's vocal prowess once again, as he effortlessly stays on top of the big orchestration, constantly evolving drum patterns and the pulsating bass. The song highlights the band's ability to play with dynamism not just in a song, but across the album as a listening experience.
'Midsummer Magic' is another track that really stands out on this epic concept album. It's not only a complete departure from the rest of the album in terms of its vibe, but it also demonstrates Ensiferum's ability to break tradition while still upholding it. A lively upbeat number that would do perfectly in a boisterous gathering with drinking, it features a humorous section by bassist Sami Hinkka who sings in Finnish. He was apparently picked for vocal duties because he sounded the most like a hobo. 'Midsummer Magic' is also perfect in its placement, as it precedes the much darker, more traditional, 'Cold Northland'.

The last track, 'Cold Northland' (Väinämöinen Part III), is the longest on the album clocking in at a little under 9 minutes. Opening with a somber piano etude that evolves into a full-blown doom metal-inspired trod, this is Ensiferum's grandest offering and certainly makes its presence felt on the album. This ambling leviathan builds up elaborately and has been executed masterfully by the band. 'Cold Northland' is the best possible way that Ensiferum could have wrapped up their latest outing and they do it with aplomb.
'Merille Lahteva' and 'I'll Stay by Your Side' are two bonus tracks included by the band at the end, which brilliantly round off a fantastic album by this Viking metal powerhouse. All things considered, 'Thalassic' is an epic offering, with plenty of moments that are grandiose, immersive, and ultimately stunning. New addition Pekka Montin shines in his latest role and is the new ace up the band's sleeve. The mix of folk/pagan themes, sing-along choruses, slow and fast numbers, and a diversified vocal style are all blended perfectly into this masterpiece by Ensiferum. The fact that this was all done while harmoniously maintaining the musical integrity of the band's roots makes this album a certain blockbuster.
Looking ahead, the band only intends to keep on doing what they do best. As Sami Hinkka declared, "We are very privileged to be full-time musicians, but you never know what the future brings. I hope we can keep doing the thing we love the most. What I really hope happens is a support tour with much a bigger band, because in the folk/pagan/battle/whatever metal scenes everyone knows Ensiferum - so Steve Harris [of Iron Maiden], if you are reading this: we are ready!"