D.J. Fontana, longtime drummer for Elvis Presley, dies at 87
Fontana was the last surviving member of Presley's classic-era band. Bill died of a brain tumor in 1965 at the age of 39, Presley in 1977 and Scotty died in June 2016 at 84 DJ Fontana (Source : Getty Images)
Dominic Joseph Fontana (D.J. Fontana), who had been a longtime drummer for Elvis Presley died on Wednesday (June 13). He was 87.
The news about his death was announced by his son, David Fontana, in a Facebook post. "I told everyone that I would keep you posted. My dad passed away in his sleep at 9:33 tonight. He was very comfortable with no pain. I will post more tomorrow when I have more information. We ask for privacy at this time. Thank you for your love and prayers," he wrote.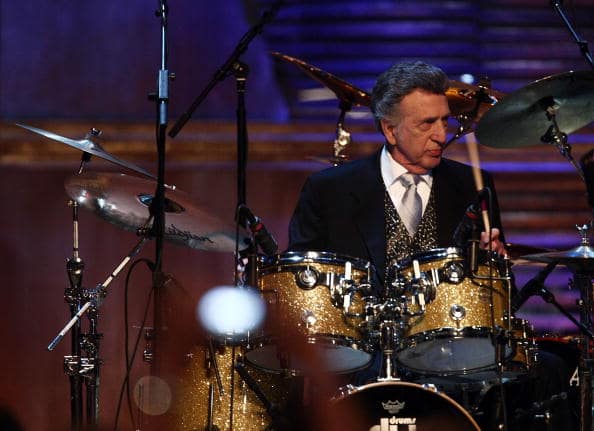 Fontana, a member of the Rock hall of fame, was the last surviving member of the band and is known for playing some of the biggest hits like "Hound Dog," "Jailhouse Rock", and others alongside Elvis. In October 1954 Fontana was first hired by Elvis to play with his band. Little did he know that would be the beginning of their 15 years of friendship.
Fontana was first employed in a band that was without a drummer when they had to perform on the popular radio program Louisiana Hayride. His band members included Scotty Moore (lead guitar), Bill Black (bass), and Elvis Presley (rhythm guitar). Calling themselves "The Blue Moon Boys." the band performed some of the hits of Elvis at that time.
Fontana drew inspiration from big-band drummers as Buddy Rich and Gene Krupa, and he was admired by Helm, Ringo Starr, Max Weinberg and others for his power, speed and steadiness, talents which he polished at the time he was on Hayride.
Coming to his association with Elvis, he always had good things to say. "The manager of the Hayride called me into the office and said, 'I want you to listen to these records 'cause we got this kid coming in, Elvis Presley,'" Fontana recalled in an interview with the Washington Post in 1986, as reported by People. "I said, 'What a funny name … he'll probably never make it with a name like that.'"
Scotty was the one who had held an impromptu audition for Fontana in the dressing room right before the band had to go live and perform. "Scotty and Elvis and I got playing and somehow or other it laid right and it felt right. It worked, but I'd gotten to thinking it was such a unique sound they had, why clutter it up with drums and noise? So I just kind of laid back and stayed out of their way. I think that's why I got the job — I just stay out of their way," he recalled in the interview.
The band became an instant hit with millions of fans gathering together to watch them perform. Throughout 1956 and 1957 the band performed various tours and appeared on several television shows.
In an interview with television station WGBH, Fontana gave the public a glimpse of what it was playing with the band. Elvis, Moore and Black played together as the quartet and in a sense became the band that defined rock and roll. "Well, the first night people were polite, just kind of like the Grand Ol' Opry," he said. "But it was a country, older crowd, and I think what they did, they went home and told their kids, 'There's a boy down at the Louisiana Hayride you got to go see.' The next couple weekends we had nothing but kids, so that was the breaking point actually. The kids would scream and holler, crying and all that stuff. And I think that's what really got it started."
Unfortunately, the band broke in 1958 and Bill never played with Elvis and Fontana ever again. Despite this, Elvis and Fontana maintained a good relationship over the years. The pair would come together and often perform. At the same time, Scotty would also often come and join the duo. In 1968, Fontana performed on the NBC television special, which is also often referred to as Elvis' 'Comeback' Special.
Fontana was also seen in Starr's solo album "Beaucoups of Blues," and worked with country artist Webb Pierce and rockabilly star Gene Vincent, among others. In 1997, he and Scotty were joined by Helm, Keith Richards and other guests for the Presley tribute album "All the King's Men." In 2000, he played on Paul McCartney's cover of an early Presley hit, "That's All Right."
In 2009 Fontana, along with Black, was inducted into the Rock & Roll Hall of Fame in the sideman category and later that year was also inducted into the Rockabilly Hall of Fame. Fontana was the last surviving member of Presley's classic-era backing trio. Bill died of a brain tumor in 1965 at the age of 39, Presley in 1977 and Scotty died in June 2016 at 84.
Born in 1931, Fontana began showing interesting in music, especially the drums when he was a teen. He was in his high school marching band and would jam with his cousin while listening to big-band recordings. By his early 20s, he performed at strip joints, served in the army in Korea and then joined Hayride and was there long enough to be hired full time.
Fontana first marriage was to Barbara Tullier which ended in divorce. In 1999 he married Karen Arrington and now in addition to her and his son David, he is survived by another son, Jeff, and 10 grandchildren.
While playing the country circuit in its early days, guitars, mandolins, and fiddles dominated and drummers were generally shunned. In fact, Fontana was asked to play behind a curtain because country audiences scorned drums. Presley's Sun Records contract was purchased by RCA Victor late in 1955 and that's how we came to know them as a sensation around the country, and beyond.