Ellen DeGeneres' first relationship and the biggest LGBTQ breakup scandal: Why Anne Heche went back to men Before Ellen DeGeneres met her sweetheart Portia de Rossi in 2004, she was in a rock-solid relationship with Anne Heche. One of the most famous and open LGBTQ+ couples, their split became one of the biggest tabloid scandals and led to both of them being fired from their jobs.
A chance meeting at the 1997 Vanity Fair Oscars party sparked their love. "I saw Ellen across a crowded room, not knowing anything at all, except that I was just drawn to her," Heche told Oprah Winfrey in an interview. In 2018, she addressed their relationship in the Irish Goodbye podcast. "Ellen and I met on a Sunday night at the Vanity Fair party," she said, adding, "Tuesday was her coming-out episode of the Ellen show. Wednesday was the press junket for [my movie] 'Volcano'. Thursday was the opening of 'Volcano'."
When she took Ellen to the premiere night of her film, the studio 20th Century Fox cut all ties with her. "I took Ellen, we were told that my contract for Fox would be [ended] and I would be fired. And that the movie that I had just met Harrison Ford on wouldn't hire me."
She added, "And we went to the premiere... these are the stories that I know people don't know — we went to the premiere, we were tapped on the shoulder, put into her limo in the third act and told that we couldn't have pictures of us taken at the press junket. And both she and I were fired that week."
Shedding light on how they just "clicked" in one go, Heche said, "Our souls connect[ed], and there's a time when souls come together and they're just meant to be... My soul was meant to be with hers and that's all that matters."
Their sit-down with Oprah was a revelation. People saw a lesbian couple on their screens for the first time. Many despised them, some adored them, a few lauded them but no one could stop them from being who they were. But the lesbian love killed Heche's career. Many fans wondered how she could have played the role of a straight woman in movies. "I had never been a leading lady before 'Six Days, Seven Nights' and never really played a comedy. Yet it was all focused on the sexuality," she said, according to a Guardian scoop.
After the highly-public affair, their break up in August 2000 came as a huge shock to fans. The two issued a joint public statement to the media. "It is an amicable parting," they wrote, "and we greatly value the 3½ years we have spent together."
But no one could gulp it down their throats as the couple sported matching wedding bands and even called each other "my wife." If that's not all, they two had been house hunting barely 10 days before.
After the announcement, Heche reportedly showed up at the door of a stranger's home, requested to take a shower, and claimed she was God. It was a major emotional and mental breakdown. According to People, the woman named Araceli Campiz called the authorities, and Heche had to undergo a medical examination. Later, in several interviews and her 2001 memoir 'Call Me Crazy', she attributed her mental trauma to the fact that she had been sexually abused by her father until the age of 12.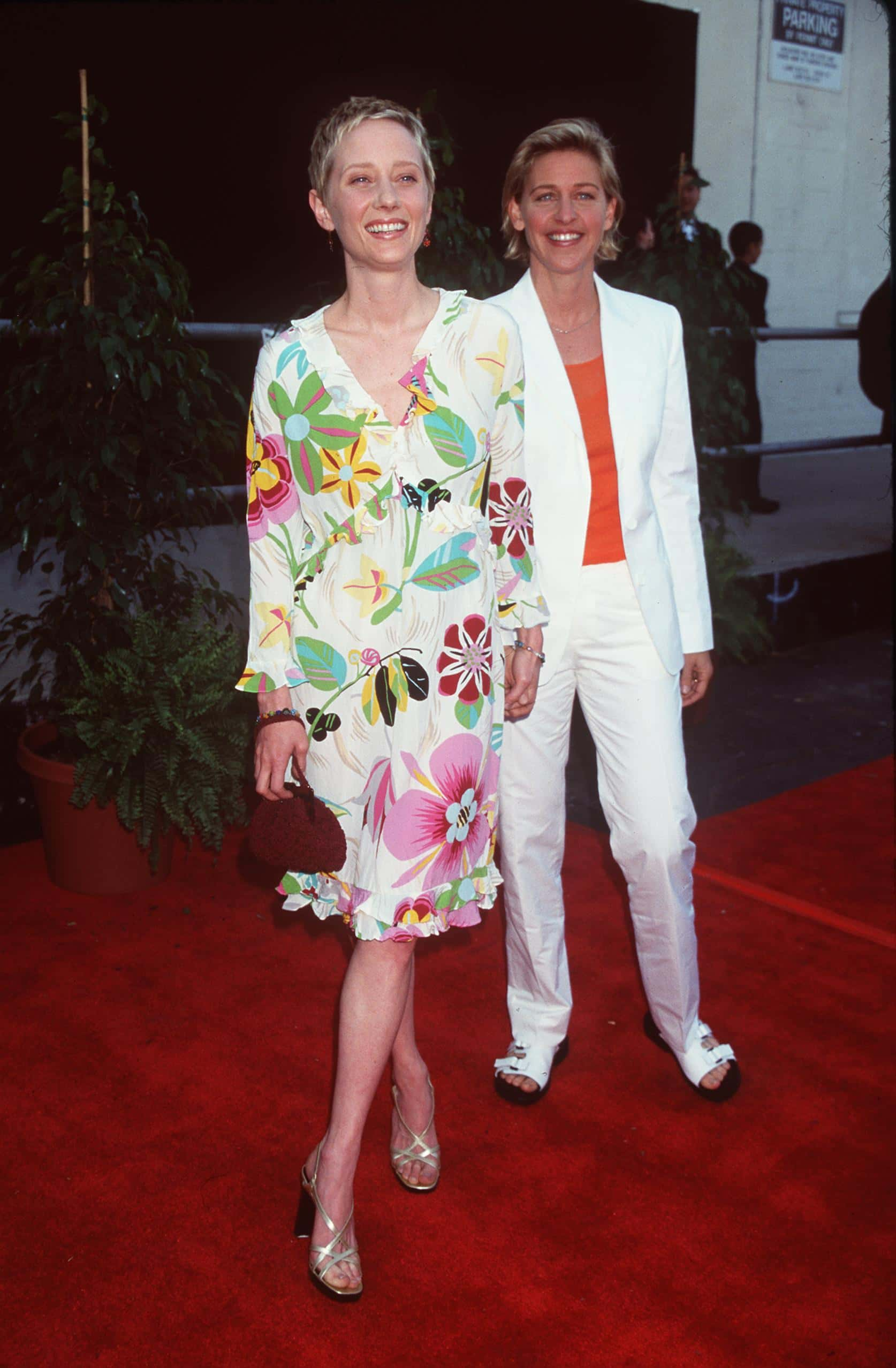 In an interview with Barbara Walters on ABC's 20/20 Wednesday night in 2001, she said, "My father loved movie stars. I decided I needed to become famous to get his love. My mother loved Jesus, so I wanted to become Jesus Christ. I wanted to save the world to get her love." Shattered after the split, DeGeneres told LA Times a year later that it was "the first time I've had my heartbroken, and it was in a big way. She walked out the door and I haven't spoken to her since, I don't have the answers."
Shockingly, all other partners of Heche have been men, apart from Ellen. She first dated cameraman Coleman Laffoon and married him in 2001. After a five-year relationship, they filed for divorce in 2007 and she left him for her 'Men in Trees' co-star James Tupper. They separated in 2018 and Heche has two sons, one with each of her partners.
The latter, meanwhile, dated actress-photographer Alexandra Hedison, and the two even appeared on The Advocate cover. They broke up in 2004 and since then DeGeneres has been in a relationship with Portia and the two got hitched in 2008.
Share this article:
Ellen DeGeneres Anne Heche relationship LGBTQ couple Oprah coming out break up scandal marriage men