How Dwayne Johnson punched his way up from being the barely-clad 'Scorpion King' to become a bankable star in "expensive suits"
Dwayne Johnson's career in entertainment is as fascinating as his WWE career, but here is how he is managing to stay on top of the acting game Dwayne Johnson (Source:Getty Images)
In 2002, Dwayne Johnson ventured into acting playing the role of the Scorpion King in 'The Mummy Returns' and what the audience saw was a 6-foot-5, 250 pounds WWE star, showing his bulky assets and attempting to act with one dialogue, shouting "Haku machente!" throughout. Years down the line, we see him in tailored expensive suits and playing the role of Spencer Strasmore in America's much-loved TV show 'Ballers' and rendering heartfelt monologues for full five minutes. This much-anticipated HBO show is returning with Season 4 this August and we can't help but fathom how a boy, who was so poor that he and his mother had to be evicted from home because they couldn't pay $180, went on to conquer the world of wrestling entertainment before establishing himself in Hollywood as one of the highest-grossing actors.
Being a third-generation wrestler, Johnson was bound to be a star in the arena, but without any acting experience, per se, it is intriguing to know how he emerged to be Hollywood's bankable star. The wrestler-turned-actor first debuted on TV at the 1996 Survivor Series, where he got the wrestling name "Rocky Maivia," combining the names of his father and grandfather. Proving his prowess in the world of wrestling, he bagged the WWE heavyweight title six times. His popularity was closely watched by Tinseltown, so one day he got a phone call from New York asking him to host 'Saturday Night Live.' Even though he fell off his chair, he says, when he received the news, Johnson ensured that he take up the opportunity because he wanted to show there was much more to him than being just a wrestler.
His act as the monkey-human 'Papa Peepers' garnered a massive rating success. Following this, Johnson made his first feature-film debut in 2001's 'The Mummy Returns,' playing a villainous role as the Scorpion King and reprising the same role for a movie with the same name. It is then that he did the impossible. He made $5.5 million, the most any actor has made for a first leading role.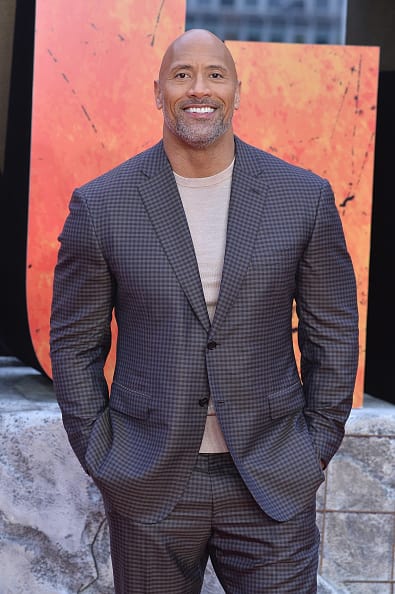 That was only his first step, what came in 2003 was the action thriller 'The Rundown' that briefly featured Arnold Schwarzenegger and many critics viewed it to be the passing of the torch and Johnson was named a "real movie star" by the Rolling Stone magazine.
As his career on TV and silver screen began to skyrocket, he dropped his former ever-so-famous alias "The Rock." For the 2006 football film 'Gridiron Gang' he used the stage name Dwayne "The Rock" Johnson. But by 2008, for the Steve Carell movie 'Get Smart,' he simply put the credit as Dwayne Johnson. His fans believed he was abandoning his wrestling career especially after doing a grittier crime movie 'Walking Tall' in 2004. But that was not so, he was only giving acting his full attention."
"The Rock' was a name, a character I created in TV," he said. "When I made the transition into film, I knew eventually I was going to be billed as my given name," he was quoted saying. In 2005, with 'Be Cool,' he emerged as a thoroughly successful actor, playing alongside A-list stars including Uma Thurman and John Travolta while portraying the role of a gay bodyguard with an Afro. This established him in the genre he excels, action-comedy. He followed that up with an action-based film he did 'The Game Plan' in 2007 and then switched to comedy with movies such as 'The Other Guys' in 2010.
Johnson also lived his 'franchise dream' when he appeared in the fifth installment of the popular ' The Fast and the Furious' series and 'Fast Five,' alongside Vin Diesel. This entry gave Johnson an opportunity to work with Universal again, the studio where he started his career and in Johnson's words; "the first studio to believe in me when I was making the transition ... into acting and helping me create opportunities."
The film went on to make $676 million worldwide and Johnson went on to star in 2013's sequel 'Fast & Furious 6,' and in also in 'Furious 7,' which made an astounding $1.5 billion worldwide. An ardent believer of a franchise in every genre, Johnson went on to star in two more sequels including, 'G.I. Joe: Retaliation' and 'Journey 2: The Mysterious Island.'
In 2015, Johnson took up television to star in the HBO series "Ballers," which follows a former pro football player, who is now a financial manager and attempts to persuade current stars to hire him. The show became a raving hit and Season four will premiere on August 12. Though Johnson is totally fit to be an action hero, he's dipped his fingers in every possible genre, mainly comedy. In 2016, he teamed up with Kevin Hart for the comedy show 'Central Intelligence,' which became the highest-grossing domestic comedy of the year with over $110 million. He has even rendered his skills to children's movies including 'Moana,' 'Tooth Fairy' and 'Jumanji.'
---
As an actor who started out with $7 in his pocket, Johnson has come a long way. But there will always be comparisons in the industry, but there's a way Johnson has managed to stay on the top of his game. The 46-year-old takes each movie's promotion into his own hands and ensures it reaches his fans all over the world. His mindblowing worth in the industry can be measured with the second G.I. Joe film that bagged $376 million worldwide while the first, without Johnson, made $74 million less. The same theory can be applied to other franchise movies including 'Journey 2' and 'Fast and Furious.' His global fan base is so strong that even if the film disappoints in the U.S., the global box office will make up for it. For example, 'Hercules' made roughly 70 percent of its total gross overseas, he truly has risen to be an international star, even if he did begin from an indoor ring.
The 'Ballers,' which he and his ex-wife Garcia are executive-producing with Mark Wahlberg, is all about Johnson's test as an actor. Unlike Hercules, which Johnson admits was "all about the body," Ballers is about the performance. "You won't see him with his shirt off in every scene, if at all," says his WME agent, Brad Slater.
Johnson's work ethic and resolve to make the best of opportunities have been a great attribute for the actor whose net worth is now about $220 million. Working with his ex-wife, who is his manager, Johnson is driven to make a mark in Hollywood. In 2012, they co-founded 7 Bucks Production that is in the business of producing television. "What can we set up so that this man, when he no longer wants to be in front of the camera, can have a lot to offer?" Garcia had asked. Though the answer was this production house, an alternative answer can be his legacy.
Disclaimer : The views expressed in this article belong to the writer and are not necessarily shared by MEAWW.