Drab, boring, frumpy: Kate Middleton is the new style icon of curtain chic
Other royals seem to have more style than Kate Middleton... she often looks dull and boring Kate Middleton is definitely a fashion icon to many women around the world. She has incredible style and even better outfits that often steal the show. Off-late, though, the 36-year-old visibly pregnant Duchess has received a lot of flak for her sartorial choices. Fans were surprised to see the less-than-impressive clothes that she opted for during her trip to Sweden. Many felt her fashion choices bordered on frumpy and matronly (and not in a good way).
On January 31, Kate stepped out for a black tie dinner hosted by Crown Princess Victoria and Prince Daniel at the British ambassador's residence in Stockholm. Swedish Prime Minister Stefan Löfven and his wife Sulla Löfven were also among the many guests.
Kate made sure no expense was spared for the lavish evening and opted for a a £1,945 Erdem gown (she is a big fan of the designer). The exotic Oriental-style mustard yellow gown with floral prints had a ruffled collar and bell-cuffed sleeves. Made from 100% silk satin, the dress gathered at the shoulder, had a tiered skirt, and a self-bow or sash.
Her hair was back in a loose chignon. It's not a simple task dressing up when pregnant and the outfit she wore definitely divided the fashion lover community. Some said that Kate looked like a pair of "Ikea curtains" in her expensive outfit.
For another event — a reception at the Fotografiska Gallery — during the visit, Kate stepped out in another Erdem dress, this time in blue, which was more expensive than the mustard yellow gown. The £2690 floral patterned velvet dress had bell sleeves and a ruffle around the hem, a departure from her usual choice of shift dresses with clean lines and minimal patterns.  
This one too got mixed reaction from surorised fans who weren't sure what to make of the new look. Many declared the Erdem dress looked 'old and frumpy'. Others compared her dress to 'soft furnishings', with one tweeter joking: "Kate picks Erdem again! Slightly better than last night's mustard number... still a little reminiscent of home furnishings though!" Another Twitter user wrote: "Why is Kate wearing a curtain?" Another one quickly tweeted: "Oh my… did she borrow that dress from granny-in-law? It's awful."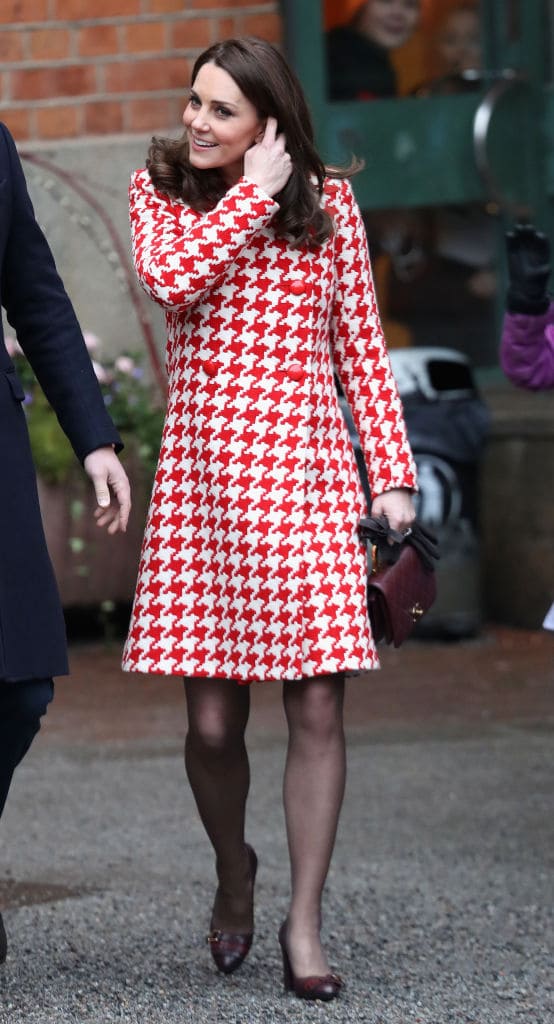 When she headed to Karolinska Institute in the Scandanavian country, Kate wore a red-and-white houndstooth coat by one of her designer favorites: Catherine Walker. She wore large pearl earrings designed by Swedish fashion house In2Design. She accessorized with simple stylings, including sheer black tights, leather gloves, and classic pumps.
For all its associations with the British upper class, houndstooth is not a pattern often seen on Kate. The coat evoked memories of Princess Diana who had worn an almost identical Moschino in 1990. Even this ensemble left many fans unimpressed. "Not sure about that dress, a bit fuddy-duddy?" commented a Twitter user.
This isn't the first time the Duchess had chosen to wear flamboyant outfits. In 2015, Prince William's wife was a riot of colour in a £2,660 silk Erdem dress for the 100 Women in Hedge Funds black tie dinner. The floor-skimming gown featured a tiered panel, a boat neckline and concealed zip fastening at the back. The frilled creation also has a fitted bodice and slip pockets at the side. The Duchess had complemented the Ohana tulip-print outfit with the late Queen Mother's diamond and sapphire fringe earrings, a diamond bracelet which is believed to have been a wedding present from Prince Charles, plus a £450 Anya Hindmarch 'Maud' satin black clutch. With practically every colour on her dress, you would definitely not miss her in a crowd!
The Duchess chose another "curtain-inspired" gown for the 2017 BAFTA Awards. The bespoke version of an Alexander McQueen gown from the designer's 2016 Resort Collection was adorned with green and violet flowers. The customised off-the-shoulder gown featured a Bardot neckline, fitted bodice, a poufy full skirt with multiple tiers defined by the horizontally placed satin ribbon, as well as a hidden zipper at the back. Hopefully, we will never see the texture, as well as the bold floral pattern on her again.
While attending a garden party on the grounds of Kensington Palace in August 2017, Kate debuted a poppy-printed £1,420 Prada dress. The long-sleeved dress hit just below her knee and had eye-catching pattern. She completed the pricey, teal and orange silk look with a pair of pointy nude pumps and no other accessories. Kate styled her shorter hair, a look that she debuted earlier in the summer, in her signature blowout style. This too left a lot to be desired. One fan said the dress screamed "old lady". Others questioned her fashion sense.
In November 2016, Kate visited the Natural History Museum in London. During the visit, she wore a luxe chiffon-and-velvet textured dress by LK Bennett. The  dress came in black and was decorated with a blue, turquoise and white print. It featured a high neckline, long sheer sleeves and an ankle-grazing hem. Style fans were left unimpressed by the ankle-grazing dress and many fans said she seemed to be giving a subtle nod to the furnishings in her home. Ouch!
During her visit to Bhutan in 2016, Kate wore a poppy-printed silk chiffon gown from Beulah, one of her favourite brands. Named Juliet, the pleated dress was a tribute to Bhutan's national flower — the poppy. While many thought Kate looked stylish, there were many others who felt the outfit was far from elegant, in fact, they called it  hideous. 
The Duchess wore a flowy poppy (yes, yet again) dress by Alexander McQueen to the Team GB medallists reception in October 2016. She paired the long-sleeved white and red number with red suede heels. And even though the dress was cinched in at the waist, showcasing Kate's enviable frame, style-savvy royal followers called the outfit drape-y. Many people called the look dreadful and many others said the Duchess desperately needed to hire some fashion advisers. "The sportsman and women look better than her," said an observer.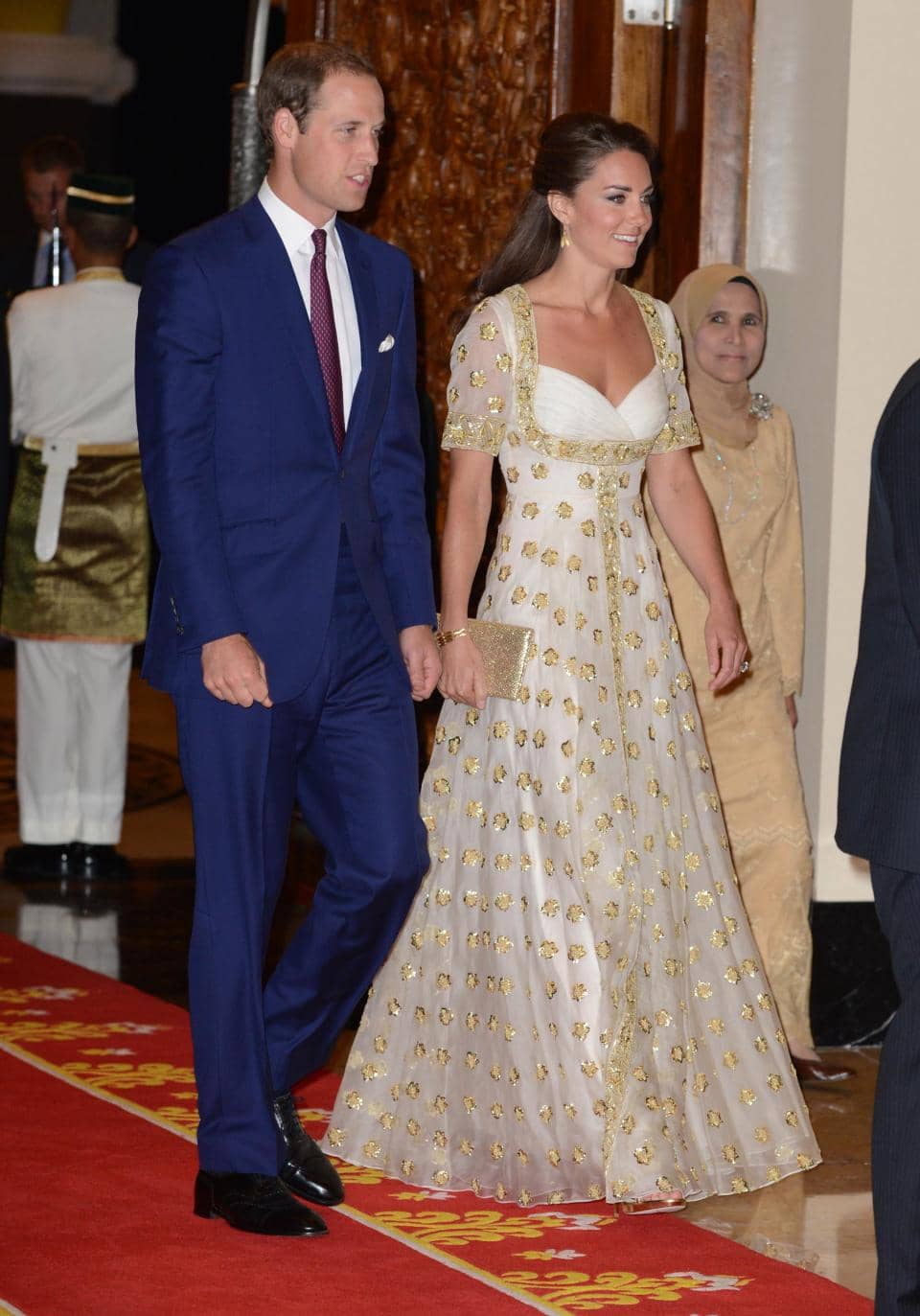 For a state dinner with the King of Malaysia in Kuala Lumpur in 2012, Kate opted for an Alexander McQueen cream and gold gown. The bespoke creation showcased a homage to her host country: that glittering gold embroidery is a hibiscus, the official flower of Malaysia. The dress featured a sheer overlay with gold lame embroidery bordering the sleeves, and neckline. Other elements included an empire waist, shirred white fabric at the bust, short, sheer sleeves and a full, flowing skirt. That dress caused some debate amongst fashion savvy followers, most of whom weren't excited about it. Many called it awful and tacky. One person said it looked "very Disney". Another person said the dress reminded them of what someone would wear to a fancy dress party. Others also felt the dress looked cheap and basic.
She had oicked a Temperley London black lace dress to the screening of David Attenborough's Natural History Museum Alive 3D film in 2013. The 'Amoret' maxi featured a French lace trimmed with scalloped eyelash edges which overlays with a nude slip-dress lining. It had a deep V-neckline and cropped long sheer lace sleeves. It was accented with a thin removable crepe bow belt at the waist and a seamed skirt. Many wondered if she took inspiration from her net curtains!
While there's no doubt that Kate is gorgeous and has a rocking body, she is also an incorrigible frump. Many have nicknamed her the Duchess of Drab. "It doesn't seem to matter how stellar the style credentials of any given garment — as soon as Kate puts it on, it instantly begins to resemble something picked up at one of Lynda Snell's dreaded bring-and-buy sales on The Archers. Kate is, quite simply, style kryptonite," a 2016 report in the Daily Mail said.
We don't know what's going on Kate, but you still look amazing in everything you wear. Just try not to actually start wearing curtains, pretty please.
If you have any views or stories that you would like to share with us, drop us an email at writetous@meawwworld.com