'MasterChef' Season 10 finale: Dorian Hunter becomes the first black woman to win the trophy in gripping contest Dorian Hunter has become the first black woman to win the coveted 'MasterChef' trophy, a whopping $ 250,000, and an opportunity to train under the finest chefs on the planet- Gordon Ramsay, Joe Bastianich and Aaron Sanchez.
The 45-year-old Dorian has proved once and for all that age and difficult circumstances can be overcome to make your dreams come true. Dorian who is a creeler by profession has always dreamt of owning her own restaurant and being a part of the food industry. But due to financial constraints she couldn't pursue her dreams. So she signed up for Fox's popular culinary reality show -- 'MasterChef' -- hoping to pursue her dreams and learn from the best culinary minds.
Dorian has come a long way since she first walked into the MasterChef kitchen for auditions. She has managed to always stay on top of her game since day one. For her auditions she decided to bake her famous "drunken cake", and when she presented it to the judges it took only a bite of the cake for Gordon to immediately declare that she was the one to "watch out for". Well, we are pleased to share that Gordon wasn't wrong since she has gone on to win the coveted competition.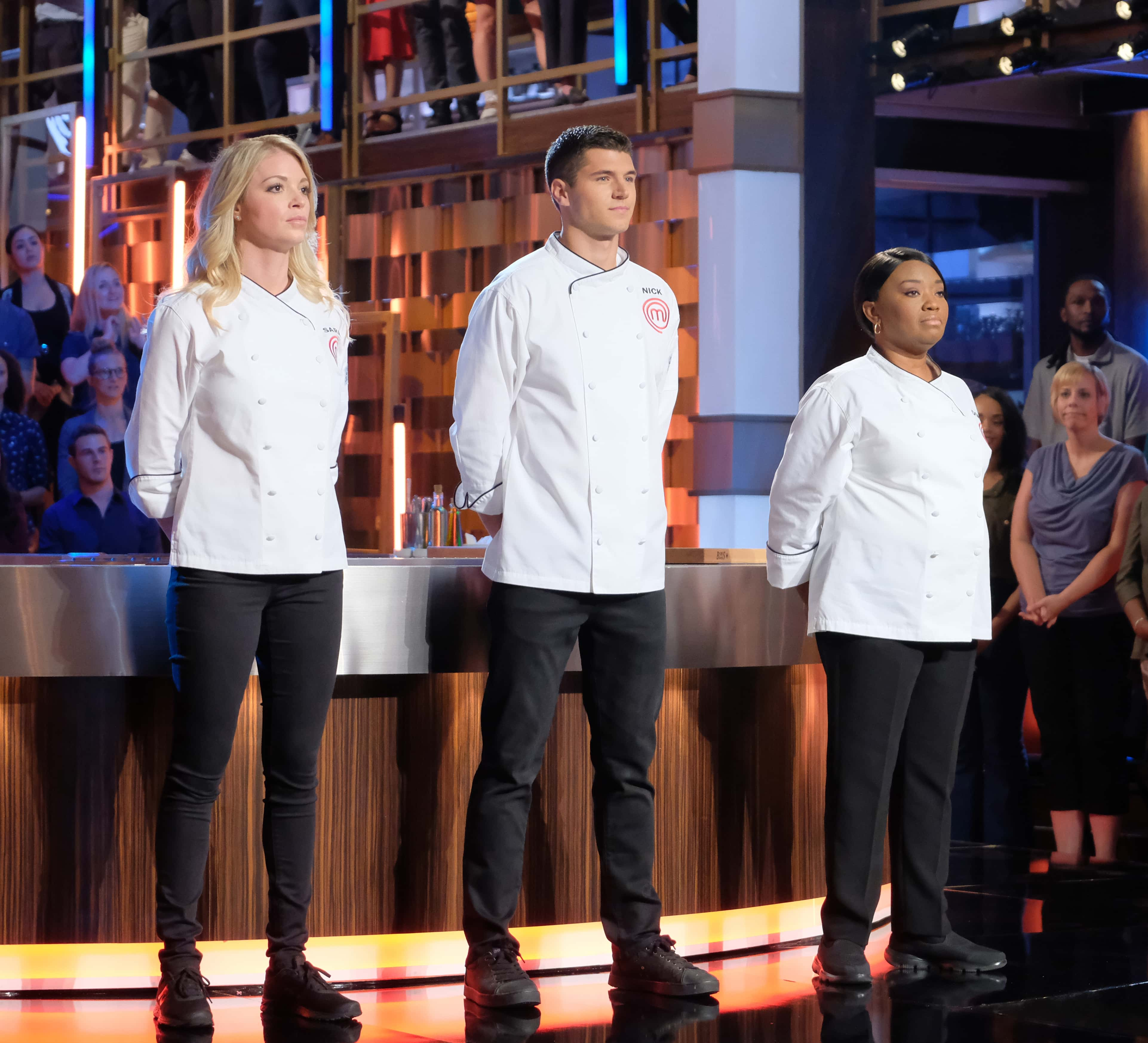 Dorian, Nick, and Sarah managed to fight their way to the top three from the pool of 19 talented home cooks. In the grand two-part finale, which aired on Wednesday night, September 18, Dorian competed in one of the most exciting finales of the series. She chose to honor her late mother Phyllis for her finale and chose it as her theme. The three home cooks had to prepare a three-course meal for the three judges, based on which the winner would be decided.
The MasterChef kitchen, which has been converted to look like a boxing ring, had the cooks putting in their best efforts to whip out some mouth-watering dishes as their family members, eliminated participants from the current season and previous winners cheered for them. While Dorian chose her mother's cooking as her theme, Nick, the young college graduate chose a fun college theme, and Sarah chose her husband's favorite dishes.
For appetizers, the three home cooks managed to present some very interesting dishes. Dorian presented the judges with Seared Scallops with Cornmeal Tuille, Sweet Corn Puree, and Pickled Swiss Chard. The plate was very colorful and the judges described the dish as flavor-packed and loved it. Sarah prepared braised octopus, chorizo, ragu, and a vinaigrette, the judges liked the octopus but weren't happy with the chorizo. Finally, Nick presented the judges with his beer-pong inspired soft shell crab and pomme souffle. The judges loved his presentation.
The judges threw in a twist to make things more interesting and revealed that one of the contestants would be eliminated immediately after the entree. Dorian, Nick, and Sarah proceed to cook their main entree. Dorian cooked applewood smoked short rib with potato and horseradish gratin and plated her ribs with a steam glass effect. The judges loved the dish but felt that the presentation fell short. Sarah made herb-crusted lamb. While her lamb was cooked perfectly, her vegetables let her down. Nick presented the judges with his sea bass dish and presents it in an open-book. The judges absolutely loved his presentation, but unfortunately Aaron got served an undercooked dish, which led to Nick's elimination.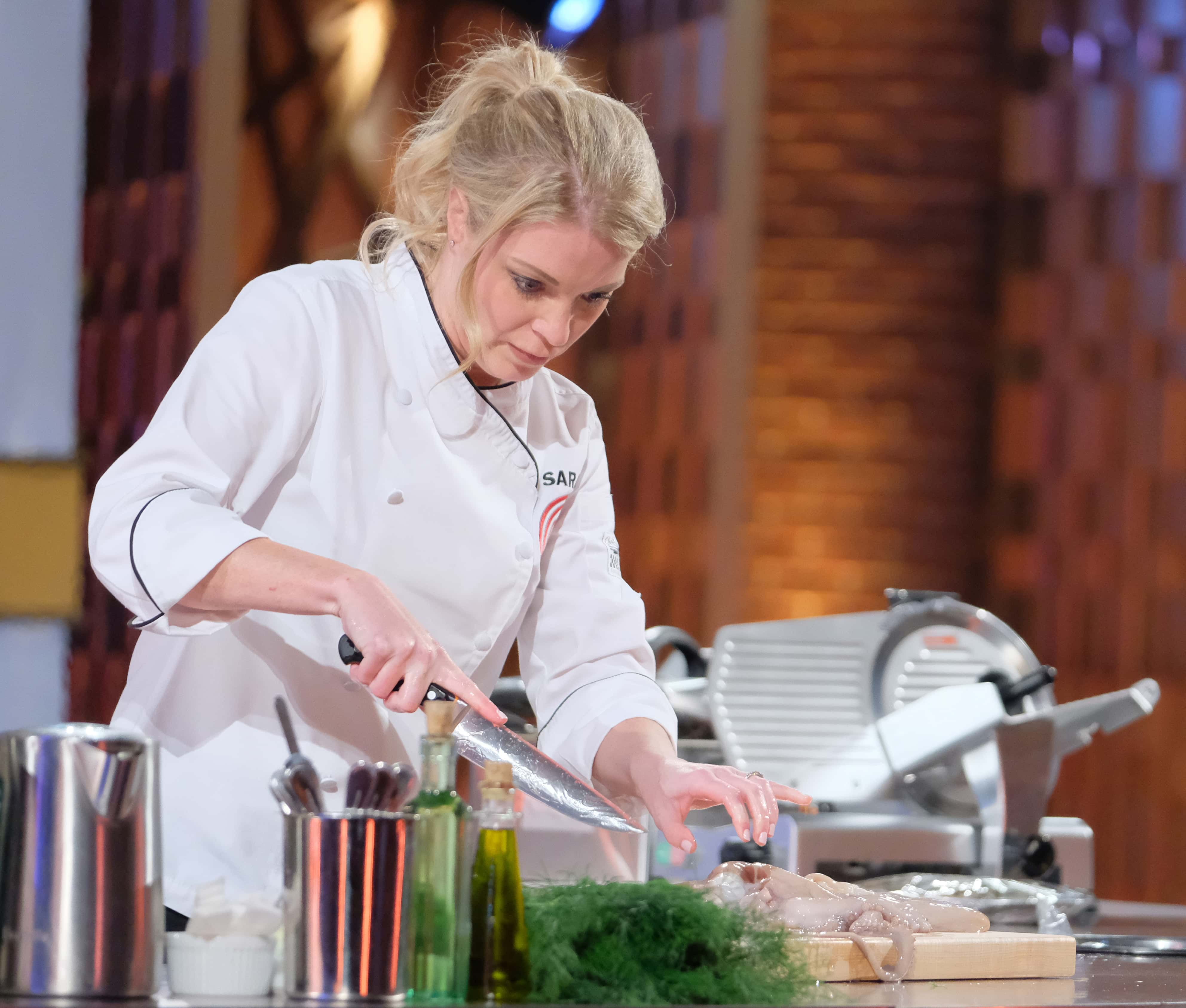 Finally, with just Dorian and Sarah in the race for the title, the ladies go busy whipping up their desserts. Dorian prepareed a lemon-blueberry tart with lemon meringue and plated it on a dish with her mother's hands imprinted on them. She paid a beautiful tribute to her mother through the dish. Gordon immediately christened the dish "Phyllis Tart', in memory of her mother. The judges were bowled over by the delicious dessert and couldn't sing enough of Dorian's praises. Sarah baked a rich and decadent chocolate torte which the judges were divided over. While Gordon and Joe loved it, Aaron felt that it was too rich for him.
The judges were then tasked with picking the winner. After some deliberation, they all unanimously picked Dorian as the Season 10 winner. Dorian was so overwhelmed by the win that she began shedding tears of joy and expressed how badly she needed it. It was beautiful to see this talented woman chase her dreams despite all the curveballs thrown at her. She never cooked with half the ingredients she used in the competition, yet she managed to ace every dish she put out, We couldn't be happier for Dorian, and eagerly await to hear the news of her restaurant opening.
Share this article:
dorian hunter winner masterchef season 10 first balck woman gordon ramsay joe bastianich aaron