What happens if Trump skips second debate? Internet calls him 'debate dodger', declares Biden the winner A cloud of doubt looms over the second US presidential debate after Donald Trump tested positive for coronavirus on October 2, 2020. The 74-year-old president and his Democratic rival Joe Biden are all set to face each other in Miami on October 15, 2020, but the chances of that happening seem to be bleak now.
Set to be moderated by Steve Scully at the Adrienne Arsht Center for the Performing Arts, the Commission on Presidential Debates announced that the debate would be a virtual affair due to health concerns for the opposing party. However, Trump declined that option and told Fox News, "I am not going to do a virtual debate," just moments after the announcement was made. He told anchor Maria Bartiromo on Thursday, October 8 morning, that the virtual format was "a waste of time," complaining that he would have to "sit behind a computer" in a virtual debate and the moderator could "cut you off whenever they want."
His stance soon sparked back-and-forth of comments between the Trump and Biden campaign. Finally, Trump's campaign manager Bill Stepien then said that there was "no medical reason" why the debate should be shifted virtually. In no time, White House physician Sean Conley released a memo with Trump's vital signs and said he would be safe for public events by Saturday, October 10.
"For the swamp creatures at the Presidential Debate Commission to now rush to Joe Biden's defense by unilaterally canceling an in-person debate is pathetic," Stepien first said in a statement. "The safety of all involved can easily be achieved without canceling a chance for voters to see both candidates go head to head. We'll pass on this sad excuse to bail out Joe Biden and do a rally instead."
Quick to respond, Biden deputy campaign manager Kate Bedingfield said, "Joe Biden was prepared to accept the CPD's proposal for a virtual Town Hall, but the President has refused, as Donald Trump clearly does not want to face questions from the voters about his failures on COVID and the economy." She also added, "As a result, Joe Biden will find an appropriate place to take questions from voters directly on October 15th, as he has done on several occasions in recent weeks."
That afternoon, the Biden campaign announced a town hall in Philadelphia hosted by ABC News on the same day in case the debate is canceled. Calling the commission to make the third and final presidential debate, slated for October 22, a town hall, Bedingfield said, "Every Presidential candidate since 1992 has participated in such an event, and it would be a shame if Donald Trump was the first to refuse."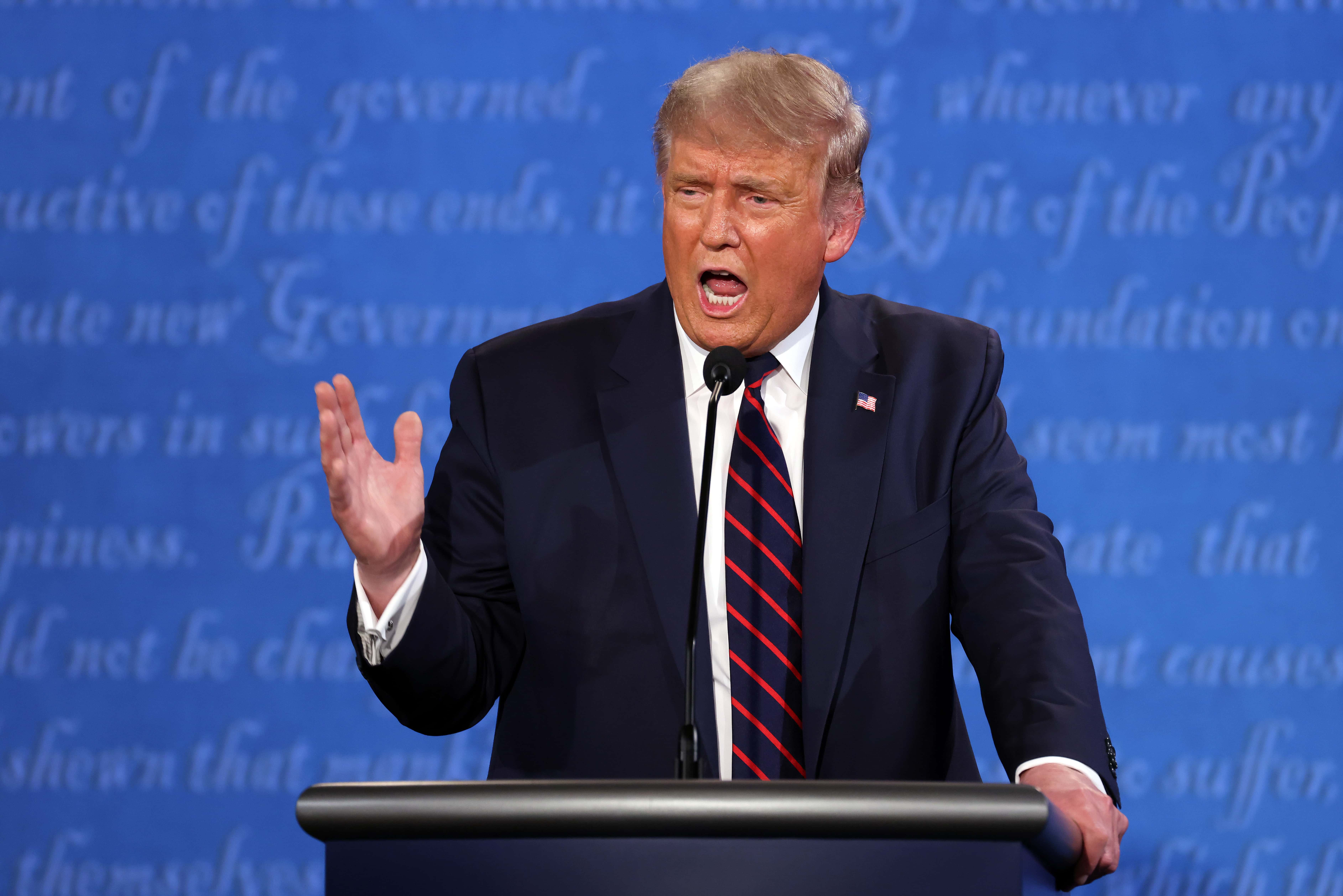 Stepien then sent another statement asking the commission to postpone the second and third debates a week each — proposing the in-person second debate to held on October 22 and the third debate on October 29 — days before the November 3 election. "Voters should have the opportunity to directly question Biden's 47-year failed record of leadership," Stepien said in his second statement.
The Biden campaign was quick to reject the proposal, saying, "Donald Trump doesn't make the debate schedule; the Debate Commission does." Bedingfield added, "Trump's erratic behavior does not allow him to rewrite the calendar, and pick new dates of his choosing. We look forward to participating in the final debate, scheduled for October 22, which already is tied for the latest debate date in 40 years. Donald Trump can show up, or he can decline again. That's his choice."
It was then than Conley released the medical memo, with a pulse, blood pressure and blood oxygen level all within normal ranges. Conley said in a memo released by the White House, "Overall he's responded extremely well to treatment, without evidence on examination of adverse therapeutic effects. Saturday will be day 10 since Thursday's diagnosis and based on the trajectory of advanced diagnostics the team has been conducting, I fully anticipate the President's safe return to public engagements at that time."
Mysteriously, Trump's temperature was missing from the memo and he was caught putting his mic on mute during a Fox News interview since then. Clearly, he doesn't look like he's in the pink of his health to attend an in-person event or conduct a rally. Not only does it put him in harm's way but also threatens the health of those around him.
Now, the question is: What happens if Trump chooses to skip a presidential debate? First of all, it would strip him of a platform that millions of viewers are waiting to witness and take a call to vote for the right candidate. Not just that, reports say that Trump is already 9.8 points down in national polls and his scores are dipping down each day as the nation inches closer to the election. Missing out from a major national event will definitely drag him down. Moreover, a virtual debate is not a new concept. Back in 1960, the third contest between Richard Nixon and John F Kennedy was held with both candidates in different locations.
Analysts have predicted that skipping the debate will be a huge loss for him. "The president's threat to walk away from a virtual debate is a power move that seems almost certain to backfire," Republican strategist Liam Donovan told NBC News. "This debate may be the last best opportunity to score a game-changing moment or otherwise hope to impact the trajectory of this race before it's too late. It's also one of the few remaining speed bumps for Vice President Biden, and Trump would be doing Joe a real favor by letting him off the hook."
Whit Ayers, a top GOP pollster, said he needs to reconsider it. "He's behind, and he needs to take every opportunity to try to close the gap," Ayers said. "The only upside to him skipping this is if his performance is going to be comparable to the one we saw last (at the first debate). And that would be difficult to pull off, virtually."
Alex Conant, a veteran of several Republican presidential campaigns and the George W Bush White House, said that he "badly" needs another debate. "Trump badly needs another debate. In reality, he needs 10 more debates. And needs it as soon as possible," Conant said. "So why he would create the potential for the debate to be canceled is just not obvious."
Soon after, the Internet mocked Trump and said he should skip it and see the result. "Let him go right ahead and skip it. Joe Biden will take the stage and guess who looks like the fool for not showing up? Trump. Because then, Biden will have the stage and can speak on his policies. and the Debate moderator can ask him questions and he can answer to Americans," one tweet read and another said, "GOP strategists have that wrong. The only thing worse for Trump than to skip the debate, would be to appear at the debate and open his mouth."
Many Biden supporters took the opportunity and lambasted the president saying he should skip it. "Trump has to skip this debate. He's too sick with COVID-19 virus. Trump will not be eligible for president in the next debate. Joe Biden is the winner by default. Remove Trump. Black Lives Matter and Vote Blue!" one wrote and another exclaimed, "Debate Dodger, Trump! Weeks ago when he baselessly said Biden will skip debates, I knew right away that Trump is telegraphing that he's the one who won't be participating in 3 debates. Anytime Trump opens his mouth, he's either lying or projecting. #StopTrumpsTerror."
Only time will tell whether or not he skips the debate. For now, we can say that if he chooses to opt out, he'll really be in dire straits.