Does James Chadwell have Delphi Snapchat murder victims tattooed on arms? One looks like Libby German: Internet TIPPECANOE, INDIANA: On April 19, 2021, 42-year-old James Chadwell II was arrested after police found a 9-year-old child locked in his basement an hour after she went missing. Authorities are now looking if he could be connected to the 2017 killings of two teenagers, known as the Delphi murders. And every day, more and more chilling details emerge.
Some social media users have pointed out that James Chadwell II might have tattoos of two girls' faces on his arms in which they appear to be crying blood. Arrested in Lafayette, prosecutors alleged that Chadwell lured the 9-year-old into his home with the promise that she could pet his dog and then beat, strangled and sexually assaulted her.
RELATED ARTICLES
Delphi Snapchat murders: Who is James Chadwell? Indiana man who raped girl, 10, suspected in deaths of teens
Delphi double murder: Police botched investigation by 'tainting crime scene', says teen victim's mother
The kidnapping of the 9-year-old reportedly took place took place about 20 miles from Delphi, where eighth-graders 13-year-old Abigail 'Abby' Williams and 14-year-old Liberty 'Libby' German were murdered on February 13, 2017. Investigators believed that the two were abducted when walking a local hiking trail, Their bodies were discovered the next day in woods not far from the trail.
Shortly before their deaths, Libby posted two photographs on Snapchat - one that showed Abby crossing an abandoned railroad bridge. It was the last post that anyone would see from her. There was also a photo of a man that cops believe was walking along the same train tracks as Abby and Libby.
Chadwell has been charged with attempted murder, child molesting, attempted child molesting, kidnapping, criminal confinement, battery resulting in serious bodily injury and strangulation. For four years, no suspects were named or arrests made. Authorities never even released details of their death and injuries to the public either.
'Several factors'
Carroll County Sheriff Tobe Leazenby reportedly said that there are "several factors" leading authorities to look for possible links between the two cases. On social media, some users predict "proximity to Delphi, resemblance to sketch and similarity in brutality against a child/ children," as the possible reasons. "The information has obviously been shared with us and our investigators are looking into him," he reportedly told local outlet WRTV.
Tattoos
After news reports about Chadwell's possible connection to the murders started doing the rounds, people on social media noticed something peculiar. Some users pointed out that Chadwell had tattoos of the faces of two girls on his arms.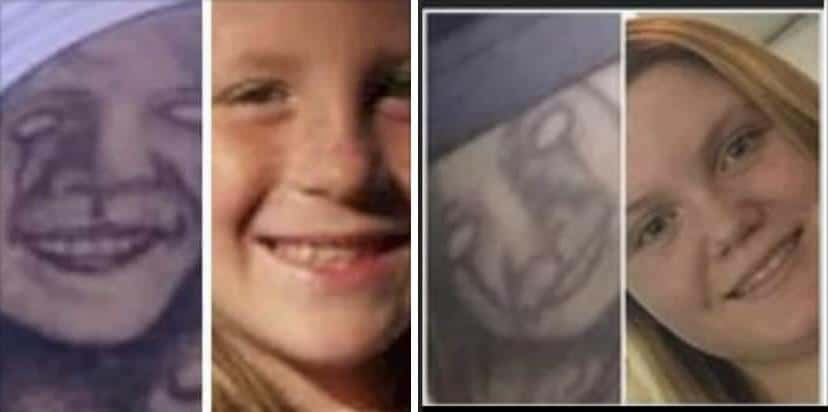 The girls appear to be crying blood. Users pointed out the similarities between one of the faces and that of Libby German. "James Brian Chadwell's Tattoo....thoughts???" one user took to Twitter to share alongside a closeup of the girl's face.
People were left wondering if the tattoos were really worth looking into and donned their (online) detective hats to decipher the meaning behind them. "I'm not sure on the time they think the girls were killed, but would be reeeaalll damning if that clock tat matched up with it," one tweeted. "you CANNOT tell me this is not libby german's face tattooed onto james chadwells arm! the TEETH & SMILE ! YOU KILLED THOSE GIRLS. i hope you rot in hell james chadwell," a user wrote on Facebook attaching the image.
---
I'm not sure on the time they think the girls were killed, but would be reeeaalll damning if that clock tat matched up with it

— Kevin Wasinger (@kevinwasinger) May 5, 2021
---
A user took to Reddit to post the images of the girls and the tattoos side-by-side to show the similarities. "Some of James Brian Chadwell's tattoos and a side-by-side comparison of Libby and Abby. Caldwell is currently being looked into as a POI in the Delphi case," they wrote.
However, authorities haven't publicly connected Chadwell to Libby and Abby's murders.