Did US envoys in Hong Kong hit by virus invoke diplomatic immunity? Washington calls Chinese reports 'false' The US and China have been at loggerheads over the outbreak of the Covid-19 pandemic with the former accusing the latter of allowing the deadly virus to spread worldwide from its soil. The former Donald Trump administration called the virus a Chinese one and often, the blame game snowballed into wars of words between the two big powers that have also locked horns in other areas like trade and economy. This week, the discord over coronavirus came to the fore once again with Washington accusing the Chinese state media of publishing "disinformation" about its diplomats in Hong Kong denying that its staff avoided isolation after testing Covid-19 positive by invoking immunity.

On Monday, March 15, the US temporarily shut its consulate to carry out deep cleaning after two of its employees were found to be infected. Sources at the consulate and Hong Kong health department said the duo went to a hospital isolation ward under the city's anti-coronavirus regulations. But Chinese media outlets along with a leading pro-Beijing trade union criticized the employees saying they invoked diplomatic immunity, irking the US. A spokesperson at the state department told AFP: "The disinformation from PRC state media about these two cases not complying with quarantine is false. We reject these efforts to spread disinformation about a critical public health issue."
RELATED ARTICLES
Hong Kong experts report first case of coronavirus reinfection, suggesting second encounter may be possible

Was Covid-19 a bioweapon? Shocking US govt fact sheet claims Wuhan lab started research on bat virus in 2016

The incident was first reported by Hong Kong-based Dot Dot News on Monday when it said the local government made an announcement the same day about testing more than a thousand residents of Central and Western "after an overnight ambush-style COVID-19 lockdown and found two confirmed cases". It cited an informed source to say two staff members from the US Consulate General in Hong Kong and Macau were confirmed to be positive cases. The report also claimed that both the staff members refused to cooperate over the quarantine rules on the pretext of "diplomatic immunity". It claimed that the two were still moving around the community and attending work as usual, creating a huge risk. Dot Dot News is an online media outlet which is known to be pro-China.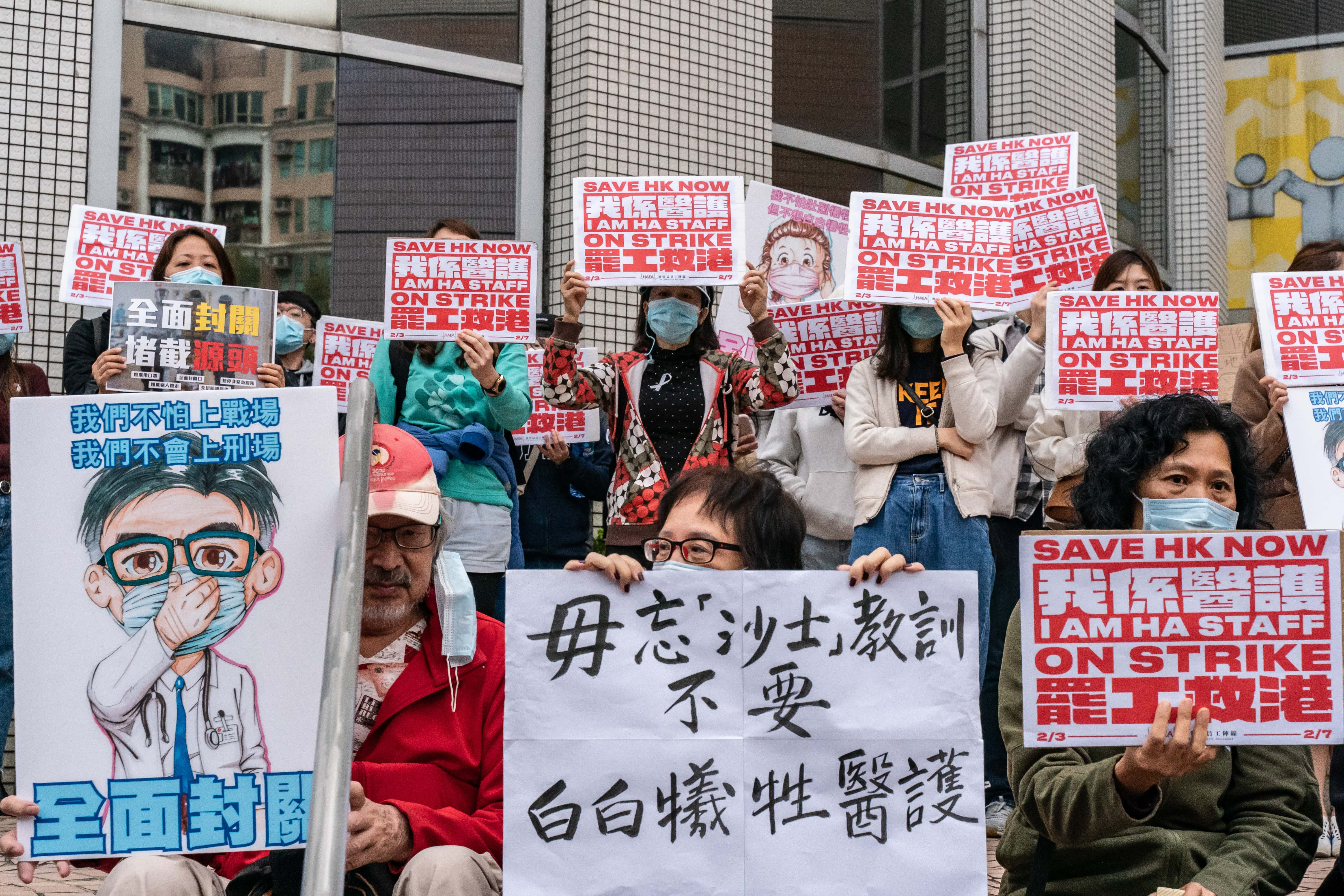 After the Dot Dot News report came out, China's state-run Global Times capitalized on the matter to target the US saying its officials were showing an "arrogant outlaw behaviour". Takungpao, another pro-China newspaper, also slammed the consulate employees saying they were "spreading poison everywhere".

On Tuesday, Hong Kong Chief Executive Carrie Lam told the media that the two consulate staff members were already in hospital and that the US was complying with the regulations. "I'm happy to notice that the US consulate also issued a press release yesterday saying that they will follow our advice and support our work," she said, The Bangkok Post reported.

Hong Kong's pro-Beijing voices were not convinced yet. The city's biggest pro-China labor group -- the Federation of Trade Unions -- held a small protest outside the US consulate soon after Lam finished her speech with four members of the body displaying banners with slogans like 'No privilege, no exceptions' and 'Strong condemnation of virus-spreading behaviour in spite of social morality'. Public gatherings are currently banned in Hong Kong, which has seen fierce anti-China protests in recent years, because of the pandemic. The city has managed to keep its infection rate low by imposing strict quarantine measures -- like recording 11,000 infections and 200 deaths since the outbreak.
Claims are 'absolutely false': US
Jalina Porter, principal deputy spokesperson for the state department, denied the Chinese media's claims in a briefing on Monday. It said: "When it comes to disinformation about these two not complying to quarantine, that is absolutely false."

A source in the state department told The Epoch Times that all employees at the consulate "who were physically present at the consulate for more than two consecutive hours over the past two weeks" will be undertaking a Covid-19 test in accordance with Hong Kong government mandates.

The consulate said in a Facebook post: "We reject these efforts to spread disinformation about a critical public health issue" and "The US Consulate General in Hong Kong has been fully co-operative with the Government on all the above action items to combat COVID-19".

"The U.S. Department of State has no greater responsibility than the safety and security of U.S. citizens overseas and our locally-employed staff," the consulate also said in a statement. The state department also informed that the consulate has scrapped all scheduled services for US citizens and visa applicants till March 19.
Relations between the US and China have also soured over the latter's crackdown on dissent in Hong Kong over the pro-democracy protests in 2019.

Last month, China denied allegations that American diplomats in its territory were asked to undergo anal swab tests for Covid-19 tests after some brought such complaints. Vice cited a state department official as saying the test was done by mistake and that China said it would stop conducting such tests on US diplomats. The Chinese foreign ministry denied it saying Beijing never required US diplomatic staff in China to take anal swab tests.
Share this article:
Did US envoys in Hong Kong hit by virus invoke diplomatic immunity US calls Chinese reports false