Democratic contenders running against Trump in 2020 including Joe Biden, Bernie Sanders, Kamala Harris, Beto O'Rourke, and more With Iowa Caucuses months away, the Democratic field for the 2020 presidential campaign already appears crowded as the contenders gear up to take on President Donald Trump in the upcoming polls. A total of 20 candidates have confirmed their presidential run, while other candidates have launched their exploratory committees which allow them to begin fundraising for their campaigns.
The field of Democratic candidates appears distinctly diverse this year with the most number of women running for president in United States history. Some candidates from the party threw their hat in the ring as early as July 2017. All the contenders appear to be running on similar platforms on the surface, which include universal healthcare, climate change, improving economic conditions of the middle class, and reducing inequality in the country.
Here is a look at the list of candidates who have officially entered the race and the ones who have indicated that they'll contend:
Joe Biden
Status: Running
Who: Former Vice-President
Age: 76 Years in Politics: 50
Former Vice President Joe Biden has become the latest contender to join the crowded Democratic presidential contest. He made his announcement in a video posted on Twitter early morning on April 25. Biden, who has been topping the Democratic field polls, has been under scrutiny for his handsy behavior towards women over the years. The Democrat even released an apology video after multiple allegations and resolved to do better.
Biden is betting on his working-class appeal and ties to former President Barack Obama's presidency to assist him in overcoming questions about his place in today's increasingly liberal Democratic Party.
Bernie Sanders
Status: Running
Who: Senator from Vermont
Age: 77 Years in politics: 38
Bernie Sanders, a self-proclaimed Democrat socialist, has made another run for the White House after building a grassroots political movement during the 2016 presidential polls that vexed the Democratic party. The longest-serving independent senator in the US history entered the 2020 race on February 19, 2019, and is already ranking in the top tier of party candidates. The Vermont Senator has raised over $18 million from more than 500,000 donors in the opening weeks of his campaign.
"Our campaign is not only about defeating Donald Trump," the 77-year-old self-described democratic socialist said in an email to supporters. "Our campaign is about transforming our country and creating a government based on the principles of economic, social, racial and environmental justice."
Sanders, who played a key part in making the Democratic party move left on issues like education, healthcare, and income inequality, will face tough competition from other candidates as they have appeared to embrace his once-distinctive proposals. However, he is still viewed as the tenacious champion of proposals like Medicare for All.
His signature policies also include a $15 minimum wage and tuition-free college. The senator also recently introduced the "For the 99.8% Act", meant to significantly increase the estate tax. Sanders' top sources of funding come from the Communication Workers of America, liberal advocacy group MoveOn.org, employees of the University of California, and postal-employee unions.
Kamala Harris
Status: Running
Who: Senator from California
Age: 54 Years in politics: 16 years
An acclaimed prosecutor, Harris is seen as a star candidate in the Democratic field. Born of a Jamaican father and an Indian mother, Harris is the first African-American woman contender for the 2020 polls. The established politician, who is backing Green New Deal and marijuana legalization, has raised $12 million from nearly 140,000 donors for her campaign so far. She announced her candidacy on January 21, 2019.
Her signature policy is the LIFT Act, which would provide up to $500 per month to working-class families. She aims to pay for it by reversing President Trump's 2017 tax cuts for big corporations, the wealthy, and the "top one percent".
Harris' key sources of funding come from financiers, attorneys, retirees, and the entertainment industry. Her campaign has announced its decision to not accept any donations from corporate PACs. The senator's biggest contributors by employers were WarnerMedia, the University of California, Google-parent Alphabet, Inc., 21st Century Fox and the law firm Venable.
Elizabeth Warren
Status: Running
Who: Senator from Massachusetts
Age: 69 Years in politics: 10
The former Harvard law professor is a favorite of the progressive left and is particularly known for her staunch stance on tougher regulations of the financial sector, particularly after the 2008 economic crash. Warren, who officially entered the 2020 race on February 9, 2019, aims to address the issues which have taken prominence in Trump's presidency: a deepening crisis faced by the American middle class and the rising racial inequality in the country. The Massachusetts senator has raised $6 million from 135,000 donors so far.
"We can rebuild America's middle class," Warren said while announcing her candidacy. "But this time, we got to build it for everyone. That's why today I'm launching an exploratory committee for president... I never thought I'd run for office, not in a million years."
Her signature policy is the imposition of a 2 percent "wealth tax" to address inequality in the country. The said tax would be imposed on "ultra-millionaires", to pay for public benefits like universal free or low-cost childcare. The tax would be levied on people with wealth more than $50 million, and billionaires would have to pay 3 percent of the tax.
Beto O'Rourke
Status: Running
Who: Former Representative — Texas (3 terms)
Age: 46 Years in politics: 14
Formerly unknown outside his congressional district in Texas, the former congressman was catapulted to national attention during his Senate campaign last year for the midterm elections against Sen. Ted Cruz. The tech-company founder became a political sensation despite losing a close race to unseat Cruz as his message of trust, and fighting inequality resonated with Texans tired of Trump.
"In just 24 hours, Americans across this country came together to prove that it is possible to run a true grassroots campaign for president ― a campaign by all of us for all of us that answers not to the PACs, corporations, and special interests but to the people," O'Rourke said after he raised a record-breaking $6.1 million in the first 24 hours after he announced his 2020 presidential candidacy on March 14, 2019.
The Democrat's signature policy is centered on immigration reform, particularly based on "respect and dignity". The former punk rocker's campaign has raised $9.4 million with 280,000 donations. The donations did not include funding from nonpolitical action committees or corporations.
Pete Buttigieg
Status: Running
Who: Mayor of South Bend, Indiana
Age: 37 Years in politics: 17
A Rhodes Scholar and Afghanistan veteran, Buttigieg is aiming to become the first openly gay president of the United States. The small-town mayor catapulted to national attention earlier this month when he grabbed the third place in a poll of the 2020 Iowa causes, just behind former Vice President Joe Biden — who is yet to officially announce his candidacy— and Senator Bernie Sanders.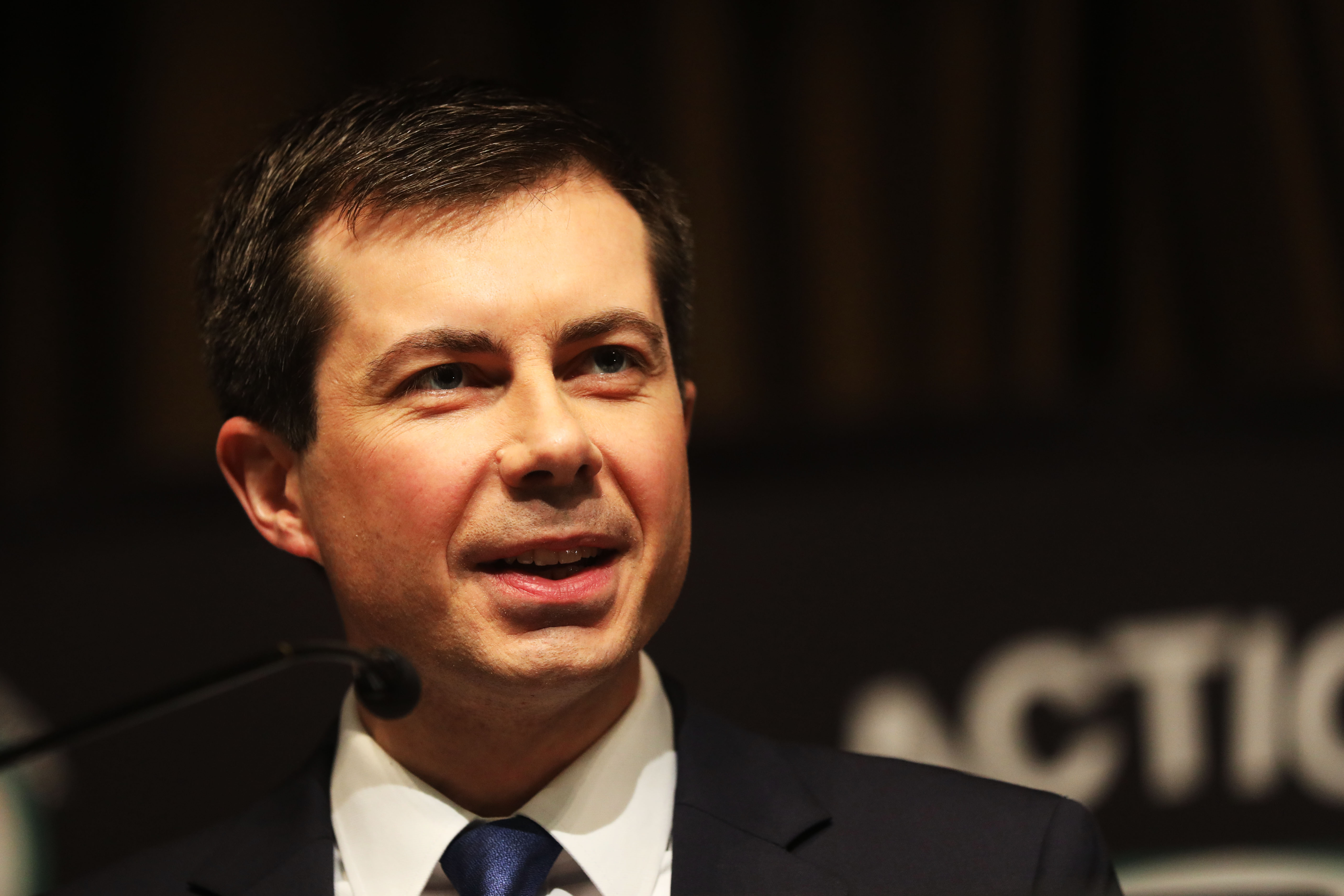 The devout Christian, who can speak seven different languages, formally announced his candidacy on April 14 and presented a progressive message directed towards millennials, saying "we can't look for greatness in the past". The Harvard and Oxford-educated 37-year-old has already raised $7 million from nearly $160,000 donors.
His signature policy is to do away with the electoral college in the American political system and to radically overhaul the Supreme Court.
Cory Booker
Status: Running
Who: Senator from New Jersey
Age: 49 Years in politics: 17
The former Newark mayor, who has one of the most liberal voting records in the Senate, launched his campaign on February 1, 2019, with a particular focus on racial and social inequality. A Yale law graduate and Rhodes scholar, Booker is extremely social media savvy and has centered his agenda on criminal justice reform.
However, his close ties with Wall Street and the wealthy elites have drawn significant scrutiny. The New Jersey mayor recently announced that he has raised over $5million in donations in the opening months of his campaign.
His signature policy is the introduction of baby bonds, which would aim to target the wealth fap in the country by seeding "America Opportunity Accounts" for children. The fund would allocate more money for children from poorer families and would be used as an investment in their education and future.
John Delaney
Status: Running
Who: Former Representative — Maryland
Age: 55 Years in politics: 6
The former congressman was the first in the Democratic field of candidates to announce his candidacy for the 2020 elections back in July 2017. Delaney, the first generation in his family to go to college, has already visited every county in Iowa, which is the first state in the primary polls.
Delaney is reportedly independently wealthy and after initial funding from construction companies and banks, he is funding himself now. His campaign is centered on improving workers' rights, education, and infrastructure.
His signature policy is to formulate a public and private international coalition against China's intellectual property theft, and compete against China with a trade deal similar to theTrans-Pacific Partnership.
Andrew Yang
Status: Running
Who: Technology entrepreneur
Age: 44 Years in politics: Less than one
Born in New York to Taiwanese parents, Yang entered the race on November 6, 2018. The former tech entrepreneur, who started a nonprofit to promote and assist startups, has centered his campaign on a single issue and that is to protect the American workers from robots that are replacing their jobs.
Yang has used some of his own money for the campaign and significant contributions have also come from individual contributors, some of whom have donated in bitcoins.
His signature policy is for the government to pay a $1,000-a-month "freedom dividend" to all Americans citizens between the ages of 18 and 64 as a form of universal basic income (UBI) to protect them against the availability of fewer jobs in the country because of increasing automation. He plans to raise this money through value-added taxes.
Julián Castro
Status: Running
Who: Former Mayor of San Antonio, Texas; Housing Secretary under President Obama
Age: 44 Years in politics: 18
Castro broke through the barriers of growing up in a poor neighborhood in San Antonio and went on to earn Ivy League degree. A third-generation Mexican-American, he took on national politics gradually becoming the US secretary of housing and urban development under former President Barack Obama.
Castro entered the race on January 12, 2019, and has centered his campaign on his experience in the Obama administration and his mother's activism with Latino groups. The former mayor of San Antonio pledged not to take any money from political action committees for his campaign. The details of his contributors are not available.
Although Castro has not promoted a distinct policy of his own yet, he has been a strong advocate of free trade and has argued against scrapping free trade deals, saying they should be utilized to increase protection for workers and the environment.
Tulsi Gabbard
Status: Running
Who: US Representative — Hawaii
Age: 37 Years in politics: 17
Gabbard, who is the first Hindu member of Congress, was among the early supporters of Bernie Sanders 2016 presidential campaign. The Hawaiian Congresswoman has also been an advocate universal of government-provided healthcare and raising the minimum wage.
However, the Iraq war veteran has drawn criticism for meeting with Syrian leader Bashar al-Assad in 2017, after he was accused of using poison gas on the country's civilians. Gabbard, who entered the race on February 2, 2019, has called for fighting "for the soul" of America and has spoken about combating "radical Islam". The daughter of a socially conservative politician and activist, Gabbard could draw voter outrage as she has previously opposed abortion rights and gay marriage.
Her signature policy is to cut taxes on small business and farmers and raise taxes on corporations. She has also proposed to put an end to regime-changing wars and lower military spendings.
Amy Klobuchar
Status: Running
Who: Senator from Minnesota
Age: 58 Years in politics: 12
The first woman to be elected as a Minnesota senator, Klobuchar has made her mark as a realist centrist, who has centered her campaign on tackling issues which concern the laymen, like the surging drug price in the country.
The former corporate lawyer drew national attention last year for her imperturbable questioning of Supreme Court nominee Brett Kavanaugh in the rather heated confirmation hearing. Klobuchar announced her presidential run in a blizzard on February 10, 2019, aiming to highlight her "grit." Her campaign is largely funded by the food and dairy industry and law firms.
Her signature policy is to implement new measures to assist small and mid-sized US businesses to export goods across the world.
Jay Inslee
Status: Running
Who: Governor of Washington state
Age: 68 Years in politics: 24
The veteran Congress member is big on climate change and announced his candidacy on March 1, 2019 at a solar panel factory, attributing its success to his policies as a governor. His campaign is centered on curbing climate change and promoting environmental protection. His backers also include Bill Nye, the "science guy."
The Washington state governor is also pushing for the introduction of new technology in the maritime industry to make it more efficient and to push for privacy regulations for the tech industry. His campaign has said that it will not accept corporate donations and money from the fossil-fuel industry.
His signature policy is to create millions of jobs as the country transitions to "100% clean energy and net-zero greenhouse gas pollution". Insee backs the Green New Deal and has also proposed removing subsidies and tax breaks for the fossil-fuel industry.
John Hickenlooper
Status: Running
Who: Former Governor of Colorado
Age: 67 Years in politics: 16
The businessman and former mayor of Denver announced his candidacy on March 4, 2019, and has centered his campaign on improving the economy and regulating gun-control legislation. During his campaign announcement, he also highlighted his personal success as a brewery owner after he was laid-off.
The geologist has a bipartisan appeal and has touted himself as the right person to take on Donald Trump. He is funded by government workers, lobbyists, and lawyers. Hickenlooper has also taken contributions from telecom and energy firms in the past.
His signature policy is to cut red tape in an attempt to increase regulatory compliance and reduce the cost of doing business.
Kirsten Gillibrand
Status: Running
Who: US Representative — New York
Age: 52 Years in politics: 11
The former corporate lawyer, who announced her run on March 17, has centered her campaign on the #MeToo movement, assistance for public schools, support for the middle class and job training.
Gillibrand is also known as the "MeToo senator" after she called out President Trump for his sexism and pushed for Democratic senator Al Franken to resign after allegations of sexual misconduct were made against him. The senator has promoted herself as a mother-of-two who will "fight as hard for other people's kids as she would for her own."
Her signature policy is for the US government to introduce a universal paid parental leave policy, which should be acquired by firms across the country.
Wayne Messam
Status: Running
Who: Mayor of Mirama, Florida
Age: 44 Years in politics: 8
The construction company owner announced his candidacy on March 28 with a campaign centered on curbing gun violence in the country, fighting climate change and "restoring the promise of America".

Born to Jamaican immigrant, a former NFL football player, and the first African-American mayor of Miramar, Messam believes that the best ideas not necessarily come from Washington. For him the "American Dream" is real and he wants to bring that back for every citizen of the country. Messam started his campaign earlier this year by asking for $3 contributions.
His signature idea is to cancel the $1.5 trillion in student debt in the country and has called it a "moral issue". According to Messam, America's student debt acts as an obstruction, preventing economic mobility in the country.
Tim Ryan
Status: Running
Who: US Representative — Ohio
Age: 45 Years in politics: 15
A staunch supporter of union labor, Ryan launched his campaign on April 4 and has centered his run on single-payer healthcare and renewable energy. Ryan unsuccessfully challenged Nancy Pelosi for the top Democratic leadership in the House of Representatives in 2016 and has now set his eyes on the White House.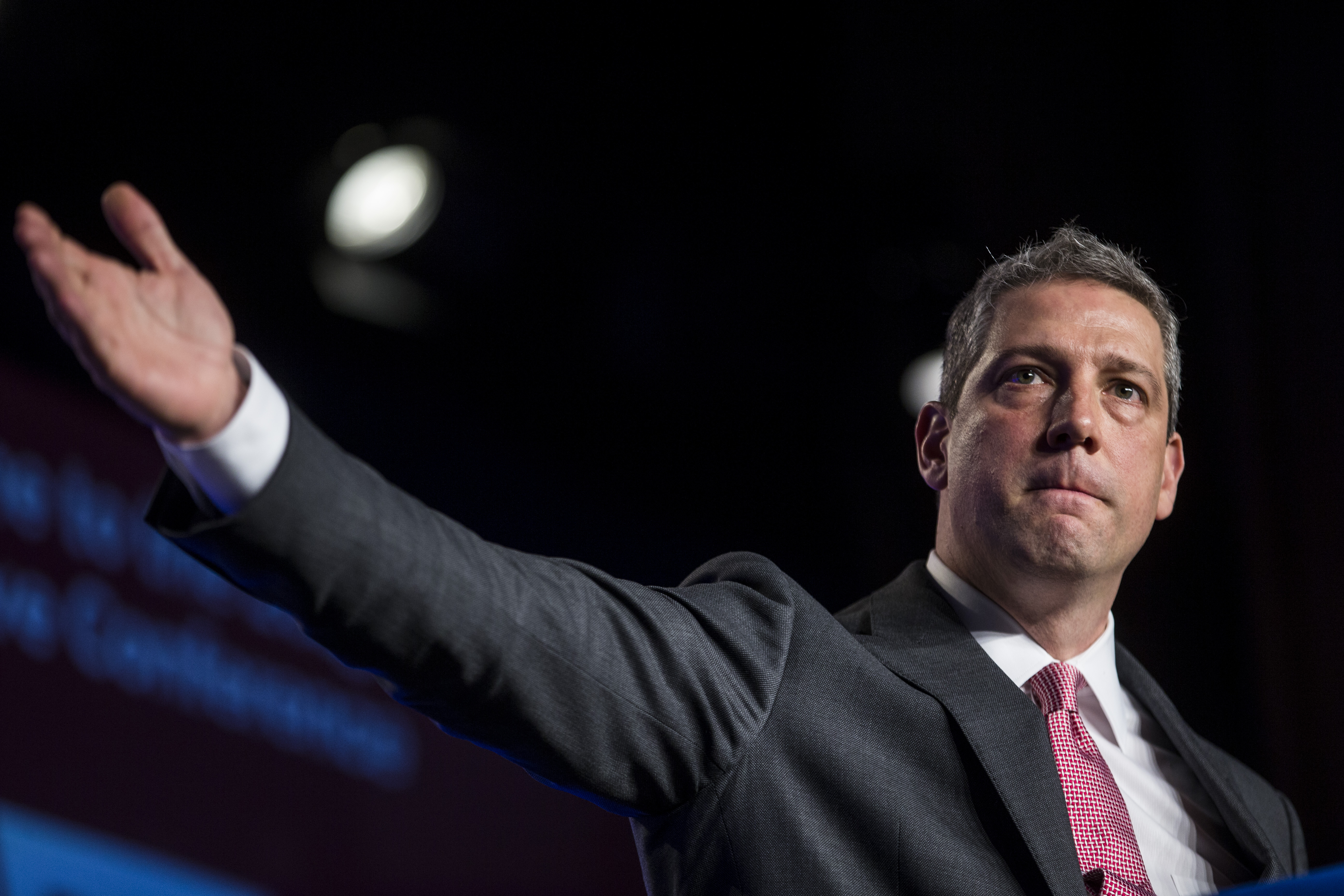 Ryan aims to revitalize American manufacturing, public education, and support struggling US veterans. The Congressman believes he is the best candidate for winning back white, working-class voters who backed Trump in the 2016 polls. His donations come from labor unions and law firms.
His signature policy is to create jobs in electric-vehicle manufacturing and other green industries. He also advocates for the free-market system.
Eric Swalwell
Status: Running
Who: US Representative — Northern California
Age: 38 Years in politics: 9
A former member of the Homeland Security Committee, Swalwell is one of the younger candidates to have entered the race. However, he has not relied on the generational change platform, instead, his campaign is centered on gun control.
The 38-year-old announced his candidacy on April 8 on 'The Late Show with Stephen Colbert'. The son of a retired police officer has said that he is still paying off his student debt. Swalwell is the top Democrat on the House Intelligence Committee and is an outspoken critic of Donald Trump.
His signature idea is to expand access to college by providing interest-free federal loans to students, in an effort to assist those in work-study programs to graduate without any student debt.
Mike Gravel
Status: Running
Who: Senator from Alaska
Age: 88 Years in politics: 56 (on and off)
The anti-war activist announced his presidential run on April 8, marking his return to the national political arena after over a decade-long hiatus. Gravel also ran for the Democratic presidential primaries in 2008.
In a remake of his 2008 campaign viral video, Gravel said: "it's time to make some waves for change." The former senator has said that his bid to the White House is not an attempt to win the race but to challenge centrist Democrats' views on the economy, the environment and foreign policy during debates.
His signature idea is to create a social wealth fund to distribute taxes from financial transactions to all American adults through a yearly dividend.
Marianne Williamson
Status: Exploratory committee
Who: Spiritual Counsellor, Writer
Age: 66 Years in politics: 5
The best-selling author of 12 books, charity organizer and spiritual adviser announced her intention to run for the presidency in November 2018. Williamson, who ran for US representatives in California in 2014 as an independent, has not yet officially confirmed her run.
Williamson, a former advisor to Oprah Winfrey, packs the same star power and is an active supporter of the HIV/AIDS community and female empowerment. She is also backing eliminating inequality, reparations to the African-American community and humane immigration policy in the country.
Her signature proposal is to pay a sum of $10 billion in slavery reparations to the African American community per year for the next ten years.