'Daybreak' Review: Netflix's high school drama-meets-post apocalyptic comedy is more wannabe than you think
Taking viewers on a wild, adventurous ride, 'Daybreak' is yet another post-apocalyptic, genre-bending series on Netflix created by Brad Peyton and Aron Eli Coleite that fails to hit the mark Doors to sensationalized high school dramas have often been opened in plenty of movies and TV shows. In this case, we are asked to wonder what happens after a nuclear holocaust ends the world as we know it?
Taking viewers on a wild, adventurous ride, 'Daybreak' is yet another post-apocalyptic, genre-bending series on Netflix created by Brad Peyton and Aron Eli Coleite.
Headlined by teenage outcast Josh Wheeler (Colin Ford) who goes on a search for his missing girlfriend Samaira "Sam" Dean (Sophie Simnett), the series centers around a group of young adults the city of Glendale, California.
The group has to navigate through a post-apocalyptic world full of zombie-like creatures known as ghoulies as well as jocks, games, the 4-H Club and Mad Max-style gangs.
The world may think the apocalypse is a bad thing, but these kids don't think so. For them, it's just time to grab swords and flamethrowers.
What starts out as a gorefest and part coming-of-age comedy soon turns into a drab wannabe series with farce humor. A 'Game of Thrones' reference like "a sword named Needle" or 'Harry Potter' references like "I am a human Sorting Hat" do little to uplift the spirit of the series.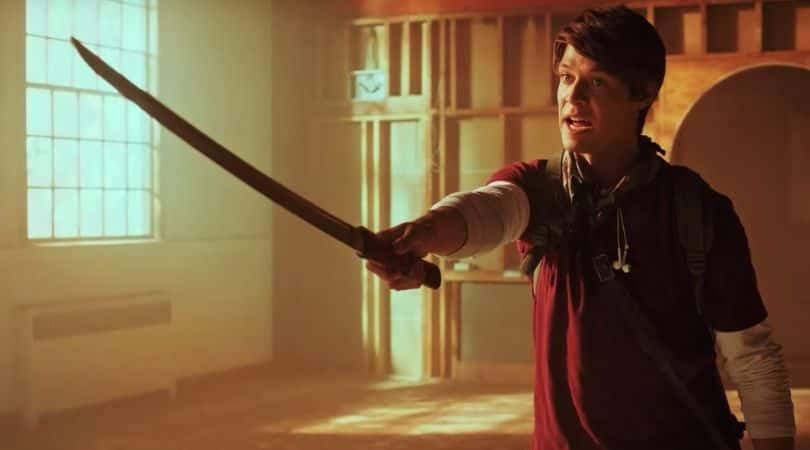 With Austin Crute as Wesley Fists, Matthew Broderick as Burr, Alyvia Alyn Lind as Angelica Green, Gregory Kasyan as Eli Cardashyan, Krysta Rodriguez as Ms. Crumble, Jeanté Godlock as Mona Lisa and Cody Kearsley as Turbo Bro Jock in the cast, the series falls short when it comes to action, logic or social commentary.
The actors try to portray the characters to the best of their abilities but end up overacting instead of putting up a balanced show of snarky one-liners and serious action-oriented drama.
Even with spurts of romance, action, teen drama, bloodsports, roving marauders and aggressive warriors, the Netflix series turns out to be a tawdry version of 'Zombieland' and 'Scream Queens'.
Sadly, the series does not even match with the world created in the eponymous graphic novel by Brian Ralph it is based upon. There's a line in the series that goes, "And you thought we weren't gonna have any fun in the apocalypse?"
Well, if you thought so, stick to that thought because the series is not worth wasting your time on, especially not the first five episodes.