Out-of-form Danny Green may not have had the greatest season with Lakers, but does he deserve all the hate? Danny Green certainly has been that one Lakers player who's taken a lot of heat for some of his streaky shooting throughout the season. On his day, he's an absolute delight to watch; however, his off days are a nightmare as just about every three-pointer shot he takes bounces off the rim. It is tough being Green right now, as he's not had a great NBA Finals so far. There is patchy success in the form of those little plays he makes, but the Green of the old is yet to arrive. Or perhaps it's still okay if he doesn't.
"Green shooting bricks" was the phrase used by Lakers fans on social media. Some were sheer trolls while the others slammed the defender for his lack of contribution. However, this isn't anything new. Over the last couple of months, Green has been bashed more than any other Lakers player out there. If Rajon Rondo, LeBron James, and Anthony Davis were lauded for their pyrotechnics, Green came under some intense criticism prompting the need to discuss if he really deserves the hate and the flak.
Fandom is cruel. When going through a purple patch, fans strap on to sportspersons' back like a jetpack, but when the chips are down, they leave no stone unturned in criticizing them. Now for Green, it might not have been the season he wanted to have, and he deserves respect for admitting it too. He has been on the Purple and Gold side's injury list with a hip and a finger injury, but winning matters. "I'm not worried about my body right now. I'll worry about it when it's over. We've got to win two more games," Green said, according to Silver Screen and Roll. "Then I can rest it as long as I want to."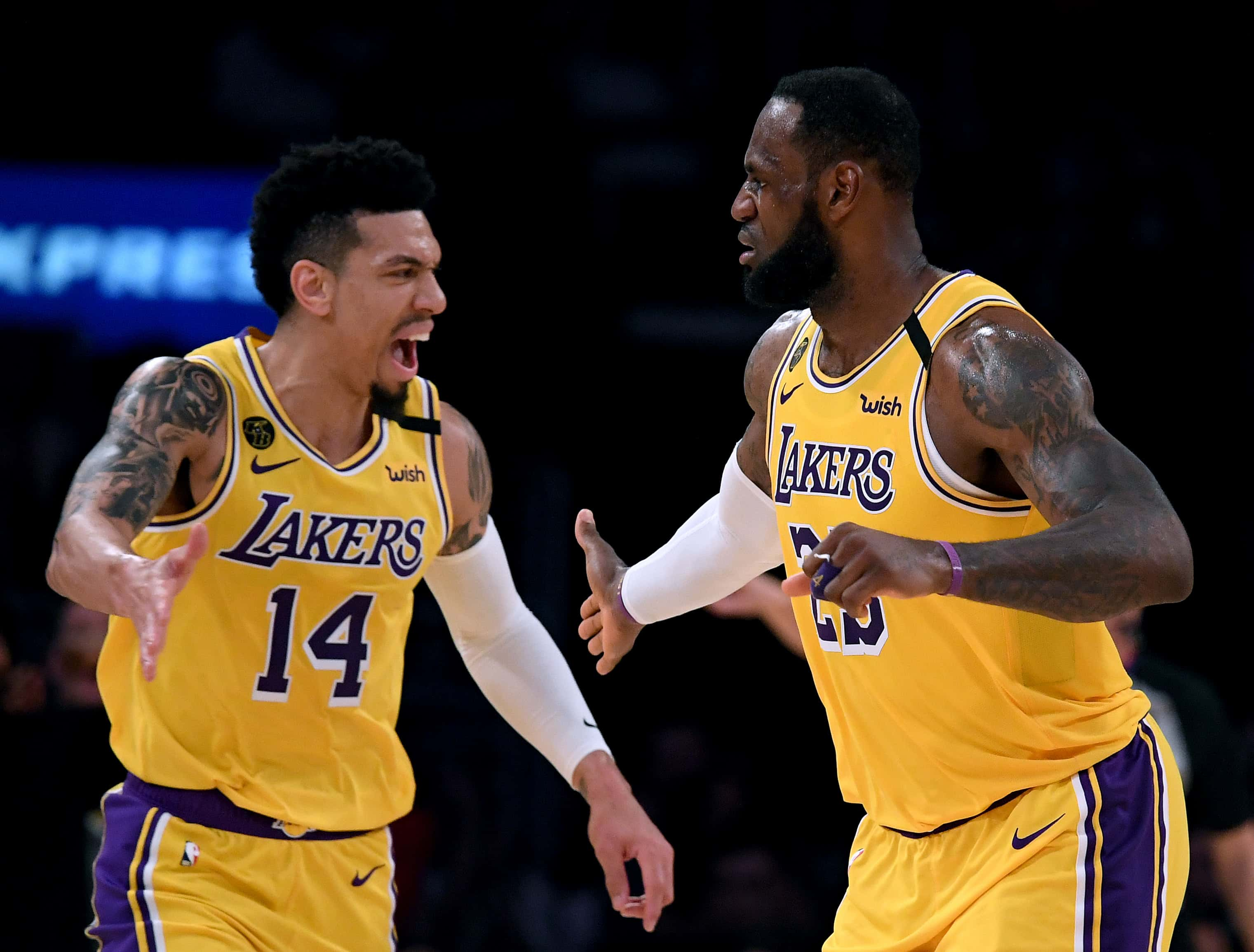 It's unfortunate where Green is right now. A look back at his time with the Toronto Raptors illustrates how good a defender he is when he went from 4-for-23 to 11-of-22 in the NBA finals. Green's switch was activated and the whining changed to adulation. Despite his dip in performance, Green is still on the starting list for the Lakers. He plays a good few minutes, pulls off some slick assists, lands a few of the shots, miss maybe a bit more than he lands, but he's there. Frank Vogel hasn't taken him out yet.
Call it hope, trust, or in the words of fans, "stupidity", Vogel is smart enough to see what Green's up to. His impact on the game is still positive. CBS Sports has an interesting stat — The Lakers have outscored their competition by 148 points in Green's 476 playoff minutes. They have been vaulted over by their opponents by 14 points in the 436 minutes he's on the bench. This speaks about the rock-solid defense he brings to the side.
Here's some quick numbers comparison: When he was with the Raptors, his 3-point FG per game was 2.5 while it's 1.8 with the Lakers. 5.4 3PA with the Raptors as opposed to 4.8 this time. The percentage has taken a major hit during his time with the Lakers — .367 when it was .455 with the Raptors. Now we're not saying this is terrible, but it's a slump, and slumps can be overcome. Green won't be the first to do it, but from Vogel's perspective, Green's shooting is a concern, but his impact isn't.
"Those guys have been fine," Vogel said after the Lakers' 115-104 loss to the Miami Heat in Game 3. "They have been great for us all year. We have to execute as a group better. If we execute as a group better, have more intent to get higher shot quality, then those guys will be fine."
It is fair to say that he has been hampered with injuries and that may have been the reason for losing his edge. He has been favored primarily due to his defense and the innate use of length he uses to buy the additional second to create a scoring opportunity. Essentially, Green doesn't have to necessarily land those buckets and have the commentators calling it "Bang!" He adds his own bit of magic with those plays and that holds him in good stead for now with the Lakers.
Game 5 will be crucial for Green and the Lakers. A win makes them champions, and a loss enforces another game where they have to work on the factors that cost them the game. Green's mantra is simple: Aim and fire. And if he's unable to do that, you can be assured he's pulling off some deft moves to hand the ball to the shooters. And hopefully, the ones calling him out can cut him some slack.
The Lakers and the Heat meet for Game 5 on Friday at 9 pm ET.
Disclaimer : The views expressed in this article belong to the writer and are not necessarily shared by MEAWW.