Is it the end of Crocs? Brand announces closure of all its factories and fans are freaking out
Crocs plans to close 160 of its 558 stores worldwide by the end of the year, with 28 already closed, according to reports (Source:Getty Images)
Crocs has announced that it will be closing down the last two of its manufacturing factories in an attempt to maximize its profits. The two facilities are located in Mexico and Italy. Currently, the company's headquarters are in Niwot, Colorado in the United States. While Crocs are not the most fashionable thing out there, there are many who love these shoes.
At one point, The Independent called it 'unquestionably one of the most hated shoes around the world'. They are super comfortable plastic shoes that come in many bright colors and are perfect for any season. The shoes are super light and airy, thanks to all the holes in them.
After a significant decline in market value, the rumor was that the shoe giant was closing down. Reports said that Crocs planned to close 160 of its 558 stores worldwide by the end of the year, with 28 already closed.
Calm down, it's just to increase profits and doesn't mean they're going to stop making shoes.
A spokesperson for the brand said, "There have been multiple media reports that Crocs is winding down production in our owned manufacturing facilities. While accurate, some people have interpreted that to mean that Crocs will no longer be making and selling shoes. Quite the contrary; Crocs will continue to innovate, design and produce the most comfortable shoes on the planet. As we streamline our business to meet growing demand for Crocs, we're simply shifting production to third parties to increase our manufacturing capacity."
The brand added, "We're extremely grateful, but not surprised, that our passionate fans are rallying around the brand today. Our future is bright, bold and colorful." The show brand also consoled its customers on Twitter saying, "Take comfort, #CrocNation. Our future remains as bright, bold and colourful as ever."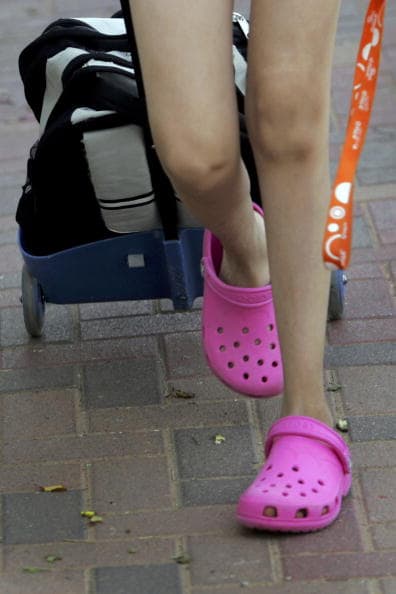 There will be some major changes on the inside as well — CFO Carrie Teffner will be leaving the company on 1 April 2019. Anne Mehlman will be brought in to fill her Crocs. The company also says it expects a fiscal revenue of about $1.02 billion (£800 million) in 2018.
CEO and president Andrew Rees said, "Our clogs and sandals continue to perform well, and we are well positioned for the back half of the year. We expect double digit e-commerce growth and moderate wholesale growth to more than offset lower retail revenues due to operating fewer stores and business model changes."
Financial gurus think its a good move. "This is about as big of a non-event story as I've ever heard. Nobody owns factories anymore. This is actually a good thing for Crocs, that they're getting out of the factories. They're shifting a lot of their production to molded product [made in China and Vietnam]. The Italy factory [likely] focused on special product [editions] that they're moving away from," explained Susquehanna Financial LLLP analyst Sam Poser.