Coronavirus Live Updates: South Korea borrows ideas from McDonald's to screen its people for COVID-19 With more than 4,800 confirmed coronavirus cases in South Korea, the country has now taken to testing people on parking lots — sites that appear to be a lot safer than hospitals.
This idea borrows from drive-through counters found at McDonald's and Starbucks. Through this method, the country can test people without putting others at risk.
"Here we can test many people within a short period in a less crowded manner, and there are lower risks of infection because it's done inside the car," Kim An-Hyun, chief of the Goyang community health center, told local broadcaster MBC.
Currently, this method is being implemented in a city named Goyang, about 16 km northwest of capital Seoul. When motorists pull over at parking sites, health workers in hazmat suits register drivers, check their temperatures, and use swabs to take samples from their throats and nasal passages.
The method saves time: the entire procedure took less than 10 minutes. "I initially went to a community health center and had to wait more than one hour, so this is easier and faster," the first driver told local broadcaster YTN.
CDC removes info on number of Americans tested for coronavirus, draws criticism
The US Centers for Disease Prevention and Control (CDC) has come under fire after it removed information on the total number of Americans tested for coronavirus from its website.
Rep. Mark Pocan, a Wisconsin Democrat, has reportedly sent a letter to the CDC, expressing concerns over the matter. "This is unacceptable. I just sent a letter to @CDCDirector demanding answers to why their website removed public data on the number of patients tested in the United States," he tweeted.
"Americans are dying. We deserve to know how many Americans have perished from COVID-19 and we deserve to know how many people have been tested for it. Knowing that CDC testing is keeping pace with the likely number of cases is imperative to maintaining public trust. With that in mind, when will you return to publicly reporting the total number of deaths and tested persons on your website?" he wrote in the letter.
The CDC, in response, told CNN: "Now that states are testing and reporting their results, CDC's numbers may not represent all of the testing being done nationwide."
Until Monday, the health agency listed out the number of patients tested.
Currently, the CDC is filing information on the number of confirmed cases and presumptive positive cases. The latter includes cases that have been tested positive by public health labs but the CDC is yet to confirm them.
The number of confirmed cases in the US has now crossed 100.
France closes Louvre as virus spreads to 60 countries
Coronavirus cases surged in Italy, and France closed the world-famous Louvre Museum on March 1 as the deadly outbreak that began in China sent fear rising across Western Europe, threatening its tourism industry.
The virus has spread to more than 60 countries, and at least 3,000 people have died from the COVID-19 illness.
New fronts in the battle opened rapidly over the weekend, deepening the sense of crisis that has already sent financial markets plummeting, emptied the streets in many cities and rewritten the routines of millions of people. More than 88,000 have been infected, on every continent but Antarctica.
Australia and Thailand reported their first deaths February 29, while the Dominican Republic and the Czech Republic recorded their first infections. Italian authorities said the number of people infected in the country soared 50% to 1,694 in just 24 hours, and five more had died, bringing the death toll there to 34. Cases in France jumped to 130, an increase of 30 in one day.
China, where the epidemic began in December, reported 202 new cases in its update March 1, the lowest increase since January 21. The city of Wuhan had most of the new cases but also saw 2,570 patients released, continuing a trend that frees up patient beds in the prefabricated isolation wards and hastily built hospitals in the area where the disease has hit hardest.
That brings China's totals to 80,026 cases, with 2,912 deaths, the vast majority in Wuhan and surrounding Hubei province. Hubei still accounts for about three-quarters of the world's cases.
Cases in the US climbed to at least 76 with the first death in the United States reported on February 28 — a man in his 50s in Washington state who had underlying health problems but hadn't traveled to any affected areas.
The travel restrictions against Italy and the rising alarm in France could deal a heavy blow to the countries' tourism industries. Spring, especially Easter, is a hugely popular time for schoolchildren to visit France and Italy.
"We had already registered a slowdown of Americans coming to Italy in recent days," Bernabo Bocca, president of Italy's hotel association, said in a statement Saturday. "Now, the final blow has arrived."
Tourism accounts for 13% of the economy in Italy, with its art museums, archaeological sites and architectural treasures. More than 5.6 million Americans visit Italy every year, representing 9% of foreign tourists.
The United Nations said Sunday it is releasing $15 million from an emergency fund to help countries with fragile health systems contain the virus.
In France, the archbishop of Paris told parish priests to put the Communion bread in worshippers' hands, not in their mouths. In South Carolina, the Roman Catholic Diocese of Charleston asked its parishioners to not drink from the Communion cup or shake hands during the sign of peace.
French officials also advised people to forgo the customary kisses on the cheek upon greeting others.
The Louvre, home of the "Mona Lisa" and other priceless artworks, closed after workers expressed fear of being contaminated by the stream of visitors from around the world. Staffers were also concerned about museum workers from Italy who had come to the Louvre to collect works by Leonardo da Vinci that were loaned for an exhibition.
The Louvre, the world's most popular museum, received 9.6 million visitors last year, almost three-quarters of them from abroad.
"We are very worried because we have visitors from everywhere," said Andre Sacristin, a Louvre employee and union representative. "The risk is very, very, very great." While there are no known infections among the museum's 2,300 workers, "it's only a question of time," he said.
The shutdown followed a government decision Saturday to ban indoor public gatherings of more than 5,000 people.
Saudi Arabia suspends travel to Islam's holiest sites following Middle East outbreak
Following the new coronavirus outbreak in the Middle East, Saudi Arabia on Thursday, February 27, said that it was implementing preventative measures by halting travel to the holiest sites in Islam.
This will stop foreigners from reaching the holy city of Mecca and the Kaaba. Travel has also been suspended to Prophet Muhammad's mosque in Medina. To prevent the arrival of COVID-19, the Kingdom's government has decided to take precautionary measures, said the Ministry of Foreign Affairs.
According to the statement posted on Twitter, these include "suspending entry to the Kingdom for the purpose of Umrah and visiting the Prophet's Mosque temporarily."
The statement also says that the government is "suspending entry into the Kingdom with tourist visas for those coming from countries in which the spread of COVID-19 is a danger."
These measures are temporary and subject to evaluation, said the government.
US soldier stationed in South Korea tests positive
South Korean virus cases jumped again on Wednesday and the US military confirmed its first case among American soldiers based in the Asian country, with his case and many others connected to a southeastern city with a growing illness cluster.
The US military said the 23-year-old soldier was in self-quarantine at his off-base residence. He had been based in Camp Carroll in a town near Daegu, and visited both Carroll and nearby Camp Walker in recent days, according to the statement.
South Korean authorities and US military health professionals were tracing his contacts to determine if other people may have been exposed. About 28,500 U.S. troops are stationed in South Korea as deterrence against potential aggression from North Korea.
United States Forces Korea previously said a widowed dependent had the virus, the first case involving a USFK-related individual. South Korea's 600,000-member military has reported 18 cases and quarantined thousands of soldiers as a precaution.
Bowling alleys, movie theaters and a golf course at four U.S. bases were closed after the soldier's case was confirmed, Col. Edward Ballanco, commander of the U.S. Army Garrison Daegu, said. All restaurants at the bases, and at Camp George in Daegu, could now provide only takeout meals with soldiers and family members prohibited from dining there, he said.
"This is a setback, it's true, there's no getting around that, but it's not the end of the war," he said on a video message posted on Facebook.
"We are very well equipped to fight this thing off. I am certain that, that soldier that has tested positive, he's on his way up to Camp Humphreys today, is going to get better medical care than anyone else in Korea who has the coronavirus."
Italy reports 45% rise in cases in a day; death toll moves up to 11
Italy reported a 45% one-day increase in people infected with the coronavirus as other countries in Europe recorded their first cases Tuesday, February 25, producing evidence that travelers are carrying the virus from the European outbreak's current epicenter.
Italian officials reported 11 deaths and 322 confirmed cases of the virus, 100 more than a day earlier. While the majority were concentrated in northern Italy, some of the new cases registered outside the country's two hard-hit regions, including three in Sicily, two in Tuscany and one in Liguria.
An Italian couple from the afflicted north tested positive in the Canary Islands off Africa, forcing the quarantine of their hotel in what one guest said felt like being "monkeys in a cage." Austria, Croatia and Switzerland reported their first cases, all in people who recently traveled to Italy. The four new deaths in Italy, like the seven reported earlier, were in patients who were elderly, suffering from other ailments or both, officials said.
Italian health officials haven't yet identified the source of the outbreak. Angelo Borrelli, the head of the Italian civil protection department, said the case count grew from 222 to 322, representing a 45% increase, in a 24-hour period from Monday evening to Tuesday evening.
The southern island of Sicily reported its first three positive cases from a woman vacationing from Bergamo, in Lombardy and two others traveling with her. Two cases were also reported in Tuscany, south out of the epicenter.
Spain counted three active cases: a woman in Barcelona who had been in Lombardy in recent days, and a doctor from northern Italy and his partner who were vacationing in Tenerife, in the Canary Islands.
CDC warns Americans against traveling to South Korea
With infections soaring in South Korea, the US Centers for Disease Control and Prevention (CDC) has asked Americans to avoid all nonessential travel to South Korea. This is the highest level of warning — Level 3.
The same was earlier announced for Wuhan and subsequently the whole of China. South Korea now has the second-most cases in the world with 893 and has had a nearly 15-fold increase in reported infections in a week.
An estimated eight people have died ion the country owing to COVID-19. South Korea has been put on its highest alert for infectious diseases.
South Korean President Moon Jae-in said on Sunday that his government had increased its anti-virus alert level by one notch to "Red", the highest level, in response to the spread of the disease. Officials have also been instructed to take "unprecedented, powerful" steps to fight the viral outbreak.
Wuhan revokes announcement easing lockdown measure
An announcement that the Chinese city of Wuhan — the epicenter of COVID-19 outbreak — would relax some of its travel restrictions and allow some people to leave was made without authorization and has been revoked, said the local government.
Officials said that Wuhan city would continue to impose strict controls over its borders to prevent the virus from spreading further.
The people responsible for the earlier announcement — which said that healthy people would be allowed to leave if they had vital business — have been reprimanded, officials said.
On Monday, China's National Health Commission reported 409 new cases of confirmed infections, 620 new cases of suspected infections, and 150 deaths. The latest estimates show that 2,592 people have died and 77,150 have been infected with the new coronavirus in mainland China.
There still remained 49,824 confirmed cases (including 9,915 in serious condition) and 3,434 suspected cases.
Italy towns shut schools and businesses after two deaths and surge in cases
A dozen towns in northern Italy effectively went into lockdown on February 22 after the deaths of two people infected with the new virus from China and a growing cluster of cases with no direct links to the origin of the outbreak abroad.
The secondary contagions prompted authorities in some Lombardy and Veneto towns to close schools, businesses and restaurants and to cancel sporting events and Masses. The mayor of Milan, Italy's business capital and the regional capital of Lombardy, shuttered public offices.'
A 78-year-old man infected with the virus died in Veneto. A post-mortem test performed on a 77-year-old woman in Lombardy came back positive, though it wasn't clear if illness from the virus caused her death.
Hundreds of residents and workers who came into contact with 79people who tested positive were put into isolation pending results of their tests. Civil protection crews set up a tent camp outside a closed hospital in Veneto to screen medical staff for the virus.
In the town of Codogno, where the first patient identified in the northern cluster was in critical condition, closed supermarkets, restaurants and shops made main street practically a ghost town. The few people out wore face masks, which were coveted items after selling out at pharmacies.
Late Saturday, civil protection officials said 79 people had contracted the virus, including the two who died and one who was cured. Of the remaining 76, 54 were in Lombardy, 17 in Veneto, two in Emilia Romagna, two in Lazio — a Chinese couple from Wuhan — and one in Piemonte.
Lombardy government authorities said the region's cases were traceable to a 38-year-old Italian who hadn't traveled to China, but it remained unclear how he was infected. Ten towns in Lombardy received orders to suspend nonessential activities and services.
Veneto regional president Luca Zaia said Saturday that the contagion showed that the virus is transmitted like any flu and that trying to pinpoint a single source for the cases or to establish a link to China no longer were effective containment measures. "You can get it from anyone, he told reporters. "We can expect to have cases of patients who had no contact with suspected carriers. While the virus isn't particularly lethal, it can be for the elderly or people with existing conditions, he said.
The man who died in Veneto, for example, did not meet the main risk factors for the virus when he was diagnosed with pneumonia two weeks ago: he hadn't traveled to China or come into contact with anyone who did. Therefore, the ill man wasn't originally tested for the virus.
He was only tested after he didn't respond to conventional pneumonia treatment, and by then it was too late, according to Francesca Russo, the head of healthcare for the Veneto region.
Along with eight other infected people, the man who died formed a cluster in his hometown of Vo'Euganeo, population of 3,300. Russo expressed relief that to date, none of the hospital personnel who treated him have tested positive.
Virus cases increase in South Korea to 346, China daily count drops
South Korea on February 22 reported a six-fold jump in viral infections in four days to 346, most of them linked to a church and a hospital in and around the fourth-largest city where schools were closed and worshipers and others told to avoid mass gatherings.
Initial infections were linked to China, but new cases in South Korea and Iran — where there have been four deaths — don't show a clear connection to travel there. In an emerging cluster of illnesses in northern Italy, the first to fall ill met with someone who had returned from China on January 21 without experiencing any symptoms of the new virus, health authorities said.
China said on February 22 the daily count of new virus cases there fell significantly to 397, with another 109 people dying of the disease, most in the epicenter of Hubei province.
The new figures bring the total number of cases in mainland China to 76,288 with 2,345 deaths, as strict quarantine measures and travel bans continue to contain the disease that emerged in China in December and has since spread world-wide. The daily figure is down from 889 on Friday.
Of the 142 new cases in South Korea, 131 are from Daegu and nearby regions, which have emerged as the latest front in the widening global fight against COVID-19.
The World Health Organization warned that clusters not directly linked to travel, such as the ones in South Korea and Iran, suggest that time may be running out to contain the outbreak.
"The window of opportunity is still there. But our window of opportunity is narrowing," said WHO Director-General Tedros Adhanom Ghebreyesus. "We need to act quickly before it closes completely."
Tedros singled out Iran's discovery of 18 cases and four deaths in two days — and that a traveler from Iran carried the virus to Lebanon, and another traveler from Iran to Canada. "These dots are very concerning — take them as dots or trends," he said.
South Korea Prime Minister Chung Se-kyun started a government meeting on the health emergency Friday by saying, "We have entered an emergency phase."
"Our efforts until now had been focused on blocking the illness from entering the country," he said. "But we will now shift the focus on preventing the illness from spreading further in local communities."
Chung promised support to ease a shortage in hospital beds, medical personnel and equipment in Daegu, where the first case was reported on Tuesday. By Friday, the city of 2.5 million and its surrounding areas had 152, including South Korea's first two fatalities in Cheongdo hospital.
Nationwide, the numbers told of a ballooning problem. There were 20 new cases reported Wednesday, 53 on February 20 and 100 on February 21.
Italy reports first virus death, cases more than quadruple
Italy reported its first death from the new virus from China early on February 22 and the number of people infected more than quadrupled due to a cluster of cases that prompted officials to order schools, restaurants and businesses to close.
State-run RAI television reported a 78-year-old man, one of two people in northern Veneto region to have been infected, died on February 21. Italian news agencies ANSA and LaPresse also reported the death, citing the Veneto regional president, Luca Zaia.
In Lombardy, at least 14 new cases were confirmed, representing the first infections in Italy acquired through secondary contagion and bringing the country's total to 19. The cluster was located in a handful of tiny towns southeast of Milan, said Lombardy regional health chief Giulio Gallera.
"This was foreseeable even if we hoped it wouldn't have happened," Gallera said.
The first to fall ill was a 38-year-old Italian who met with someone who had returned from China on January 21 without presenting any symptoms of the new virus, health authorities said. That person was being kept in isolation and appears to present antibodies to the virus.
The 38-year-old is now hospitalized in critical condition. His wife and a friend of his, who was a member of his running club, also tested positive for the virus. Three patients at the hospital in Codogno where he went with flu-like symptoms on February 18 also have infections, as do five nurses and doctors.
In addition, another three elderly people, who frequented the same cafe as the runner's father, also tested positive on February 21, Gallera said.
Tests were underway, meanwhile, on the 38-year-old's doctor, who made a house call on him, as well as on 120 people he worked with in the research and development branch of Unilever in Casalpusterlengo, Gallera said.
29-year-old doctor working on the frontline dies in Wuhan
A 29-year-old doctor in Wuhan has become the latest victim of the new coronavirus.
According to Wuhan health authorities, Peng Yinhua worked in respiratory and critical care at Jiangxia district's First People's Hospital. He had contracted the infection while working on the 'frontline'.
Peng had been featured in state media previously for delaying his wedding to continue working.
Users expressed shock at Dr. Peng's age On Chinese social media, according to the New York Times. There were state media reports that Dr. Peng had planned to get married on February 1, but postponed it due to the outbreak.
While he was admitted at the hospital on January 25, his condition worsened on January 30. He died on Thursday, February 20 at 9.50 pm.
Estimates released by China's National Health Commission on February 21 showed 118 new deaths, bringing the total number of confirmed deaths in China to 2,236.
Cases go up by 100 in South Korea, many of which have their origin in Daegu church
South Korea has confirmed 100 new virus cases on February 21, bringing the country's total to 204, say reports.
Some of these confirmed cases have a common origin: a church in the city of Daegu named Temple of the Tabernacle of the Testimony. Reports suggest that a coronavirus superspreader - a person who is capable of infecting dozens - may have passed on her infection to at least 37 people at her church.
Following this, South Korea declared a "special management zone" around Daegu.
"A month into the (COVID-19) outbreak, we have entered an emergency phase," Prime Minister Chung Se-Kyun said in a televised statement. "Our efforts until now had been focused on blocking the illness from entering the country. But we will now shift the focus on preventing the illness from spreading further in local communities," he added.
South Korea declares Daegu a 'special zone' over virus cases
South Korea on Friday declared the southeast city of Daegu and the surrounding region a "special management zone" after a surge in virus cases that city officials say threaten to overwhelm the region's health system.
Prime Minister Chung Se-kyun said the national government will concentrate its support to the region to ease a shortage in sickbeds, medical personnel and equipment.
"A month into the (COVID-19) outbreak, we have entered an emergency phase," Chung said. "Our efforts until now had been focused on blocking the illness from entering the country. But we will now shift the focus on preventing the illness from spreading further in local communities."
Sixty-nine cases of COVID-19, as well as the country's first death of a virus patient, have been confirmed in the southeast city of Daegu and nearby areas over Wednesday and Thursday, a sudden jump that raised fears that the outbreak is getting out of control.
The surge of infections in the Daegu area and several cases in the capital, Seoul, where infection routes weren't immediately traceable, forced government officials to acknowledge Thursday for the first time that the virus has begun to circulate in the local population.
Director of Wuhan hospital dies from COVID-19
The head of a hospital in Wuhan, the epicenter of the COVID-19 outbreak, has died, according to the Wuhan health commission.
Dr Liu Zhiming, director of the Wuchang Hospital in Wuhan, died on Tuesday. He was 51 years old.
"Comrade Liu Zhiming, deputy secretary and dean of the Party Committee of Wuhan Wuchang Hospital, unfortunately, contracted the disease in the fight against the new coronavirus pneumonia epidemic but failed with all-out treatment. He died at 10:54 on February 18, 2020, at the age of 51," reads a statement from the Wuhan Municipal Health Committee.
According to a previous article in Daily Mail, a Hubei health official had said that Dr. Zhiming is still being treated.
The report said that Dr. Zhiming was undergoing resuscitation after falling critically ill, according to the social media account of a director from Hubei Provincial Health Commission. The article followed a Chinese media report which claimed that the doctor had died.
Iran reports two deaths for the first time as 2 elderly women succumb to disease
Iran, for the first time, has reported two coronavirus deaths in the country, both involving elderly women. Both victims were from Qom, about 86 miles (140km) south of the capital, Tehran, according to a state-run news agency.
"The two victims had suffered acute lung infections due to their infection with the coronavirus," Alireza Vahabzadeh, an adviser to Iran's health minister, told Al Jazeera on Wednesday.
UAE became the first country in the Middle East to confirm coronavirus cases. Overall, the virus has killed at least 2,128 people and infected over 75,600 worldwide.
China reports 1,886 new virus cases, death toll up by 98
The latest figures come after health officials in China published the first details on nearly 45,000 cases of infection with the coronavirus that originated there, saying more than 80% have been mild and new ones seem to be falling since early this month.
A total of 72,436 cases have been reported in mainland China as of February 18, although a spike in recent cases was due to a broader definition in the hardest-hit region based on doctors' diagnoses before laboratory tests were completed.
February 17's report from the Chinese Center for Disease Control and Prevention gives the World Health Organization a "clearer picture of the outbreak, how it's developing and where it's headed," WHO's director-general said at a news conference.
"It's too early to tell if this reported decline will continue. Every scenario is still on the table," Tedros Adhanom Ghebreyesus said.
China may postpone its annual congress in March, its biggest political meeting of the year, to avoid travel while the disease is still spreading. The standing committee for the National People's Congress will meet Feb. 24 to deliberate on a postponement of the meeting due to start March 5.
American cruise passengers quarantined at US military bases
At least 300 American cruise ship passengers, including 14 who tested positive for COVID-19, have been quarantined at military bases in California and Texas on February 17. They arrived from Japan on charter flights overnight.
One plane carrying passengers from Diamond Princess arrived at Travis Air Force Base in Northern California just before February 16 midnight. The second one arrived at Lackland Air Force Base in Texas early on February 17.
The passengers were earlier quarantined on the cruise ship in Japan. The Americans will now have to go through another 14 days of quarantine at the military facilities, which implies they will have been under quarantine for a total of nearly four weeks, reports AP.
On February 17, Japan announced another 99 infections on the Diamond Princess, raising the ship's total number of cases to 454. Overall, Japan has 419 confirmed cases of the virus, including one death.
Several countries — Australia, Hong Kong and Canada — are planning to send flights for their citizens onboard the Diamond Princess cruise ship. Other governments, including Canada and Hong Kong, will also require the passengers to undergo a second 14-day quarantine.
COVID-19 not as deadly as other coronaviruses, says WHO
The new coronavirus that has killed over 1,800 people in China, causes only mild disease in 80% of the patients, who will recover, according to the World Health Organization (WHO).
In about 14% of cases, the virus causes severe disease, including pneumonia and shortness of breath. And about 5% of patients have critical disease including respiratory failure, septic shock, and multi-organ failure. In 2% of reported cases, the virus is fatal, and the risk of death increases the older you are, says WHO.
Based on these figures, the WHO says it appears that COVID-19 is not as deadly as other coronaviruses, including SARS and MERS.
The analysis is based on a report in which China has published detailed data on more than 44,000 confirmed cases of COVID-19. While the new data addresses some of the gaps in understanding the COVID-19, others remain, say experts.
"These data give us a better understanding about the age range of people affected, the severity of the disease and the mortality rate. As such, they are very important in enabling the WHO to provide good evidence-based advice to countries. We encourage all countries to share their data publicly," says WHO Director-General Tedros Adhanom Ghebreyesus.
The data also appears to show a decline in new cases. However, the WHO says this trend must be interpreted very cautiously. "Trends can change as new populations are affected. It's too early to tell if this reported decline will continue," it says.
The Chinese National Health Commission reported 1,886 new virus cases and 98 more deaths for a total of 1,868 in its update on February 18.
Wuhan hospital head being treated, say officials after Chinese media reported he died
The head of a hospital in Wuhan, the epicenter of the COVID-19 outbreak, is fighting for his life from the deadly illness, according to reports. The news comes after a Chinese media report which claimed that he has died.
Dr Liu Zhiming from Wuchang Hospital is undergoing resuscitation after falling critically ill, according to the social media account of a director from Hubei Provincial Health Commission, reports Dailymail. The article says a Hubei health official has said that Dr. Zhiming is still being treated.
Some reports suggest that the People's Daily initially said that he had died, but later deleted the news. "Liu Zhiming, director of #Wuhan Wuchang Hospital, died on Feb. 17 due to the infection with #COVID19. He is the first hospital director that died from #coronavirus. #RIP," said the now-deleted tweet.
"The conflicting reports resemble the coverage of the death of Dr. Li Wenliang, who was punished for sounding the alarm over the coronavirus and lost his life to the disease earlier this month," says Dailymail.
It might be 18 months before a vaccine for COVID-19 is available, says WHO
The World Health Organisation (WHO) said this week that it might be 18 months before a vaccine for the coronavirus is publicly available.
According to a report in Reuters, WHO chief Tedros Adhanom Ghebreyesus said in Geneva on Tuesday that the first vaccine targeting China's coronavirus could be available in 18 months, "so we have to do everything today using available weapons."
China publicly shared the full RNA sequence of the virus in the first half of January. This kickstarted efforts to develop vaccines around the world.
In the fight against COVID-19, the WHO has the international community to use the window of opportunity to intensify preparedness and be guided by solidarity, not stigma.
"Together, we are facing #COVID19 and we must use the window of opportunity to intensify our preparedness for it. And more than ever it's time to let science and evidence lead policy. If we don't, we are headed down a dark path that leads nowhere but division and disharmony," tweeted Ghebreyesus.
US flies out passengers from Diamond Princess cruise ship
American passengers have evacuated a cruise ship that had been quarantined for more than a week in the Japanese port city of Yokohama. The measure was taken after hundreds of people on board have fallen sick with the new coronavirus.
The passengers from the US boarded two chartered flights to the US and the flights departed Tokyo at 7.05 am on Monday, according to a statement by the United States Embassy in Japan.
"On February 17 at 0705 JST, two charter flights carrying passengers from the Diamond Princess cruise ship departed Tokyo en route to the US. US Embassy Tokyo will continue to provide all possible consular services to US citizens remaining in Japan," it continued.
"The Department of State has no higher priority than the welfare and safety of US citizens abroad," added the statement.
At least 40 Americans onboard the Diamond Princess cruise ship tested positive for coronavirus, according to Dr Anthony Fauci, director of the National Institute of Allergy and Infectious Diseases, stated a USA Today report.
A letter was sent to American passengers and crew on Sunday morning. It included details on the repatriation operation as well as information for those who select not to board.
In a statement on the Diamond Princess repatriation, the CDC said on February 15: "There are approximately 400 US citizens on board the Diamond Princess cruise ship. Due to the dynamic nature of the outbreak, the US government recommends that US citizens disembark and return to the US."
"Americans returned by flights chartered by the State Department will be subject to a 14-day, federal quarantine and be housed at two existing federal quarantine sites for repatriated travelers," the statement added.
The two sites where the passengers will be quarantined in the US are Travis Air Force Base in California and the Joint Base San Antonio-Lackland in Texas. One of two charter flights carrying American passengers touched down at Travis Air Force Base in northern California just before 2.30 am, local time.
105 more deaths and 2,048 new infections in China
As the new coronavirus outbreak continues to infect hundreds, the latest figures released on Monday showed 2,048 new cases of confirmed infections, 1,563 new cases of suspected infections, and 105 deaths have been reported in China.
This takes the death toll 1,770 and the number of people sickened to 70,548 in mainland China, according to China's National Health Commission. Serious cases have decreased by 628, say Chinese authorities.
"There still remained 57,934 confirmed cases (including 10,644 in serious condition) and 7,264 suspected cases. So far, 546,016 people have been identified as having had close contact with infected patients. 150,539 are now under medical observation," says the Commission.
On February 16, Hubei reported 1,933 new cases of confirmed infections (including 1,690 in Wuhan), 909 new cases of suspected infections (including 338 in Wuhan), and 100 deaths (including 76 in Wuhan).
Another 1,200 military doctors and nurses began arriving in Wuhan on Monday morning, the latest contingent sent to help shore up the city's overwhelmed healthcare system, reports AP.
The city has rapidly built two prefabricated hospitals and converted gymnasiums and other spaces into wards for those showing milder symptoms, but residents claim they are still being waitlisted for beds as well as ambulance rides.
New cases in other countries are raising growing concerns about containment of the virus, although the numbers remaining relatively low.
Chinese President Xi Jinping's early involvement in outbreak revealed
A recent speech by Chinese President Xi Jinping suggests for the first time that he was leading the response to the COVID-19 outbreak from early on in the crisis. In the speech — published by the state media — Xi said he gave instructions on fighting the virus on January 7.
He also ordered the shutdown that began on January 23 of cities at the epicenter of the outbreak.
"On January 22, in light of the epidemic's rapid spread and the challenges of prevention and control, I made a clear request that Hubei province implements comprehensive and stringent controls over the outflow of people," Xi told a meeting of the party's standing committee, its top body, reports AP.
Meanwhile, epidemic prevention and control in Hubei Province, particularly in the capital city of Wuhan, remain the top priority, said Premier Li Keqiang, who leads the leading group of the Communist Party of China (CPC) Central Committee on the prevention and control of the novel coronavirus outbreak.
Li is also a member of the Standing Committee of the Political Bureau of the CPC Central Committee. The group also demanded efforts to improve patient treatment and expedite research on drugs. Epidemic prevention and control in Hubei Province, particularly in the capital city of Wuhan, remain a top priority, said the group.
"While ordering Wuhan to speed up hospital admission and suspected case quarantine, the leading group instructed hard-hit cities in Hubei such as Xiaogan and Huanggang to carry out equally strict measures as in Wuhan in surveillance, quarantine and treatment," said China's National Health Commission.
China exploring new treatment with help from survivors
China is looking at another coronavirus treatment option: extracting antibodies from survivors' blood, according to the New York Times.
The rationale behind the move, according to a senior health official in Wuhan, is that those recovered from the infection may possess antibodies in their blood plasma — which could potentially help other infected patients fight the disease.
"It's basically transferring immunity from a patient who has recovered to a patient still fighting the infection and then helping them to recover," Benjamin Cowling, a professor of epidemiology at the University of Hong Kong, told The New York Times.
This idea has been explored in influenza pandemics, he added. But he cautioned that it needed to be proven in a controlled trial.
Currently, coronavirus or COVID-19 has no treatment yet. Medical experts in China have been experimenting with a combination of anti-viral drugs and traditional Chinese medicine to treat patients.
This appeal comes after China National Biotec Group, a state-owned company under the Ministry of Health, saw some success with antibodies. Donating human antibodies from the survivors to more than 10 critically ill patients caused inflammation levels to drop significantly after 12 to 24 hours of treatment.
The company called the use of plasma "the most effective method, which can significantly reduce the mortality of critically ill patients."
Over 1,700 medical health workers diagnosed with COVID-19 in China
Coronavirus or COVID-19 has infected 1,716 medical workers, which is about 3.8% of the overall confirmed cases in the country, according to Chinese health officials.
"As of February 11, 1,716 medical workers have been infected," adding that "unfortunately we have lost six medical workers," Zeng Yixin, vice minister of China's National Health Commission, told reporters in Beijing. The death toll among them accounts for 0.4% of the country's total deaths.
A majority of these confirmed cases — around 1,500 cases or 87.5% — have been reported in Hubei, the epicenter of the outbreak.
Zheng stressed that China is incorporating new measures to better protect medical workers, including providing better conditions for medical workers to rest and ensuring they have enough equipment to treat patients.
Overall, China confirmed 121 more deaths from COVID-19, 116 of which are in Hubei Province. The total number of deaths in the country is at least 1,380.
As for overall confirmed infections, China has confirmed 63,851 patients have tested positive. The National Health Commission said that 6,723 patients had been cured and discharged from the hospital. A large number of people — over 177,984 — are currently under medical observation.
CDC focuses on containment as it threatens to become 'community virus'
As the US confirms its 15th coronavirus case, the Centers for Disease Control and Prevention (CDC) is bracing itself for an all-out war against the mysterious virus.
To that end, CDC is aggressively focusing on containment mode. "We don't know a lot about this virus. This virus is probably with us beyond this season, beyond this year, and I think eventually the virus will find a foothold and we will get community-based transmission," the CDC Director Dr. Robert Redfield told CNN.
The health agency believes that tracking cases and containment strategies such as isolating confirmed patients are crucial to slowing down the outbreak. Placing restrictions on travel between affected areas in the world will also help.
This, in turn, could buy scientists some time, enabling them to develop vaccines and drugs, adds Redfield.
According to Redfield, the CDC had expressed interest in helping China out. "There's a lot of information we don't know — that's why I offered to provide assistance, direct assistance, and send our CDC folks over there back on January 6 to really help them gather that information and also to help us see the information first hand that we need to help make the right public health recommendations for our nation," Redfield said.
But they have not responded yet, he added.
Infection may not pass on from pregnant women to unborn child: Study
An infant who tested positive for coronavirus 30 hours later raised questions about the possibility of the infected mother passing on the virus to her unborn child.
Now, a new study found no evidence that the coronavirus disease or COVID-19 is passed from women to their unborn fetus in the womb.
"I think it is very encouraging because we were concerned that the coronavirus might infect the newborn. But at the moment, it is a small series, including 9 patients. Nonetheless, that is an encouraging sign," Dr William Schaffner, Professor at the Vanderbilt University School of Medicine, Nashville, Tennessee, tells MEA WorldWide (MEAWW).
The team who carried out the study did not find the virus in patient samples, including amniotic fluid, umbilical cord blood, breast milk, and throat swabs.
"But, all of the women in this study were in the later stages of pregnancy: we don't yet know about any potential transmission during earlier trimesters," says Wei Zhang, associate professor of preventive medicine at Northwestern University Feinberg School of Medicine and co-author of the study.
The team explained that additional studies are necessary before drawing conclusions. For now, they add, a cesarean section and isolation — separating the infant from the mother — are crucial to keeping the infant from contracting COVID-19 during or after birth.
First death reported in Japan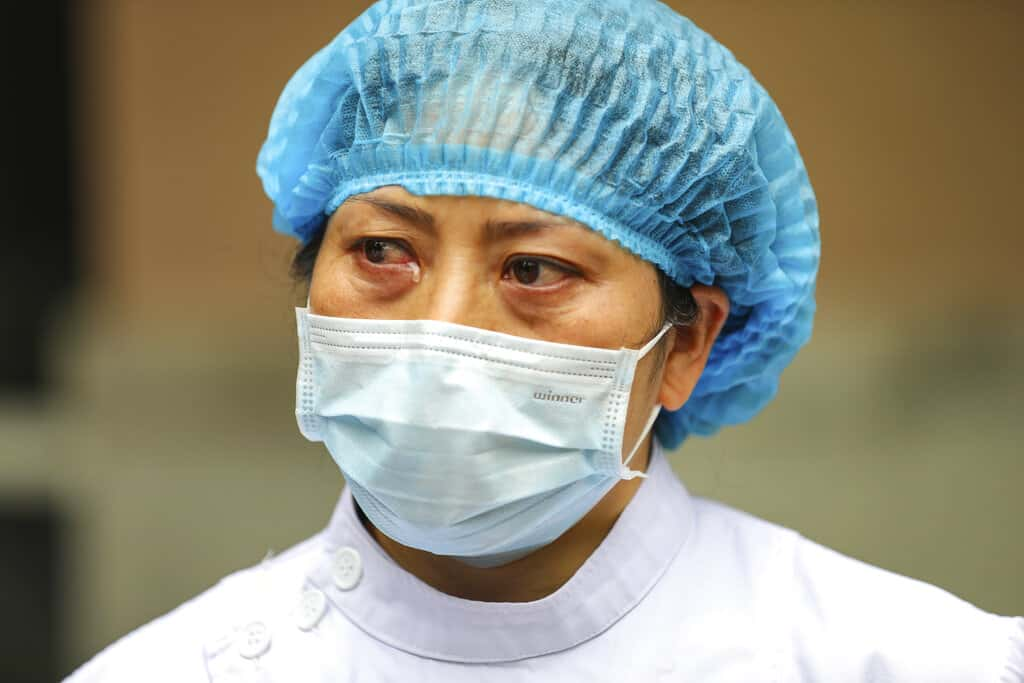 Japan has confirmed its first coronavirus death, making it the third outside Mainland China after the Philippines and Hong Kong.
The Japanese patient who died was an 80-year-old woman from the Kanagawa prefecture, which borders Tokyo. She had been in hospital since February 1, when she was diagnosed with pneumonia, said Japan's Health Minister Katsunobu Kato during a media briefing on Thursday. February 13.
He cautioned it was not clear if the virus caused her death, as her confirmed diagnosis came after her death. "The relationship between the new coronavirus and the death of the person is still unclear," Kaoto said at a late-night briefing.
On February 2, the Philippines confirmed the first death outside the Chinese mainland, a 44-year-old Chinese national from Wuhan. And Hong Kong reported the second death two days later, a 39-year-old man who had traveled to Hubei.
Meanwhile, China on Friday reported another sharp rise in the number of people infected with a new virus, as the death toll crossed 1,400. The National Health Commission said 121 more people had died and there were 5,090 new confirmed cases.
The outbreak might end in China but it has just started in the rest of the world
The coronavirus disease, now officially called COVID-19 poses a far greater threat than terrorism, warns the World Health Organization (WHO).
What is worse, experts are unsure when the coronavirus outbreak will end as it was too early to make such predictions. "This outbreak could still go in any direction," the WHO chief, Tedros Adhanom Ghebreyesus, said.
This comes after a Chinese official said that the disease is hitting its peak — a sign that the outbreak is fading out — in China and may come to a halt by April. And according to another scientist, the virus could fizzle out and fall close to zero by February 23.
While several estimates surface in China, an expert on infectious diseases, said that the rest of the world might see a different fate. The outbreak is just beginning in the rest of the world and likely to spread, said Dale Fisher, chairman of the Global Outbreak Alert & Response Network that is coordinated by the WHO.
"It's fair to say that's really what we are seeing," he told Reuters in an interview. "But it has spread to other places where it's the beginning of the outbreak. In Singapore, we are at the beginning of the outbreak."
Meanwhile, the WHO is also focusing on finding a vaccine, which could take over 18 months. Four possible vaccines were being funded for pre-clinical development, WHO Chief Scientist Soumya Swaminathan told reporters.
Cruise ship carrying 650 Americans denied entry by 4 countries
About 650 Americans, along with over 1,400 other passengers, are currently trapped on Holland America Line's Westerdam cruise ship. The latest nation to bar its entry was Thailand.
On Thursday, the ship was supposed to dock bear Bangkok, two days earlier than scheduled. Thailand's Public Health Minister Anutin Charnvirakul announced in a short Facebook post that he has directed authorities to refuse entry.
So far, the ship has been denied entry by four nations or territories over fears that some of its passengers could have the coronavirus. Now, officially named COVID -19, the virus has killed more than 1,100 people and infected over 45,000 people worldwide.
Currently, there are no reports of confirmed cases on the ship. In a blog post, the ship operator said that the vessel is not in quarantine and it has no reason to believe there are any cases of coronavirus on board.
Meanwhile, another cruise ship named the Diamond Princess has confirmed 39 new cases, bringing the total count to 174.
Daily death toll goes above 100 for the first time
China's daily death toll from the new coronavirus topped 100 for the first time and pushed the total for the outbreak above 1,000, authorities said on February 11.
This comes while the World Health Organization (WHO) convened a meeting of a group of experts to fast-track promising tests, drugs and vaccines to help slow the outbreak. There are no licensed drugs or vaccines to the disease till date. Diagnostic tests have been developed by several laboratories, but there are no rapid tests available.
"It's hard to believe that just two months ago, this virus — which has come to captivate the attention of media, financial markets and political leaders — was completely unknown to us," said WHO's director-general Tedros Adhanom Ghebreyesus.
The U.N. health agency said there were still many critical but unanswered questions about the virus, including what animals it came from, how exactly it is spread between people and how best to treat infected patients.
"To defeat this outbreak, we need answers to all those questions and more," Tedros said.
Experts say it could still be months or even years before any approved treatments or vaccines are developed.
US confirms 13th case while 24 Americans on Japanese cruise ship test positive
One person in California tested positive for the Wuhan coronavirus, bringing the total number of confirmed cases in the country to 13. With this, California has the highest number of confirmed cases now at seven.
The patient was earlier placed under a 14-day quarantine after being evacuated from Wuhan, China, according to a statement from the hospital, UC San Diego Health.
'The Centers for Disease Control and Prevention (CDC) is conducting a thorough contact investigation of the person who has tested positive to determine contacts and to assess if those contacts had high-risk exposures," the CDC said in a statement.
Currently, the patient is showing minimal symptoms and is currently isolated at UC San Diego Health. The agency has not revealed any further details on the patient.
Meanwhile, 24 Americans who were a part of the Diamond Princess cruise have tested positive for the coronavirus. The total number of confirmed cases from the ship stands at 135.
"We believe the Japanese authorities and cruise lines are working hard to keep all passengers – and the public – safe. We ask passengers on board for their patience and understanding and to fully cooperate with and follow the instructions of global medical authorities and the Japanese government," a State Department official told CNN.
The 14-day quarantine is expected to end on February 19.
China's daily death toll tops 100 for first time, over 1,000 deaths recorded in total
China's daily death toll from new virus has topped 100 for the first time, with more than 1,000 total deaths recorded, the health ministry announced on February 11, as the spread of the contagion shows little sign of abating while exacting an ever-rising cost.
Though more offices and stores in China have reopened after the extended Lunar New Year break, many people appear to be staying home. Public health authorities are watching closely to see whether workers' returning to cities and business resuming worsens the spread of the virus.
Another 108 deaths were reported over the previous 24 hours, the National Health Commission said in a daily update. That increased the total to 1,016 deaths, well beyond the toll taken by the 2002-2003 outbreak of SARS which comes from the same family of coronaviruses as the current deadly pathogen.
Newly confirmed cases fell slightly to 2,478 from 3,062 the day before, bringing the total to 42,638 on the mainland, some of whom have since been cured and released from hospitals.
The outbreak's persistence is dimming optimism that the near-quarantine of some 60 million people and other disease-control measures might be working.
Britain, meanwhile, declared the virus a "serious and imminent threat to public health" and said it would forcibly detain infected people if necessary. France tested scores of children and their parents after five British tourists contracted the virus at a ski resort.
The director-general of the World Health Organization said that the agency is still unable to predict where the outbreak is heading but that he believes there is still an opportunity to contain it.
"In recent days, we have seen some concerning instances of onward transmission from people with no travel history to China, like the cases reported in France yesterday and the UK today," said Tedros Adhanom Ghebreyesus. "The detection of the small number of cases could be the spark that becomes a bigger fire, but for now, it's only a spark."
In Beijing, there were few signs of activity. The capital's broad avenues were largely free of traffic, and thousands of rental bikes stood in long ranks with hardly a customer. Tourist attractions such as the Forbidden City remained closed, as did schools, and many people worked from home, hoping to avoid crowds.
Iris Ke, who works for an advertising company, said she plans to wait until next week to go back to the office.
"We just need to have a little more sense of self-protection," said Ke. "Life goes on anyway. How come we stop going outside or stop working simply because of fear of disease? We can't do that."
Those shops and restaurants that did open found few customers. At the Sanyuanli market in Beijing, the stalls were stocked with pork, mutton, seafood and vegetables, and shoppers wore face masks.
"The number of customers here is down a lot, maybe by more than half," said Liu Ying, who sells walnuts, cashews and other specialties. "But you can see a lot of people calling in orders, so we're slowly getting busy again."
The Beijing city government told residential compounds in the capital to close their gates, check visitors for fever and record their identities. The government also warned people to strictly abide by regulations requiring wearing of masks in public and to avoid group activities.
More than 440 cases have been confirmed outside mainland China, including two deaths in Hong Kong and the Philippines.
Of those, 135 are from a cruise ship quarantined in Yokohama, near Tokyo. Japan's Health Minister Katsunobu Kato said the government was considering testing everyone remaining on board of the 3,711 passengers and crew on the Diamond Princess, which would require them to remain aboard until results were available.
Britain issued its "imminent threat declaration after a British man who caught the virus in Singapore in January appeared linked to several other confirmed cases in Europe. Five Britons, including a 9-year-old boy, contracted the virus in the French Alpine ski town of Contamines-Montjoie after staying in the same chalet as the British man.
Jerome Salomon, head of France's national health agency, said 61 people including the boy's schoolmates were tested and proved negative for the virus.
66 more cases aboard cruise ship takes the count to 136
China reported a rise in new virus cases on February 10, possibly denting optimism that disease control measures including isolating major cities might be working, while the operator of a cruise ship in Japan reported dozens of new cases.
The mainland death toll rose by 97 to 908 in the 24 hours through midnight Sunday and 3,062 new cases were reported. That was up 15% from Saturday and broke a string of daily declines. A government spokesman had said Sunday those declines showed containment measures were successful.
The operator of a cruise ship quarantined in Yokohama, near Tokyo, said an additional 66 cases were found aboard. That is in addition to 70 reported earlier.
Health Minister Katsunobu Kato said the Japanese government was considering testing all 3,711 passengers and crew on the Diamond Princess, which would require them to remain aboard until results are available. Health authorities are scrambling to deliver medicine requested by more than 600 passengers.
"We are doing the utmost to keep everyone in good health," Kato said.
The fatality toll from the new virus has passed the 774 people believed to have died in the 2002-03 epidemic of severe acute respiratory syndrome, another viral outbreak that originated in China. The total of 40,171 cases on the mainland of the new virus vastly exceeds the 8,098 sickened by SARS.
More than 440 cases have been confirmed outside mainland China, including two deaths in Hong Kong and the Philippines.
The British government declared the virus a "serious and imminent threat to public health," which it said gives authorities powers to forcibly detain infected people if necessary. The change comes after a British man who caught the virus in Singapore in January appeared to be linked to at least seven other confirmed cases in Europe.
China has built two hospitals and sent thousands of extra doctors, nurses and other health care workers to Wuhan, the city of 11 million people in central China that is the epicenter of the outbreak. Most access to Wuhan was suspended Jan. 23. Restrictions have spread to cities with a total of 60 million people.
Businesses are gradually reopening following the Lunar New Year holiday, which was extended to discourage travel in an attempt to contain the virus, but they face heavy losses.
Zhang Peng, who works for a livestreaming company in Beijing, went to the office for the first time since the holiday. The company checked employees for fever and handed out masks.
"I thought the situation is fairly good now," Zhang said. "I went to work by subway today and underwent various checks in the station. And my company did a good job of prevention and control."
Iris Ke, who works for an advertising company, said she plans to wait until next week to go back to the office.
"We just need to have a little more sense of self protection," said Ke. "Life goes on anyway. How come we stop going outside or stop working simply because of fear of disease? We can't do that."
At the Sanyuanli market in Beijing, the Chinese capital, shoppers in face masks mixed with delivery drivers who were collecting orders of meat, fruit and vegetables. Stalls were stocked with pork, mutton, seafood and vegetables.
"The number of customers here is down a lot, maybe by more than half," said Liu Ying, who sells walnuts, cashews and other specialties. "But you can see a lot of people calling in orders, so we're slowly getting busy again."
Global stock markets slid Monday following warnings that investor optimism the disease and its economic impact were being brought under control might be premature. Market indexes in London, Frankfurt, Tokyo and Hong Kong declined. Shanghai closed higher after spending most of the day in negative territory.
China's central bank announced a 300 billion yuan ($43 billion) fund to make low-interest loans to producers of medicine and medical supplies or other companies involved in fighting the virus.
Over the weekend, the government promised tax cuts and subsidies to farmers, supermarkets, producers of medical supplies and companies that contribute to anti-disease work.
China's leaders are trying to keep food flowing to crowded cities despite the anti-disease controls and to quell fears of possible shortages and price spikes following panic buying after most access to Wuhan and nearby cities were cut off.
Consumer inflation spiked to an eight-year high of 5.4% over a year earlier in January, driven by a 4.4% rise in food costs, the government reported Monday. Food prices rose 1.4% from the previous month.
"It appears that supply disruptions and hoarding due to the coronavirus outbreak helped to keep food prices elevated during the week after Chinese New Year, when they would normally drop back," Julian Evans-Pritchard of Capital Economics said in a report.
Organizers of the Hong Kong Arts Festival on Monday canceled all of its more than 120 planned music, dance and drama performances, including two concerts by the Boston Symphony Orchestra. The festival was due to start this week and run through mid-March.
Meanwhile, the mother of a physician who died last week in Wuhan said in a video released Sunday she wants an explanation from authorities who reprimanded him for warning about the virus in December.
The death of Li Wenliang, 34, prompted an outpouring of public anger. Some postings left on his microblog account said officials should face consequences for mistreating Li.
"We won't give up if they don't give us an explanation," Lu Shuyun said in the video distributed by Pear Video, an online broadcast platform.
The video shows flowers in her home with a note that says, "Hero is immortal. Thank you."
Passengers on one ship set free while those on the other remain under lockdown
After a four-day quarantine on a cruise ship named the 'World Dream' in Hong Kong, thousands of people heaved a sigh of relief: over 3,600 passengers and crew members suspected of having the coronavirus infection were allowed to leave the ship after their tests came back negative. According to recent estimates, coronavirus has sickened at least 40,710 people, with a death toll of over 910.
On a previous trip, the ship carried three infected passengers, who may have had contact with the crew members. This led authorities to put the ship under lockdown on Wednesday.
Meanwhile, another cruise ship stuck in Japan is facing a dire situation. Over 70 passengers aboard the 'Diamond Princess' tested positive for the virus. Among those infected, 14 are Americans, reports NBC news. These patients have been taken to hospitals while over 3,700 others continue to remain under lockdown.
"The quarantine period of the #DiamondPrincess will come to an end on 19 February. The period will be extended beyond the 19 Feb as appropriate only for close contacts of newly confirmed cases. They need to remain in quarantine for 14 days from the last contact with a confirmed case," the World Health Organization tweeted on February 9.
Wuhan whistleblower doctor dies as total deaths increase to 636
The coronavirus death toll in mainland China has reached 636, including a doctor who got in trouble with authorities in the communist country for sounding an early warning about the disease threat.
Dr Li Wenliang, 34, was reportedly reprimanded for "spreading rumors" in late December.
Meanwhile, a newborn discovered infected 36 hours after birth has become the youngest known patient. The number of people infected globally has risen to more than 31,000.
Li had worked at a hospital in the epicenter of the outbreak in the central city of Wuhan. He was reprimanded by local police for "spreading rumors" about the illness in late December, according to news reports. The outbreak has spread to some two dozen countries, triggering travel restrictions and quarantines around the world and a crisis inside the country of 1.4 billion.
The World Health Organization tweeted: "We are deeply saddened by the passing of Dr Li Wenliang. We all need to celebrate work that he did" on the virus.
Li was among a number of medical professionals in Wuhan who tried to warn colleagues and others when the government did not, The New York Times reported earlier this week. It said that after the mystery illness had stricken seven patients at a hospital, Li said of them in an online chat group Dec. 30: "Quarantined in the emergency department."
WHO says $675 million needed to combat illness
To fight the further spread of the new coronavirus (2019-nCoV) outbreak in China and globally and protect states with weaker health systems, the World Health Organization (WHO) said that $675 million is needed for a preparedness and response plan.
"My biggest worry is that there are countries today who do not have the systems in place to detect people who have contracted with the virus, even if it were to emerge," said Dr Tedros Adhanom Ghebreyesus, WHO Director-General, in a statement.
He continued, "Urgent support is needed to bolster weak health systems to detect, diagnose and care for people with the virus, to prevent further human to human transmission and protect health workers."
The plan focuses on three things — rapidly establishing international coordination and operational support, scaling up country readiness and response operations, and accelerating priority research and innovation.
"The effectiveness of outbreak response depends on the preparedness measures put in place before the outbreaks strike. That is why we are seeking resources to safeguard the most vulnerable countries to protect people from the new coronavirus before it arrives on the doorstep," said Dr Mike Ryan, head of WHO's Health Emergencies Programme.
WHO said that in the last 24 hours, it has seen the biggest jump in cases since the start of the epidemic. The latest figures show that 563 have died in China and 28,018 people had contracted the virus, a jump of 3,694 in the last 24 hours.
Outside mainland China, at least 240 cases have been confirmed, including two fatalities, one in Hong Kong and another in the Philippines.
The official Xinhua News Agency said clinical trials for the antiviral drug Remdesivir have been approved and the first group of patients is expected to start taking the drug on Thursday, reported AP.
US confirms 12th case while CDC starts sending test kits to labs
Wisconsin confirmed its first coronavirus case, bringing the total count to 12 in the country. The Wisconsin patient who had recently visited Beijing was exposed to cases while in China, reads a statement from the Wisconsin Department of Health Services (DHS).
"The patient did not require hospitalization. They are currently in home isolation and doing well. In this case, they did not have clinical symptoms that warranted hospitalization," Dr Nasia Safdar, medical director of infection control at UW Health, said during a press conference.
"DHS is operating with an abundance of caution and is working very closely with the local health department and UW Hospital and Clinics to ensure that this patient and any close contacts are closely monitored," said State Health Officer Jeanne Ayers.
The statement adds that people in Wisconsin have a low risk of contracting the coronavirus infection. Meanwhile, the Centers for Disease Control and Prevention (CDC), which has recently developed a coronavirus diagnosis kit, will be sending out 200 test kits to US labs, and another 200 test kits to international labs.
Each test kit is capable of testing 700-800 patient samples, they say. This will allow for enhanced capacity for testing by early next week, Dr Nancy Messonnier, director of the CDC's National Center for Immunization and Respiratory Diseases, told reporters on Wednesday, February 5.
10 more cases confirmed on Japanese cruise ship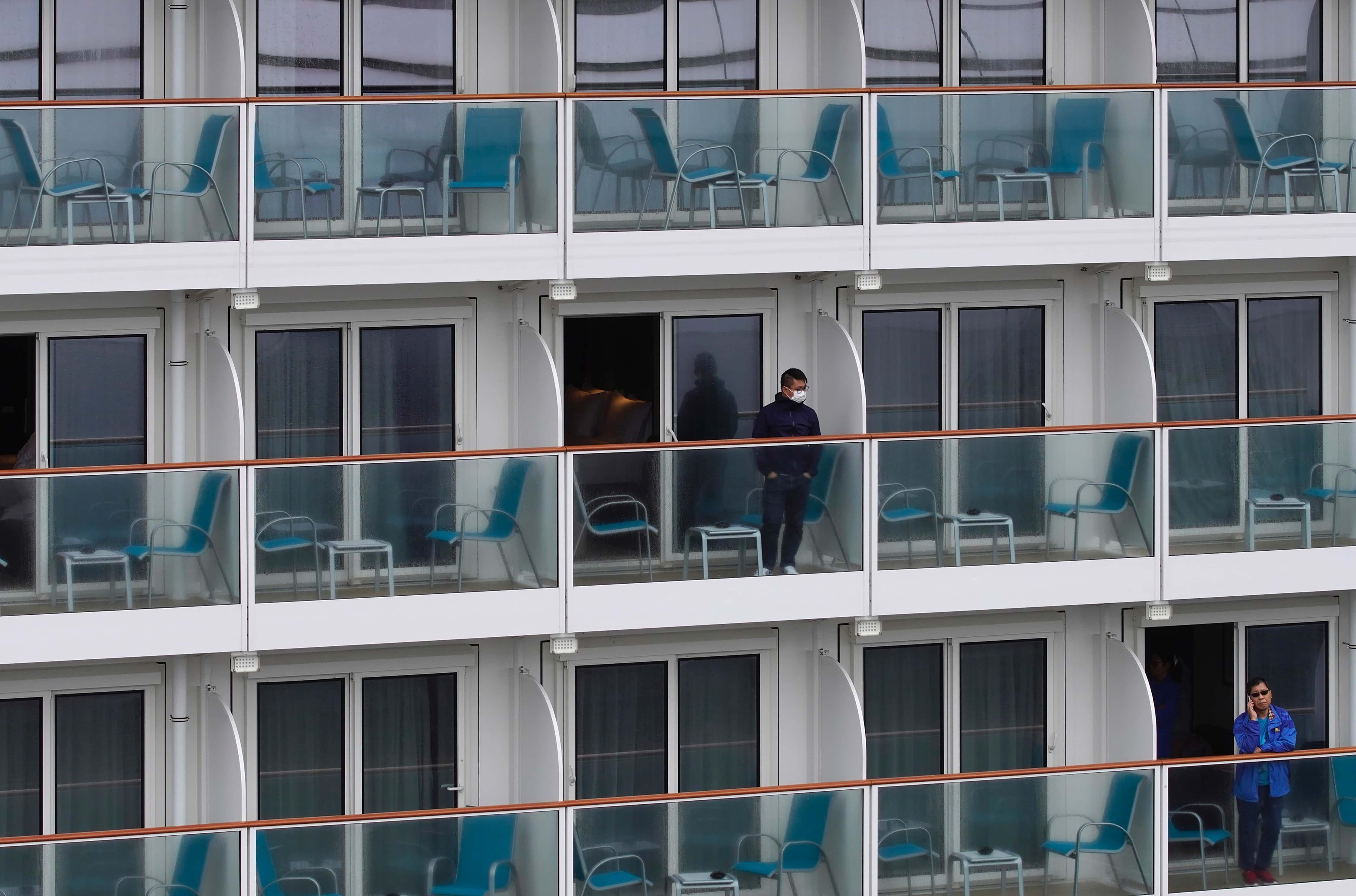 Ten additional cases of the Wuhan coronavirus have been confirmed on the Diamond Princess cruise ship, which is docked in Japan and under quarantine for 14 days. This brings the total number of cases from the ship to 20.
The Diamond Princess is anchored off the coast of Yokohama, near Tokyo, with over 3700 passengers and crew members — including 428 Americans — on board. An 80-year-old male passenger had tested positive for the new coronavirus after leaving the vessel while it was in Hong Kong on January 25.
According to reports, infected cases are being brought off the ship to be treated onshore, but all other passengers and crew on board must stay quarantined at sea for at least two weeks.
In Hong Kong, passengers and crew members on another cruise ship are being screened after it was turned away from a Taiwanese port. A Hong Kong official said more than 3,600 people onboard the cruise ship that was turned away from a Taiwanese port will be quarantined until they are checked for a new virus, reported AP.
Passengers, crew onboard cruise ship quarantined in Hong Kong for 14 days
Large white sheets covering them head-to-knee, people infected with a new virus were led by gloved and masked officials Wednesday off a Japanese cruise ship that's being quarantined amid growing worry about the spread of an outbreak.
The quarantine of 3,711 people aboard the Diamond Princess is part of a global health emergency that seems to worsen by the day. The little-understood new coronavirus has killed 490 people in mainland China, officials said on Wednesday.
But it has also spread panic and discrimination around the world as the number of cases grows. About 3,600 people on another cruise ship were being screened in Hong Kong after three passengers on a previous voyage were diagnosed with the virus.
Thousands of hospital workers in Hong Kong were striking to demand the border with mainland China be closed completely. And on the mainland, patients were being treated in newly built or converted hospitals while some at overcrowded facilities sat on the floor.
Hong Kong announced that it will require all people entering the city from the Chinese mainland, including Hong Kong residents, to be quarantined for 14 days.
More than 1,800 people, who were on board a cruise ship that was turned away from a Taiwanese port, will be quarantined in Hong Kong until they are checked for the Wuhan virus, according to a Hong Kong official.
The ship reportedly has over 30 crew members with symptoms such as fever, cough or sore throat. They will now undergo tests to determine if they have the novel coronavirus or not, reports AP.
All passengers will also have to undergo health screenings. Depending on the results of the tests, the length of the quarantine or other measures that need to be taken will be decided.
The World Dream ship was refused entry at Kaohsiung port in Taiwan on Tuesday after three passengers on an earlier voyage were later confirmed to be infected with the new coronavirus.
The ship is operated by Genting Cruise Lines. The ship's crew stayed on for the next trip, which docked and departed from Kaohsiung on February 4.Port health official Leung Yiu Hong told AP that 90 percent of the current passengers are from Hong Kong and no one is from mainland China.
UK asks its citizens to leave China
The UK has asked all British nationals to leave China to minimize their risk of exposure to the Wuhan coronavirus.
In a statement, the government said: "In light of the ongoing coronavirus outbreak, the Foreign & Commonwealth Office advises against 'all but essential' travel to mainland China and now recommends that British Nationals who are able to leave China to do so."
It added, "Commercial airline options for departing China remain available throughout the country, except in Hubei Province. The Foreign Office continues to work on arrangements to evacuate any remaining British nationals from Hubei Province who wish to leave."
The French government also issued a similar warning. "Due to the containment measures decided by the Chinese authorities which result in the suspension of transport, any travel to Wuhan and throughout the province of Hubei is formally discouraged (in red on the security card)," read a statement from France's Foreign Ministry.
"In addition, given the restrictions and closings decided by the Chinese authorities (see above), it is recommended to postpone any trip to China that is not essential. School and university trips and exchanges are not recommended," it said.
The French government had organized, on January 31 and February 2, repatriation by air, on a voluntary basis, of French and foreign nationals from Wuhan to France, in cooperation with the Chinese authorities.
Meanwhile, two planes have departed Wuhan, China, en route to the US, according to a statement by US State Department spokesperson. On Thursday, there will be "one or more additional flights" to retrieve US citizens in Wuhan, said a statement from the State Department, reported CNN.
"At this time, we do not anticipate staging additional flights beyond those planned to depart February 6. As stated in our February 2 Travel Advisory, US citizens currently in China should attempt to depart by commercial means," the statement said.
China death toll rises to 490, Japan confirms 10 cases on cruise ship
Japan said on February 5 that 10 people on a cruise ship have tested positive for a new virus and were being taken to hospitals. This increases the country's total to 33 cases.
Health Minister Nobukatsu Kato said all the 3,700 people and passengers on the ship will be quarantined on board for up to 14 days under Japanese law. The 10 are among 273 people tested after one man who got off the ship in Hong Kong was confirmed to have the virus.
Some tests are still pending. Those tested either had a cough or fever, which are symptoms of the new coronavirus or had close contact with the man who stopped in Hong Kong. But the transmission isn't clear, and the others may have gotten the virus when they got off The Diamond Princess at other port calls in Vietnam, Taiwan, Kagoshima and Okinawa. The ship returned to Yokohama, near Tokyo, February 3.
The new coronavirus has infected thousands in mainland China and caused scattered cases in Hong Kong and other places, mostly associated with travel to the central Chinese region where the outbreak has been most severe.
Deaths from the new virus rose to 490 in mainland China on February 5 and the number of new cases increased to 24,324, as China moved patients into newly built or converted hospitals in the hardest-hit city of Wuhan.
In Hong Kong, hospital workers are striking to demand that the border with mainland China be shut completely to ward off the virus that caused its first death in the territory. But four new cases of the virus without known travel to the mainland have been reported, indicating community transmission.
The growing caseload in Hong Kong indicates a significant risk of community transmission and could portend a large-scale outbreak, said Chuang Shuk-kwan, head of the communicable disease branch at the Center for Health Protection.
More than 7,000 health workers joined the strike on February 4, according to the Hospital Authority Employees' Alliance, the strike organizer. Hospitals said they had to cut some services due to the absences.
Hong Kong was hit hard by the 2002-2003 outbreak of SARS, or severe acute respiratory syndrome, a virus from the same family as the current outbreak. Trust in Chinese authorities has plummeted following months of anti-government protests in the Asian financial hub.
The territory's beleaguered leader, Carrie Lam, criticized the strike and said the government was doing all it could to limit the flow of people across the border. Almost all land and sea links have been closed, but the striking workers want it shut completely.
FDA authorizes other labs to use CDC-developed diagnostic test
The US Food and Drug Administration (FDA) has issued an "emergency use authorization" to enable the emergency use of the 2019-nCoV diagnostic test developed by the Centers for Disease Control and Prevention (CDC).
To date, this test has been limited to use at CDC laboratories. This authorization will enable the use of the test at any CDC-qualified lab across the country.
"Since this outbreak first emerged, we've been working closely with our partners across the US government and around the globe to expedite the development and availability of critical medical products to help end this outbreak as quickly as possible. This continues to be an evolving situation and the ability to distribute this diagnostic test to qualified labs is a critical step forward in protecting the public health," FDA Commissioner Stephen M Hahn said in a statement.
Hahn said, "Our collaboration with the CDC has been vital to rapidly developing and facilitating access to this diagnostic test. The FDA remains deeply committed to utilizing our regulatory tools and leveraging our technical and scientific expertise to advance the availability of critical medical products to respond to this outbreak in the most expeditious, safe and effective manner possible."
The use of 2019-nCoV Real-Time RT-PCR Diagnostic Panel is authorized for patients who meet the CDC criteria for 2019-nCoV testing, said experts. Testing is limited to qualified laboratories designated by the CDC and, in the US, those certified to perform high complexity tests, said FDA.
Japan screens cruise ship after 1 passenger tests positive for virus infection
A passenger on a Japanese-operated cruise ship tested positive for the coronavirus after leaving the vessel while it was in Hong Kong on January 25.
Accordingly, Japanese health officials are now conducting extensive medical checks on the 3,700 passengers and crew of the cruise ship that returned to the country.
While some people on board the ship are reportedly ill, no one else has yet tested positive for Wuhan coronavirus. The Diamond Princess returned to a port in Yokohama, near Japan, after making port calls in Vietnam, Taiwan, and Okinawa. It returned late on Monday, ending a 14-day tour.
A team of quarantine officials and medical staff boarded the ship on Monday, February 3, and began medical checks of everyone on board, a health ministry official said, speaking on condition of anonymity keeping with department rules, reported AP.
Japanese government and tour company officials said they were notified by Hong Kong regarding the 80-year-old male passenger.
The ship's captain said that Hong Kong health authorities notified the ship about the passenger's infection on Saturday, six days after he got off the ship, after not being caught on thermal screening, according to a recording of the announcement tweeted by a passenger. The patient is said to be recovering.
First confirmed case of coronavirus in Belgium
A Belgian woman who was on a repatriated flight from Wuhan has tested positive for the coronavirus, according to Belgium's health agency. This is the first case being reported from Belgium.
"The nine compatriots who arrived on Sunday evening from Wuhan underwent extensive tests yesterday at the Neder-Over-Heembeek military hospital. One of them appears to be infected with the new coronavirus," said the Belgium health agency in a statement.
"The test results of other compatriots are negative. All were informed of the results concerning them," the statement added.
The person tested positive is in good health and shows no signs of illness at the moment. "She was transferred last night to Saint Pierre University Hospital in Brussels, one of the two reference centers in our country. This hospital has all the expertise and support necessary to guarantee the best care," read the statement.
More than 180 cases of the new type of coronavirus have been confirmed in more than 25 countries and territories beyond mainland China, which has more than 20,000 cases.
Chinese scientists say they have more proof that Wuhan virus originated in bats
More evidence has emerged that the Wuhan virus that recently emerged in China may have originated in bats. A team of Chinese scientists have reported that genome sequences from several patients in Wuhan show the virus is closely related to the viruses that cause Severe Acute Respiratory Syndrome, or SARS.
"Since the SARS outbreak 18 years ago, a large number of severe acute respiratory syndrome-related coronaviruses (SARSr-CoV) have been discovered in their natural reservoir host, bats," says a study published in Nature.
"Previous studies indicated that some of those bat SARSr-CoVs have the potential to infect humans. Here we report the identification and characterization of a novel coronavirus (2019-nCoV)," added the study.
It continued, "Full-length genome sequences were obtained from five patients at the early stage of the outbreak. They are almost identical to each other and share a 79.5% sequence identity to SARS-CoV.
Furthermore, it was found that 2019-nCoV is 96% identical at the whole-genome level to a bat coronavirus.
A recent study, published in the Lancet, had also said that the deadly virus may have hopped on to humans from bats. The researchers, however, said that another mysterious animal may have been involved as an intermediary.
While experts suspect that the outbreak in China began at a seafood market in Wuhan where wild animals were on sale and in contact with people, the animal source is yet to be identified.
Hong Kong reports first death from outbreak
Hong Kong has become the second region after the Philippines to report a death from the new coronavirus, outside of mainland China.
On Tuesday, Hong Kong reported its first death from the Wuhan coronavirus, a man who had traveled from the mainland city of Wuhan, which has been the epicenter of the outbreak.
The 39-year-old patient, who was being treated at Princess Margaret Hospital in Kwai Chung, died on Tuesday morning after his condition deteriorated, the Hospital Authority has confirmed, according to the South China Morning Post (SCMP). He had suffered sudden heart failure, according to medical sources.

"The deceased man had lived in Whampoa Garden with his 72-year-old mother, the government had revealed earlier. She was confirmed on February 2 as Hong Kong's 15th case, but did not have a recent history of travel," reports SCMP.
According to AP, Hong Kong has also shut nearly all of its land and sea border crossings with the mainland at midnight after hospital workers began a strike demanding that its border with mainland China should be completely shut to reduce the risk of the Wuhan coronavirus spreading.
Over 2,000 hospital workers went on strike on Monday. Hong Kong hospitals cut services as medical workers were striking for a second day on Tuesday.
Hong Kong's Hospital Authority said it was cutting back services because "a large number of staff members are absent from duty" and "emergency services in public hospitals have been affected," reports AP.
Hong Kong was hit hard by severe acute respiratory syndrome or SARS in 2002-03, an illness from the same family of viruses as the current outbreak and which many believe was intensified by official Chinese secrecy.
The Philippines on Sunday reported the first death from a new virus outside of China.
Chinese officials dismissed over death of teen with cerebral palsy
Two officials in China have been removed from their posts after a teenager with cerebral palsy died as there was no one to take care of him at home after his family was quarantined on suspicion of coronavirus.
The 17-year-old boy from China's Hubei province — Yan Cheng ⁠— needed round-the-clock care owing to his health condition. He was reportedly found dead in his bed six days after his father and his 11-year-old brother were taken from their home and quarantined at a facility.
Both the local Communist Party secretary and mayor have been dismissed over the case, reports BBC. According to Al Jazeera, Central Commission for Discipline Inspection (CCDI) said in a statement, that "the local government was not practical and realistic when carrying out work and failed to perform its duty."
After the teenager died on January 29, an investigation was launched by government officials from Hong'an County.
According to the latest estimates released by China's National Health Commission, the Wuhan coronavirus outbreak has so far killed 425 and infected 20,438 in China.
China stocks plunge nearly 8%
The market reacted to the Wuhan coronavirus outbreak with China stocks plunging to nearly 8% on the first day of trading after an extended Lunar New Year holiday. It was its worst day since August 2015, say experts.
According to AP, the Shanghai Composite index tumbled nearly 8% on Monday, February 3, as Chinese regulators moved to stabilize markets jolted by a virus that has spread to more than 20 countries, impacting regional tourism and threatening global growth.
Analysts have dropped their forecasts for China, the world's second-largest economy, to near 5% from earlier forecasts of 6% economic growth for the year.
"The Shanghai benchmark dropped almost 9% after markets opened after a week-long Lunar New Year holiday that was extended by three days. It was its worst day since August 2015, despite the central bank's effort to put billions of dollars of extra cash into the markets through short-term securities purchases," says AP.
According to Bloomberg, Sun Jianbo, president of China Vision Capital in Beijing, said that the outbreak "is not something that will only impact the market for just a few days, it'll last for a while."
Experts say that it could take two or three years for China to recover. "The worst-case scenario is that this Wuhan coronavirus rages on unchecked like the ebola crisis in West Africa several years ago. Because China is the big elephant in the room now," AP quotes Francis Lun, a stock analyst in Hong Kong.
"If it falls, it will bring down all these smaller fries like Hong Kong, Taiwan, South Korea and even Japan. So nobody is immune," he adds.
The numbers outside China
There are now at least 179 confirmed cases of Wuhan coronavirus in 27 countries and territories outside mainland China, with Sweden and Spain reporting those country's first cases over the weekend.
So far, only one person has died outside of mainland China from the virus — a 44-year-old Chinese in the Philippines.
Frances's health minister has confirmed that 36 people on an evacuation flight from Wuhan were showing symptoms of the coronavirus.
Among other developments, New Zealand has banned foreign travelers from China. The Maldives has also banned the entry of travelers from China — any person who has left or transited through mainland China effective from February 3.
China toll surpasses SARS deaths during 2002-03 outbreak
The number of deaths in China has now surpassed that of the Severe Acute Respiratory Syndrome or SARS. According to current estimates released by the Chinese National Health Commission, over 361 have died from the novel coronavirus in China, while it has sickened 17,205 in the country.
During the 2002-2003 SARS epidemic, 5,327 people were infected in China, and there were 349 deaths in the country, says the World Health Organization (WHO).
According to estimates, the total number of people infected globally with SARS was at least 8,422, and the outbreak had killed an estimated 916 worldwide. There still remains 21,558 suspected cases and 2,296 patients in serious condition in China.
The Commission also reports that 189,583 people have been identified as having had close contact with infected patients. Further, 152,700 are currently under medical observation.
Hong Kong hospital workers strike over coronavirus
Several hospital workers in Hong Kong have gone on strike, demanding that the city should shut its border with mainland China to reduce the risk of the Wuhan coronavirus spreading.
"Hong Kong has suspended cross-border rail and ferry services, but health workers want a total border closure," reports BBC. Thousands had earlier threatened to go on strike after the city confirmed its 15th case of coronavirus infection on Sunday – a 72-year-old woman with an underlying illness.
She was identified as the mother of the patient who became Hong Kong's 13th confirmed case, says the South China Morning Post (SCMP).
Winnie Yu — chairperson of the Hospital Authority Employees Alliance — said that "if there is no full border closure, there won't be enough manpower, protective equipment or isolation rooms to combat the outbreak."
"We are not trying to harm Hong Kong people. Instead, if the government can accept our demands, we can save Hong Kong people," according to SCMP.
On Monday, hundreds of "non-essential" medical workers went on strike. The union said frontline medical professionals, which include doctors and nurses, could follow on Tuesday if their demands were not met.
China builds 1,000-bed hospital in 8 days as death toll reaches 361
A new emergency hospital in Wuhan will open its doors on Monday, February 3, to treat patients battling the new coronavirus infection. The Huoshenshan Hospital, which took just eight days to build, has room for 1,000 beds, reports China's state news agency Xinhua.
Leading Chinese epidemiologist Zhong Nanshan said additional hospital space was crucial to stopping the spread of new infections. "The lack of hospital rooms forced sick people to return home, which is extremely dangerous. So having additional (beds) available is a great improvement," Zhong told CCTV's 24-hour news channel.
The hospital which has an area of 25,000 square feet, is one of the two hospitals being built for this purpose. Around 1,400 staff are expected to man the hospital. The second emergency hospital is coming up just 25 miles away and is expected to open on Wednesday, February 5.
Called Leishenshan Hospital, it has a capacity of 1,600 beds. This is not the first time China has built a hospital in such a timeframe. Earlier in 2003, during the SARS epidemic, the country built the Xiaotangshan Hospital in Beijing in just seven days.
"China has a record of getting things done fast even for monumental projects like this," says Yanzhong Huang, a senior fellow for global health at the Council on Foreign Relations," told BBC news.
According to the latest estimates released by China's National Health Commission, they have received 17,205 reports of confirmed cases, and 361 deaths in 31 provincial-level regions on the Chinese mainland.
With inputs from Associated Press.